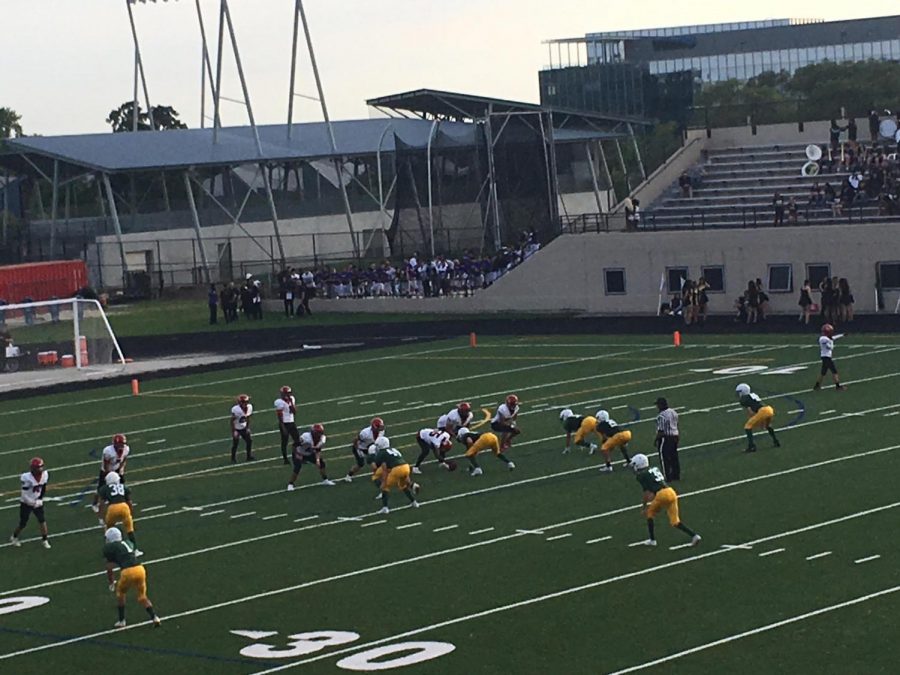 Alex Burstein
When Lane football coach Anthony Faltin left the program earlier this year, multiple players were caught off guard.
"I was actually working out with Coach Lopez, and after the workout he told us that Coach Faltin had quit a couple days ago," sophomore varsity football player Daehyun Kim said.
"At first I was kind of surprised. Me and Coach Faltin, since freshman year, we had a [pretty good] relationship… I just didn't know that he would be leaving us," Kim said.
Junior Liam Bermejo was just as surprised as Kim.
"It was a surprise to all of us. It was kind of a shock. It was kind of out of nowhere," Bermejo said. "We were thinking we had him for seniors and we all [thought we] had him [for] our last year."
For Kim, Bermejo, and the rest of the football team, they are going to have to adjust to a new coach for this upcoming season.
The team will be playing under new head coach Dedrick Dewalt, who was hired by Lane to take over the football program for this upcoming season.
Players were alerted of the new hire just like the general public was, via Lane Tech social media pages.
On top of only seeing the posts via social media, the team has not really had contact with the coach due to the strange circumstance with coronavirus. (Teams would usually have offseason workouts together.)
At the time of the interviews, Kim, Bermejo and sophomore varsity player Payton Gavaldon had all not yet heard from Dewalt.
The players have all now just been trying to do some research on the coach online and waiting until summer workouts, if they are allowed to happen, to get to know the coach.
"[I know] just basically just personal information, not really anything more than that. We'll find out [more] if we have practice this summer," Bermejo said.
Gavaldon doesn't know much, but is excited to grow under a coach with so much opportunity.
"I mean when we found out, we researched and saw he played in college and in the NFL," Gavaldon said. "That level of experience kind of excites us."
Dewalt does bring lots of experience to the job, both as a player and a coach. He has playing experience at the high school level in CPS with Simeon, at Boston College, and finally St. Louis and Tennessee in the NFL.
Since then he has coached with various high schools in both Illinois and in Indiana, starting his coaching career at his alma mater Simeon and most recently with North Lawndale in Chicago.
Despite the new opportunity, Coach Faltin will be missed after his five-year tenure with the team.
"I'm going to miss Faltin's belief that football was more than just a game but a way of life. He used the game of football to craft excellent men that would not only succeed on the field through hard work and discipline, but also in the real world and the obstacles that we will face in life," Bermejo said.
For Gavaldon, he is just going to miss the good character that Faltin had on and off the field.
"[I will miss] how good of a person he was. He looked out for all of us… he really cared about our families, how we were doing in school, at home," Gavaldon said. "[He] made sure he could do everything that he could to make sure that we were prepared off the field as well as on."
As Faltin departs the program, new opportunities and new challenges come along with the addition of Dewalt as Lane's head coach.
"The most exciting part about having a new coach for the season is starting from a new slate and building from the bottom up," Bermejo said. "Although starting brand new and having a new offensive and defensive strategy will be exciting to see, this also offers us somewhat of a challenge. The new coach will have to see what our strengths and weaknesses are and place us at certain positions where we will excel in."
The new change leaves players like Kim hoping for the opportunity to bring winning ways back to Lane, a program that only had two wins this past season.
"Hopefully something [will change], like we could bring home some wins, but I'm not sure yet," Kim said.
For Gavaldon, a wide receiver, he is excited to be coached by a former receiver.
"I mean with [Dewalt] being [a] receiver when he played, and just having more experience, it's just going to be — the way he sees things — is going to be different," Gavaldon said. "So, he might pass more than run the ball, or he might work on different positions. But we'll just have to see."
Gavaldon is also hoping to learn from Dewalt and be able to play in college, just as Dewalt did at Boston College before making the jump to the NFL.
"My goal is to really try to get myself seen. So, try and in the next two years work towards playing in college, at that level. So I hope that I can work closely with [Dewalt] and we can both work on that goal together," Gavaldon said.
For Kim, he just hopes he can grow and help the team over his next two seasons with the team.
"[My goal under Dewalt is to] hopefully bring some wins back to Lane. You know the past few years, we've been doing good, but you know just [getting better]," Kim said.
Now, the players are just working out at home to try to be in shape for whenever they are given the green light and get to the field to practice with teammates.
"I'm just doing what I can to get strong for the [season], like push-ups, sit-ups, doing what I can inside," Gavaldon said. "And then just kind of, staying mentally healthy as well. Just because I want to be ready as soon as we're able to get back at it."
Kim is putting in similar work to get ready to play this fall under the lights at Lane Stadium.
"You know we're continuing to workout at home, stay conditioned, we're working on our routes… Just staying conditioned, staying fit overall," Kim said.
No matter when the players are allowed to step on the field next, they are going to have a new look on the sidelines.
And whatever challenges are going to come up, the players are ready to get to work with the new coaching staff.
"It's a new experience, Kim said. "I did not think this would happen, but it did… So, we're just going to keep getting better every day." 
"It's just going to be like figuring out what works well with him, what works well with us," Gavaldon said. "It's just like really being able to start over and do what needs to be done."