Zendaya takes home an Emmy for 'Euphoria'
On Sunday night, the adored ex-Disney Channel star Zendaya made history as the youngest actress to win the Emmy for Best Lead Actress in a Drama.
Zendaya was nominated for her role as Rue Bennett in the HBO series "Euphoria" and beat out some of the biggest names in television for the award, being up against women like Sandra Oh and Jennifer Aniston, which made her win even more surprising.
Unlike her competition, prior to "Euphoria," Zendaya did not have many major awards under her belt. Other women in her category, like Sandra Oh, had a total of 12 Emmy nominations — but "Euphoria" was Zendaya's first nomination and ultimately, her first win. 
So, what exactly did Zendaya do to win this award?
"Euphoria" follows Zendaya's character, Rue, as she finishes a summer of rehab following a drug overdose earlier in the year. After completing rehab, Rue has no intention of staying sober and desperately wants to go back to her old habits. However, Rue's life begins to get more complicated once she meets Jules (Hunter Schafer), a big city girl trying to find her place in the binary world that is suburbia. 
"Euphoria" is a dark show to say the least. It does not shy away from difficult topics such as abortion, abuse, and addiction. Throughout the first season, Rue struggles to stay sober and fix her broken relationship with her mother and sister, oftentimes leading to some very emotional scenes. 
If I had to pick one scene that exemplifies why Zendaya won her Emmy, it would be in the third episode when Rue has a breakdown in front of her friend's apartment, who is also occasionally her drug dealer. After a rough day, Rue goes to her friend Fezco's (Angus Cloud), more commonly referred to as "Fez," for drugs. Fez, who cares for Rue and treats her like a younger sister, refuses to open the door to his apartment so she can come inside and purchase drugs. 
The scene continues with Rue breaking down outside Fez's door. Rue bangs on the door and screams at him. With tears in her eyes, Rue blames Fez for her addiction, as he is the one who initially sold her drugs. On the other side of the door, Fez is silent and just listens to everything Rue is saying as she unloads all her anger and pain. 
What is so heartbreaking about this scene is that the audience knows Rue does not actually blame Fez for her addiction; she was simply caught in a whirlwind of emotions and pain and needed someone to blame. Fez, on the other hand, is left with that guilt as he had never thought about Rue's addiction in that way. 
This scene is arguably the most emotional of the series and truly shows the talent Zendaya possesses. Everyone knows Zendaya as the comedic Disney Channel girl who can sing and dance, but "Euphoria" is the first chance Zendaya has had to truly show her depth and range as an actress. In the span of eight episodes, the audience follows Rue on an extremely emotional journey, and Zendaya so beautifully captures every emotion. 
In the breakdown scene with Fez, we watch an anger-charged Rue slowly turn into a desperate, sad girl attempting to cling to the one thing in her life that has always been there—drugs. Zendaya captures the anger through her aggressive banging on the door and later shows the more vulnerable, broken side of Rue towards the end of the scene, where the only energy Rue has is to beg in between sobs and as her voice breaks.
Whether it be an intimate scene between her and Jules or a fight scene between her and her mother (Nika King), Zendaya is able to show the complexity of Rue, without making it feel artificial. 
Too many teen shows today feel overdone or just unrealistic; "Euphoria," however, manages to showcase the variety of complex issues and emotions that today's modern teens face. Not only does it tackle big issues like addiction, but other, likely more relatable issues for some members of the audience, such as struggles with social media and self-image. 
Zendaya is nothing if not deserving of her Emmy win. Her vulnerability and willingness to fully commit to her character, flaws and all, makes her performance so strong and worthy of the recognition and the praise it has recently received. 
With filming of season 2 of "Euphoria" being halted due to the coronavirus, a release date for the next season is yet to be announced. However, if it is anything like the first season, it will be worth the wait. 
About the Writer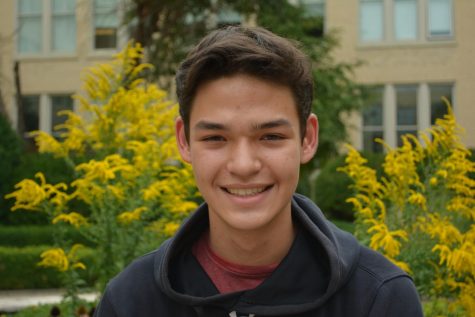 Ryan Fairfield, Editor-in-Chief
Ryan Fairfield is a Lane Tech senior in his third year of journalism. At Lane, Ryan has been a part of the Omega program since his freshman year and a...