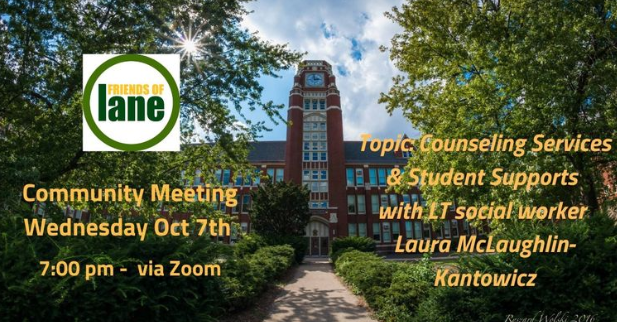 Friends of Lane met on Wednesday and focused on "counseling services and student supports," featuring a presentation, led by Lane's crisis social worker Ms. McLaughlin-Kantowicz, on "a parent's guide to suicide prevention". 
The meeting, put on by Lane's "all-volunteer, parent-driven, Lane Tech Community," was originally supposed to be "a cliff notes guide to Lane," according to the organization's webpage, but since school is currently virtual, this month focused on mental health instead.
McLaughlin-Kantowicz opened her presentation by acknowledging that "suicide can be a challenging topic for everyone," on her slideshow. She provided both the suicide prevention lifeline (1-800-273-8255) and the crisis text line (Text ACT to 741741). She said she would "recommend all of us to have [these two resources] directly on our phones or somewhere easily accessible in case we would need them."
This introduction was followed by four myth or fact statements. Among the statements were, "Students who threaten suicide are just doing it for attention," and "Suicide among teens is rare," which McLaughlin-Kantowicz noted were myths.
Also in the presentation were risk factors and warning signs, as well as action steps that parents can take. McLaughlin-Kantowicz wrote in her presentation that according to NPR, "1 in 5 public school students show signs of a mental health disorder." She talked about three main categories of risk factors for suicide — health, environmental and historical — as well as warning signs that parents may be able to identify, like "significant & noticeable changes in personality or behavior," and "giving away possessions."
McLaughlin-Kantowicz concluded her slideshow with action steps for parents. These included being persistent as well as getting help if needed. She also provided additional resources, such as the school counseling office. 
Prior to the presentation, Principal Brian Tennison stressed the importance of learning about mental health and suicide prevention. 
"I know as a parent, it lives very very close to me the importance of [this topic] and the concerns … I am also, as a parent, interested in the topic and very just aware of the constant level of anxiety that seems to be present no matter what interactions that we have," Tennison said. 
Following the slideshow, school counselor Ms. Bantz also addressed the attendees and provided additional information on the counseling department. She said that the department helps students with coping skills.
Bantz also discussed the anxiety and resilience groups, which the counseling department and social workers started last year.
"We try to just as a group talk with one another about anxiety and how to build resilience against it, because anxiety is part of our daily lives, it's normal," Bantz said. "Thinking through how to confront that anxiety and work though it can just be a really healthy strategy, especially as [students] mature into young adults and go off to college by themselves."
These groups typically last 8-10 weeks and were separated by grade level last year, according to McLaughlin-Kantowicz. This year, the groups will begin after Nov. 1, since counselors are very busy until then with college deadlines. McLaughlin-Kantowicz said this week or next week she will start giving teachers and counselors the opportunity to refer students to the groups. These groups will probably start the second week of November, she said.
McLaughlin-Kantowicz also talked about the "Virtual 213 Google Classroom." Since  students can't go to Room 213 for resources and help like they used to, she created a virtual version with help from Lane's newest social worker, Ms. Walsh. 
The link to the Google Classroom was shared in Student News and it has "resources and coping skills and breathing techniques," according to McLaughlin-Kantowicz. 
"We are here to support your students," Bantz said.

Meeting notebook – Other notables:
In addition to the focus on mental health and suicide prevention, a few other notes were discussed during the meeting.
At the start of the meeting, Friends of Lane president Nikki Pesch brought up the Roscoe Village Shop for Schools event from Oct. 13 to 15. If people who shop at local businesses and eat at local restaurants mention Lane, Lane will get 20% back on purchases, and additionally the top five schools get awarded. Also, through the end of the year, at Le Sud, a Roscoe Village restaurant, if you donate at least $1 to Lane, the restaurant will match up to $1000 dollars per month. 
Also brought up near the end of the meeting was a question on tips for the increased screen time with remote learning. Bantz said to try to keep a consistent schedule, just as before the pandemic. Tennison also talked about the 20-20-20 strategy, where every 20 minutes you look away 20 feet for 20 seconds. 
Tennison expressed that the school is unable to make the schedule shorter, something he already acknowledged during last month's LSC meeting.
"We had no choices in terms of the schedule. We were required to have the exact same schedule that we had," Tennison said.
Tennison recommended to move away from the screen, so you can see more than just the screen, as well as the 20-20-20 strategy.
Someone also asked if Lane would ever be able to let out early once in a while like some other schools do.
"CPS rules were that the schedule that was voted on by the teachers in the building had to be in place. The schedule is voted for in-person — that is the schedule that had to be in place for virtual," Tennison said. "I questioned it, I pulled on it, I suggested other things. The rules are, that is the schedule, so that's it. 
"So, no there are no other options and I'm sorry, but I have no other options. I know, it's a lot." 
The next Friends of Lane meeting will be on Nov. 4, with the topic scheduled to be college planning according to the Friends of Lane website.