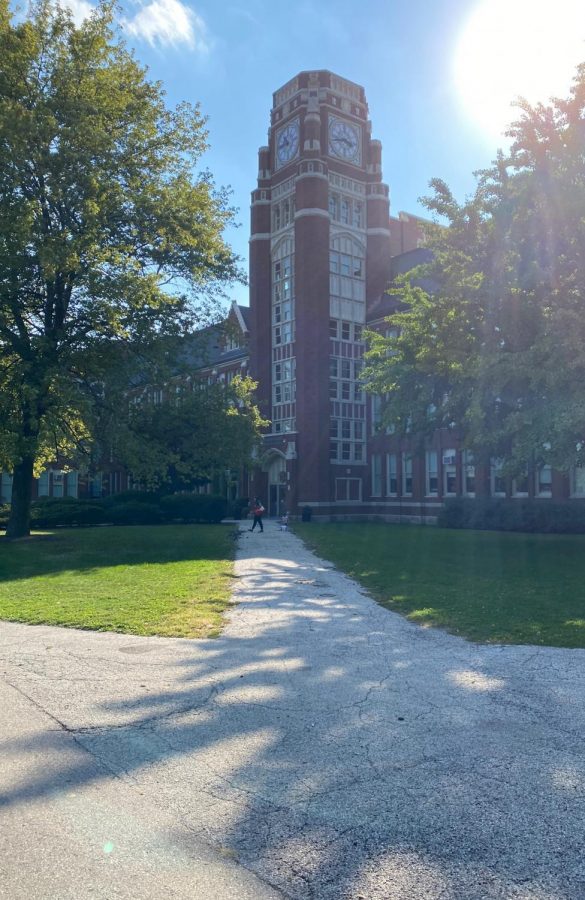 Jack Belmont
Principal Tennison's Dec. 2 announcement of Myrtle and Gold Days — a fully asynchronous instructional day slated for every other Wednesday — came as good news to students and teachers who felt fatigued by the amount of screen time, and there may be more in the future.
According to Assistant Principal Mr. Bell, the administration "would like to do Myrtle and Gold days as we move forward into January, but we have not finalized any specific dates or frequency yet. We wanted to see how this one went first."
Bell said that the administration has no specific metrics by which to judge the day's success, but attendance will be one of the biggest factors. According to Assistant Principal Ms. Thompson, there were 268 absences on Myrtle and Gold Day as opposed to 288 on Dec. 8, the day before. Thompson says that these numbers bode well for the future of Myrtle and Gold Days, and the administration will next week discuss future dates for the days.
Tennison's Dec. 2 email said Myrtle and Gold Days are "built around opportunities for students to spend time off screen catching up on assignments or receiving assistance from teachers directly during their class periods." Students log in for attendance at the start of every class period, and then are permitted to log off or seek assistance from their teachers, who remain in the Google Meet for the entire period. Tennison also noted that no additional instruction is to take place on these days.
"The goal," Tennison wrote, "is to relieve the growing amount of stress our students and teachers are experiencing."
According to Mr. Carity, who teaches AP Macroeconomics, the lost class time is not ideal, but he understands why Myrtle and Gold Days may be necessary.
"For me, my primary challenge as a teacher is figuring out how to best serve my students, and so although losing instructional time is never ideal for teachers, if it is indeed for the betterment of my students' mental and physical health, then that's a sacrifice I'm willing to make any day of the week," Carity said.
He continued, "Myrtle and Gold Days are a necessity for my students, and really, the biggest thing for me is it's going to require me to just take a little bit longer to go through the material. I think things that I had planned on taking X amount of time are now going to be X plus 1. It's necessary. It's not a big deal. It just means I'm going to need to take a little bit longer to get through material than I normally would."
Lucino Sotelo, Div. 367, expressed faith in his teachers' ability to adapt to the lost class time.
"I think that when they were probably making this plan, all those teachers took [lost class time] into account," Sotelo said. "Another thing that helped was with last year, we had a bunch of deterrents in the school year, and I had an AP class, then, too, with the teachers going on protest, and that showed me that they were able to work around stuff like that to get all the information that we needed for AP classes."
Sotelo continued, "[My teachers] didn't say anything that would make it seem like they weren't in agreement with what was happening, but I could see how it might change the way that they have their plans set up — but everybody needs a break. All of us are human, so hopefully they were able to get some rest, too."
According to Carity, teachers can still take advantage of the day despite having to remain in the Meet.
"Even though we're still on the screen, it does provide us the time to catch up on some of the clerical side of the job that we need to do, whether it's grading, creating assessments," Carity said. "For me, it really allows me time during the middle of my work day to still do things that are really important for me to be able to do my job properly [when] normally, I would be meeting with you guys and teaching. I think that even though it is primarily about you guys, I think that it does provide your teachers with a necessary break in order to catch up on some other areas."
Myrtle and Gold Days came about at the end of November, according to Bell, after the administration learned that the district would permit a full asynchronous day. Soon after the administration gained approval from the Network 14 chief, they brought the idea to Lane's Professional Problems Committee (PPC). Headed by Mr. Maslanka, one of Lane's Chicago Teachers Union (CTU) delegates, the PPC is charged with giving "the staff and the principal a chance to discuss and resolve issues about implementing the contract in the school."
Though Myrtle and Gold Days do not technically constitute a schedule change — and thus are not within the purview of any contracts — the administration wanted to include teachers in the conversation, according to Bell.
Maslanka said that as far as he knows, most teachers were supportive of Myrtle and Gold Days, and the PPC found them "good" and "necessary."
"I'm assuming most people are fine with the idea. I think there was a pretty good consensus when we started this that this schedule was kind of brutal, day after day to 3:15," Maslanka said.
Overall, students and teachers alike seem pleased with the possibility for future Myrtle and Gold Days.
"I'm glad to see that Lane's trying to find ways to think about the students; it's really nice," Sotelo said.