CPS Selective Enrollment testing adapts to COVID-19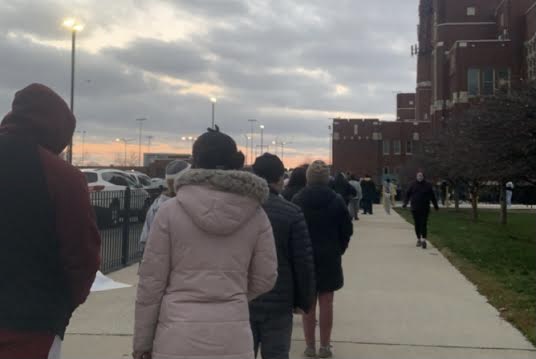 Eighth grade students across Chicago are now filling out their high school applications for the 2021-2022 school year, which opened mid-October. However, due to COVID-19, CPS has made some adjustments to their Selective Enrollment requirements and testing procedures. 
CPS released its updates and changes to the GoCPS high school application criteria on its website at the beginning of the school year. Among the most notable changes: students can now submit their spring 2019, fall 2019 or winter 2019 NWEA MAP scores if they could not take the test during the last school year. 
Even though CPS extended their range for acceptance tests, students without CPS-administered scores could not complete the requirements. CPS administered four NWEA tests in October to combat this problem, and Lane was one of the testing sites. 
According to Tara Johnson, Director of Admissions at Lane, about 4,000 non-CPS students will take the NWEA MAP test at Lane this year. 
The NWEA MAP is not the only test students need to apply to Selective Enrollment High Schools. All students interested in attending a Selective Enrollment High School must take the Selective Enrollment Exam, which Lane will administer. 
So far, Lane has administered tests on Nov. 14, 21 and Dec. 5. There are four more tests taking place on Jan. 9, 23, 31 and Feb. 6. Over the span of these seven test dates, around 4,800 students will take the Selective Enrollment Exam at Lane, according to Johnson. For every test day, there is an exam at 8 a.m. and 1 p.m. to give staff sufficient time to clean and spread out the number of people in the building.
Anna Harrell, Div. 553, is one of the students who took the Selective Enrollment Exam at Lane. Harrell took the exam on Nov. 21, and she remembers feeling nervous about going to go back into the building.
"It felt really great to be back at Lane and to see it again, but it was a little bit nerve-wracking because there were people that I did not know and I had not left my house in a long time," Harrell said.
With thousands of students taking the NWEA MAP and Selective Enrollment Exam in-person, CPS's Office of Student Health and Wellness (OSHW) set additional guidelines so that students and staff could be as safe as possible while taking these two tests. 
As required by OSHW, before entering the building, everyone has to take the CPS Health Screener and once they enter the building, their temperature must be checked and be under 100.4 degrees, and a mask must be worn at all times. Once in line, students need to follow the markers on the ground and stay 6 feet apart from each other. To ensure that social distance is practiced in the testing rooms as well, staff space the desks 6 feet apart. 
Proctors are also assigned to classrooms and halls, according to Johnson, to check that students follow procedure when going to the bathrooms. Additionally, the teachers administering the tests and a cleaning crew wipe down desks, pencils and other objects that might have been touched by students taking the test. 
Though Harrell felt like the process of entering the test room for her Selective Enrollment Exam was long, she feels that all that time was worth it in the end because it made her feel safer and comfortable being in the building. 
Hazel Rorem, an eighth grader at Hamilton Elementary, took the Selective Enrollment Exam on Nov. 14, and she agrees with Harrell. To Rorem, Lane and CPS did a thorough job of setting standards and establishing rules to keep everyone safe while testing. 
Now that both Rorem and Harrell completed the exam, they will have to finalize and lock their Selective Enrollment High School ranking on their application. Once they complete that step, they can submit their application before the extended deadline on Jan. 8. (The original deadline was Dec. 11.)
Students who tested in November will get their scores by mid-February, while students who test in the later months will get their scores along with their decision letters in spring 2021. 
Despite it being a long wait, Harrell knows that the process is rewarding.
"It's a bit of a long process," Harrell said. "But it is worth it because I might get into some amazing school."