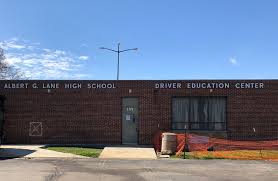 THEO GARY
When school buildings closed in March, many Drivers Ed students were stuck in limbo as they had not even received their learners permits, and therefore couldn't practice outside of school. Drivers Ed teachers, left in the wake of the coronavirus shutdown, were forced to come up with ways of allowing students to get the practice they needed to gain their drivers license.  
"I hand delivered over 100 permits," said Mr. Mitchell, who is the head of the Drivers Ed program. "I took one of the Drivers Ed cars, and they let me go all over the city and drop off permits. Took me about three weeks to get everybody, but I finally got it done."   
Even after most students were able to practice on their own, it still left the problem of getting the license itself. 
"So like the first semester kids were all eligible in June, like June 15,"  Mitchell said. "Then I've been bombarded with, good Lord, when that happened, it was probably 100 emails a day. Kids wanting to get their license."
Unfortunately, those students had to wait until the state reopened school Drivers Ed facilities in October. Other states, like Georgia, nixed the road test entirely, making it easier for students to get their driver's license. Illinois meanwhile hunkered down and waited out the coronavirus storm. 
The Lane Tech Drivers Ed program is structured into three different portions, all of which need to be completed in order to receive a driver's license. There is the in-class instruction, which is no different than any other class, comprising tests, quizzes, and assignments; range, in which students learn fundamentals of driving on the track next to the Drivers Ed building; and finally, there are traffics, which is essentially the same driving test one would take at the DMV except administered by Lane. 
When the shutdown happened, students were unable to do their traffics, thus making them unable to get their license.    
"There was nothing I can do until we reopen," Mitchell said. "The state knew that we were closed, and so I couldn't just put you in to go drive at the state. You had to finish up." 
Now that the in-school process has opened up again, it leaves different questions to be answered. Mainly, how will it function? One area of change is the range portion. 
"Just like when you had range that counted towards your hours of traffic. We don't have range so they'll have the full six traffics," Mitchell said.
Virtual classroom instruction is seemingly unchanged as well.   
 "Our teacher lectures us with a slides presentation. We work on worksheets and sometimes take quizzes," said Giselle Carrion Div. 364.
The process for getting a learners permit moves forward virtually, and is relatively unchanged.    
"Sure, we do essentially the same thing," Mitchell said. "For permit applications, they were all done in the classroom. And so, Ms. Onken, Mr. O'Hagan, and Ms. Colvin are all doing that virtually. The new thing is, the kids take the permit test right there."  
Like Lane as a whole, Drivers Ed is working to conduct its classes following the guidelines set in place. 
"All the cars are sanitized between traffics, everybody wears masks, instructors are told to keep the windows down, weather permitting. It's just different," Mitchell said. "I have about half the instructors working that I normally have, and half the students going through, that I normally have, so it's slowing down tremendously right now."
Functioning at its halved rate, the Drivers Ed program has considerable backup. It processes through nearly every student at Lane, so when it stops, an entire grade level is affected.
"Right now, we're still backed up. I got about 400 in the last six weeks. So we're backed up still about 1200 kids," Mitchell said.
Changing things on the fly isn't easy, but in the virtual learning world it must be done. Mitchell called the restart "organized chaos."    
"It's just teachers are learning and relearning how to teach, essentially, where we had a nice system that works, and now we just got to reinvent it and try and figure out the best way to accommodate you guys," Mitchell said. 
These adaptations seem to be working, according to Janiya Felty, Div. 353.
"My experience has been nothing I have imagined, but I enjoy it since it's a less stressful class and I feel that I am learning a lot."