Best released movies/shows of 2020
Our critics believe that these are the most influential shows and movies of the year. 
'I'm thinking of ending things', a twist on a thriller
By: Selena Kuznikov, A&E Editor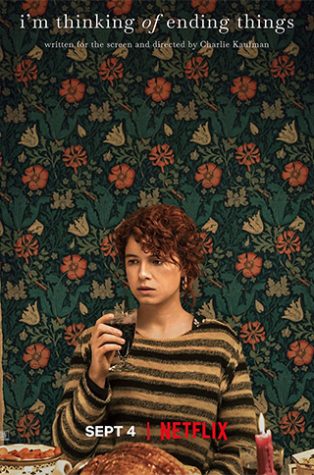 "I'm thinking of ending things" took me on a trip I was not prepared for. With every odd twist and turn within this movie, I was reminded of other strange psychological thrillers, such as "Hereditary" and "Midsommar," directed by Ari Aster.
The movie progresses through a mix of perspectives, the main being of a woman (Jessie Buckley), referred to as multiple names such as Lucy, Louisa, Lucia, and Ames throughout the film. Buckley is able to keep her audience on their toes and wondering what would come next within this open-ended thriller. 
The opening scene starts with the woman in the car with her new boyfriend, Jake (Jesse Plemons), with the couple on their way to a family dinner with Jake's parents (Toni Collette and David Thelewis.) The woman begins to contemplate ending things with Jake, per the title of the movie.
After a dinner that is hallucinatory, to say the least, Jake and the woman end up at his old high school, seeing an old janitor (Guy Boyd) walking through the halls. As Jake becomes enraged after an argument with the woman and seeing the janitor watching them, he storms into the school to confront the janitor.
 As a combination of perspectives is built upon and changed throughout the movie, the audience comes to a shuddering realization in the final scenes.
This psychological horror-thriller blends reality and hallucination together, making it hard to discern which is which. One of my favorite aspects that are typical of movies within this genre is the way that it is very much up to the audience's interpretation to figure out what is happening. Spending the whole movie trying to calculate and figure out exactly what is going on is enticing to me, and "i'm thinking of ending things" brought about this concept in a sly but perfectly explicit way.
Being able to interpret the hidden and outright messages of the movie is a challenge to me, and director Charlie Kaufman did a fabulous job of keeping his audience on their toes and questioning every aspect of the movie up until the very end.
While most audiences viewed "i'm thinking of ending things" through a questionable lens, I think that the absurdity within the cinematography and choppy timeline is the essential point of the film. In breaking the stereotype of a linear and predictable horror movie, "i'm thinking of ending things" is able to shift the viewer's perception of Jake and the woman.
The mix of subtle and outright metaphors perfectly concludes the film. The culmination of a dream-like environment and hallucinations leaves the viewer questioning what the true ending of the film is.
'Julie and the Phantoms' is a Netflix must-watch
By: Ryan Fairfield, Editor-in-Chief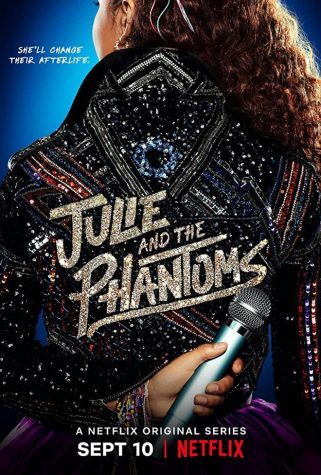 Throughout the past couple decades, Kenny Ortega has created, produced, and choreographed some of the most iconic films and television shows. From choreographing the 1980s classic "Dirty Dancing" to directing and choreographing the "High School Musical" trilogy, Ortega has a resume of incredible films. "Julie and the Phantoms" is just the next addition to Ortega's remarkable body of work. 
"Julie and the Phantoms" follows Julie (Madison Reyes) who struggles to cope with the loss of her mother. Music used to be an essential part of Julie's life, but since her mom's passing she lacks the passion for it — that is until she meets the "Phantoms." Alex (Owen Joyner), Luke (Charlie Gillespie), and Reggie (Jeremy Shada) were bandmates in the 1990s band Sunset Curve before the three of them died in a tragic accident. When Julie is in her garage one day, which is where the three bandmates used to practice, she suddenly starts to be able to see the three of them as ghosts. Julie soon learns that the boys of Sunset Curve are only visible to her, except when they are singing together. 
When Julie sings with the boys, everyone is able to see them and the second they are done performing, they go back to only being visible to her. With the help of the band, Julie finds her passion for music again and works to gain back her confidence, all while Alex, Luke, and Reggie try to figure out what their "unfinished business" is so they can move on from the physical world. 
I will admit, when I first heard the concept for this show, I was very confused and did not have much hope for it. 
After watching all 9 episodes in one binge session, I can safely say that I was extremely wrong. "Julie and the Phantoms" succeeds in being a show people of all ages can enjoy because both the acting and writing is perfect for the style of the show, and the music is some of the best I have heard in a musical show or movie. 
'The Half of It' A new kind of rom-com
By: Emily Delgado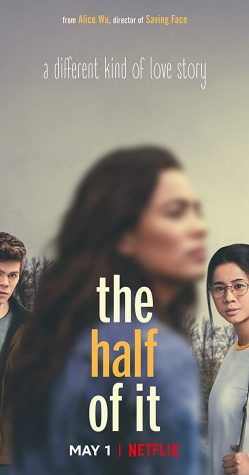 Presented as a teenage rom-com, "The Half of It," explores the meaning of love. With the unexpected friendship of Ellie Chu (Leah Lewis) and Paul Munskey(Daniel Diemer) and Paul's crush on Aster Flores (Alexxis Lemire) and Ellie's crush on Aster, "The Half of It" is chaotic. 
It is a coming of age story, a platonic love story, and a queer love story all in one movie. While it is hard to focus on one theme, "The Half of It" finds a way to squeeze all these themes together to tell the story of high school. I think the overlapping themes could be a metaphor for the craziness of high school. Many teenagers may be dealing with the same problems as the characters in "The Half of It," which makes it a very realistic rom-com. 
Each character is so different. Ellie is a loner who helps her classmates cheat on English papers, Paul is on the football team and Aster is the girlfriend of the most popular guy at school. Their paths would have never been crossed if Paul hadn't asked Ellie's help to write a love letter to Aster. 
While, personality-wise, the characters are not similar, they all have one thing in common: they are in the search for love. 
In the opening, Ellie is telling an ancient Greek version of the creation of man and how humans were once two humans bound together but then the gods separated us creating two halves of one person. She continues the story by saying how we, as humans, are always looking for our other half. 
I personally think that Ellie finds her other half in Paul. Though they never say "I love you" to each other, actions speak louder than words. Whether it was Ellie writing to food critics to taste Paul's food or Paul taking care of a hungover Ellie, the growth of their relationship was amazing. 
Ellie and Paul's relationship was the storyline that stuck out to me the most. I enjoyed Ellie and Aster's relationship but the entirety of the movie centered around Ellie, pretending she is Paul, writing to Aster, thinking she was writing to Paul. 
It isn't until the last 20 minutes that we see Aster and Ellie actually talk to each other after the whole movie centered around Aster writing to Ellie. Their relationship seemed rushed, and I actually think that Ellie's battle with her sexuality would have been a better storyline as opposed to squeezing in a rushed relationship with Aster and Ellie. 
"The Half of It" definitely could have been a hundred times better if it didn't try to fit so many themes into the duration of an hour. 
'Hollywood': A Tale of what Old Hollywood could have been 
By: Emily Delgado, A&E Editor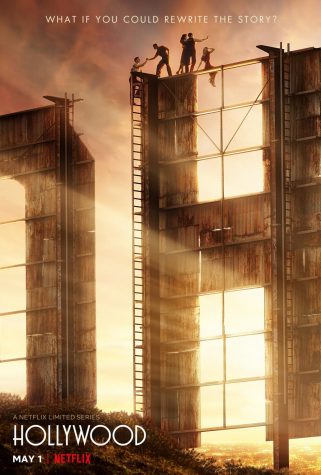 The miniseries, "Hollywood" depicts the struggle of actors, directors, and screenwriters as they try to make it big in post-war Hollywood. Inspired by the lives of real-life actors, "Hollywood" is a story reeking of hope, social commentary, and classic Hollywood magic, hence the title of the show.
The main goal of every character is to make it big in Hollywood. The commonality is that they all are in the making of a new film, "Meg," which is written by Archie (Jeremy Pope), a black, gay man.
The film they're making creates an undertone of the troubles that every character goes through trying to achieve that Hollywood dream. 
The writers of "Hollywood" deserve some recognition because they took the lives of real actors, Rock Hudson ( Jake Picking) and Anna May Wong (Michelle Krusiec), and completely changed their story. 
Anna May Wong, an actress of Chinese descent, often played stereotypical and racist roles; the writers of "Hollywood" bring justice to her story by casting her character in a role not because she was Chinese but simply because she is a woman.
In both real life and in "Hollywood" Hudson was gay, but in real life, he lived his life closeted. In "Hollywood," the writers made sure that Hudson was openly gay and viewed as a credible actor at the end.
One of the things that I loved about the series was how writers turned the sad tales of Hudson and Wong into heartwarming and inspiring tales.
Among basic stardom struggles "Hollywood" highlights the major racism that was present in 20th century America and Hollywood. 
Through the story of Camille (Laura Harrier) and Archie, we see the struggle that black people in the entertainment industry had to endure and the few opportunities they had to make it in Hollywood.
"Hollywood" was not only a great show due to its socially aware writing but for its attention to detail as well. 
It tells the story of people taking chances and standing up for what they want out of life. "Hollywood" was meant to be an inspiring and hopeful story, and although it would have been interesting to see how the story would have ended without the classic and cliche Hollywood ending, if that were so, I guess it would not have been called "Hollywood."