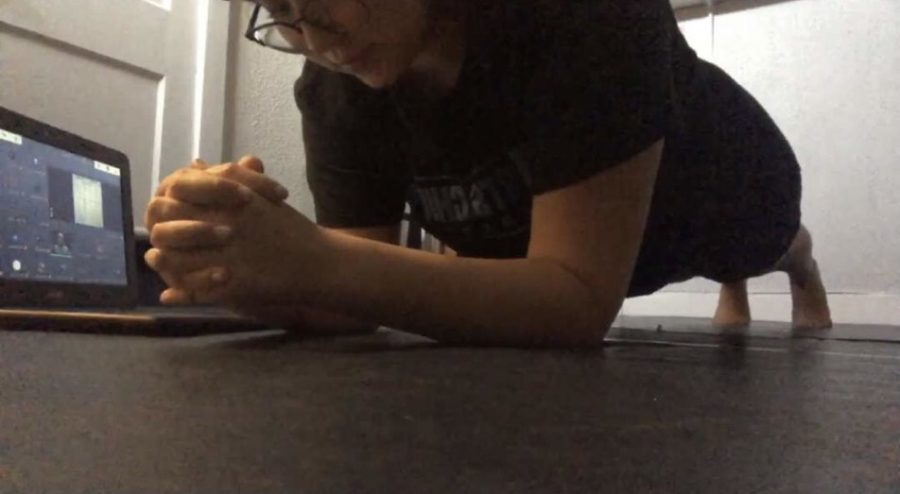 This school year, the physical education department is facing many challenges while teaching through screens. Though times have been rough adapting to a remote learning environment, these teachers have found fun and creative ways to teach PE.
"So I'm kind of thinking outside the box and utilizing all the resources that we have available to us, like different apps, using YouTube, smartphones, different applications like Flipgrid, trying to maximize the potential of all those different elements," said Strength and Conditioning teacher,  Matthew Bobek. 
Though these apps and resources are helpful in keeping students active, it's still difficult to critique and give students feedback while making sure they're doing exercises correctly online as their cameras aren't always on during class, according to Bobek. 
"You know, I'm not knocking on the students for turning their cameras off, but it's hard to critique form and technique and give them specific feedback when I can't see you," Bobek said. "It's not a matter of mere compliance, where I'm just saying that you need to turn your camera on because I gotta make sure you're doing this. I'm not trying to check a box, but the purpose of this class is to help you develop good habits, and if you're doing things incorrectly especially with exercise — I can't see you do improper form — we're just going to continue to make those same mistakes."
One of the toughest challenges this year, besides making sure students are doing form correctly, is making sure students are participating. According to James Floyd, a PE I and II teacher, teachers have access to certain data to see who has their camera on and is engaged throughout the class. 
"If I'm asking them questions or checking in on them, they have to respond right on the spot, and if they're not, then I know that they're not engaging," Floyd said. "Students who have had issues with not showing up, it's using that data to kind of seek those kids out and having one on one conversations with them and just checking in and asking questions and talking to them making it comfortable to know that, hey you're not alone." 
Teachers have also expressed how upsetting it is to teach while students have their cameras turned off.
"More and more students are turning their cameras off. And at first, I'll be honest, that it was starting to get to me. I think that everyone in the department kind of expressed their frustration saying like, I can't see my students," said Bobek. 
Something different they are doing this year is focusing more on students' wellness with yoga and talking about what's been going on in their lives, according to Floyd. 
"In my classes, we do yoga on Mondays and Fridays. I like to start the week and end the week with yoga," Floyd said. "I have a lot of SEL lessons, social-emotional learning topics, and we've talked about pillars of holistic wellness. We've talked about things that are going on in kids' lives, so in essence, it's been great to have students give their mental-emotional feedback on certain days where they're able to talk about how they're feeling and what's going on in their brains. That's been really powerful."
Even though some students aren't working with their cameras on, they appreciate the efforts teachers are putting in to continue to teach the class online, according to Noemi Marchan, Div. 256 (no relation to Lane P.E. teacher Francisco Marchan). Not only do students appreciate their efforts, but they appreciate how understanding they are about the remote learning situation.
"Teachers know that we don't have equipment, so they give us alternatives like using towels, books bags, and gallons of water," said Marchan. "Teachers are also really understanding that we can't go outside and run, or that some students have a small household so they don't have us do exercises that take a lot of space."
Marchan took Strength and Conditioning this year to stay in shape and be active while also learning more about nutrition and proper form when lifting weights. 
She also said she enjoys her teacher, Bobek, as he's always energetic and understanding of people's schedules and time.
"I think making it fun, putting yourself out there, making jokes, because your personality as an educator and as a person has to shine through because we all know being at home, the motivation can just start to dwindle, especially when it comes to physical activity," Bobek said. "Making workouts fun and exciting, tying it not to a theme and keeping the variety there, we're doing so many things that we maybe didn't do as much of when we were in person, like the guided meditations — we're trying to take a more holistic approach, like Mr. Floyd was saying."
Considering everything that has been going on with the pandemic and the transition to remote learning, this is an entirely new environment for everyone. According to Floyd, battling through these tough times has made the job a lot harder, so this year has been all about recognizing these challenges and being understanding.
"Having to, you know, battle through that [the pandemic] just makes the job that much more difficult," said Floyd. "So, being very patient and understanding and empathetic has been what it's all about."