Ivy League pushes back decision day following surge in application volume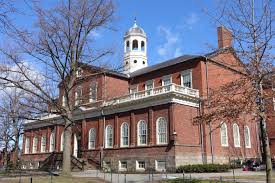 For many college applicants, the spring is a waiting game as colleges make decisions on their candidates. This year, however, some applicants are going to have to wait longer than usual to get their final decision.
The Ivy League pushed back their joint decision date from March 31 to April 6 at 7 p.m. Eastern Standard Time following a surge in the number of applications to their schools. They also extended their candidate response deadline to Monday, May 3 from the original May 1 deadline.
The Ivy League schools affected by this decision include Brown University, Columbia University, Cornell University, Dartmouth College, Harvard University, the University of Pennsylvania, Princeton University and Yale University.
In a statement on Princeton University's website, the school stressed their "commitment to thoughtful review of all candidates" in the wake of the increase in application volume.
"Students and families can be assured that, as always, we will consider any requests for additional extensions that may be necessitated by financial aid determinations," the statement said.
The effects of this decision and the increase in applications are still unclear, according to Ms. Carqueville, a senior counselor at Lane. 
"Schools may be opting to offer more seats to students. That's the hope, especially if they're having more applicants. But we just don't know what their plans are," Carqueville said.
The pushback may also become a source of stress for many applicants. This is the case for Sarah Miller, Div. 173, who applied to two Ivy League schools this application cycle.
"I was kind of frustrated because my college process has been longer than a lot of other people's," Miller said.
"But I also know that there are a lot of applicants this year… so it makes sense that there's a lot of people that they need to look over," Miller continued.
The increase in the number of applicants to Ivy League schools has indeed been substantial. In an email sent by Harvard College, they wrote that they received over 57,000 applications for the Class of 2025, a considerable increase from the Class of 2024's number of just over 40,000 applicants. Many Ivy League schools sent similar emails to applicants detailing the updated decision date and procedures in response to the increase in applications.
According to Carqueville, there are a few possible reasons for the increase in applications to top colleges, the most significant of which being the decision of many colleges to go test-optional because of coronavirus restrictions. This means that many schools no longer require scores from standardized tests such as the SAT, ACT or AP exams as a part of their applications.
"I think that test scores have kind of kept kids from taking risks," Carqueville said. "But now, since that data point is off the table, students who have high GPAs are able to apply more confidently to more rigorous schools."
Carqueville also explained that an increase in enrollment deferrals could play a role in admissions. Deferrals and gap years could open up the waitlist for other students, Carqueville said. However, exactly what role they may play remains unknown.
"It's still too hard to tell about what the admissions are going to be, knowing that more students are putting off college admission," said Carqueville.
As well as affecting admissions, the pushback may also impact how applicants move forward in the college application process. For Miller, the pandemic coupled with the deadline pushback has changed her plans to visit the schools she applied to, which she was originally going to do in April.
"That's kind of different now because I need to plan ahead as to whether I want to go to those schools. If I don't end up getting accepted to UPenn, then what's the use in going to the campus?" Miller said.
Between the pandemic, requirement alterations, deadline changes, and decision day pushbacks, college applicants have had a lot to stress about that is out of their control. But there are still ways students can be active and involved in the applications process, according to Carqueville.
"We're still wanting [Lane] seniors to update their Naviance as to what their results are because this will show us what is going on in terms of college admissions," Carqueville said.
There's still time to apply to some universities with deadlines in February and beyond as well. 
"A lot of schools with rolling admissions have already announced that they're pushing back their deadlines. So if you're wary or if you're unsure, there's still time," said Carqueville.