Hobbies as an escape from the pandemic
After Abigail Ortman's grandmother got her an embroidery kit, she started finding crochet needles in random spots throughout her house. This, mixed with her new abundance of free time caused by the COVID-19 pandemic, made her decide to learn how to embroider and crochet using YouTube videos. 
"I was just really bored because I didn't have anything to do," said Ortman, Div. 380. 
Since last March when the pandemic led elected officials to enact "stay at home" orders, people have often been isolated indoors to avoid risking exposure. During this seclusion, people are finding any new activities to pass the time. 
According to Dr. Michael Kocet, a mental health counselor, in an interview with Convene Magazine, people look to hobbies to "balance the stresses brought on by the pandemic by tapping into their creativity." Along with relieving stress, Kocet says "hobbies give people a sense of accomplishment that is satisfying and comforting." 
Ortman was able to tap into her creativity by making pieces for her family, whom she spends quarantine with.
"I thought it would be fun to make certain things to give my family members," Ortman said. "My sister, she had a random white sweatshirt, so I embroidered this Nike logo out of flowers and stuff."
One hobby has become a way for people to "roll" away from the anxiety of the pandemic. In a stressful time like this, skateboarding is an option many are seeking out. According to a study on skateboarding culture from the Pullias Center for Higher Education, 62% of respondents said they skate to "get away from stress."
"I had all this free time on my hands," said Sebastian Salamanca, Div. 182. "That's all I would go do for hours."
Salamanca started skating in fall of 2019, but found he had more time to skate once the pandemic began. While skate parks were closed during the initial lockdown last year, that didn't stop him from practicing when he could. 
"I would just want to go to this school by my house," Salamanca said. "And nobody in my neighborhood really skates, so I knew that if I went there I would just be by myself." 
Skating has been easier because of COVID-19, according to Salamanca. He says that learning the basics by himself helped him focus on landing tricks without any other people distracting him.
In June, he started heading to Logan Boulevard Skate Park to practice on some new obstacles.
Others are turning to activities that help them foster a sense of community while they cope with pandemic boredom. Nova Gomez, Div. 150, started painting using the materials her mom keeps around the house.
"I decided I needed to do something, so I started painting my friends," said Gomez. "They were kinda bad at first, but I think I got better."
Gomez started painting at the beginning of quarantine, expecting it to be a one time thing. Now she says she paints every two weeks.
"I really like painting animals, that's always been really fun," she said. "I would paint my friends' pets for their birthdays and then drop them off in their mailbox on their birthday, because I really missed social interaction."
Gomez said she had painted before, but didn't take it that seriously. She thinks now that she's had practice and improved in her ability it's more fun.
According to Drexel NOW, a Drexel University study found that making art reduced levels of cortisol, a stress hormone, in 75% of subjects. 
"I'm very nervous all the time," said Gomez. "Having to sit down and focus on something for an hour and a half straight without moving that much, I think, does make me calm down a lot." 
It's unclear if these hobbies will stay with people or be forgotten once everyone moves on from the pandemic, but they have helped many people speed up the countless hours that they would have suffered quarantining. 
"I can see how the paintings get better," Gomez said. "If you line all of them up in order, you can kind of see the progression of quarantine."
About the Writer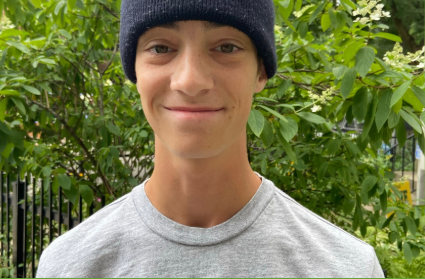 Jack Belmont, Photo Editor
Jack Belmont is a senior beginning his second year with The Champion (formerly The Warrior). Jack loves taking photos and is co-president of Lane's Photography...