STAFF EDITORIAL: Fritz Pollard helped change sports forever — it's time he gets his recognition
When the School of Champions hasn't honored one of their most important "champions," something needs to change.
Lane is a school that brings home city titles in athletics on an annual basis. That just makes it that much stranger that the school has no recognition of Frederick Douglass "Fritz" Pollard, a champion both on and off the field.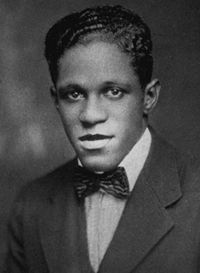 When the Lane Local School Council (LSC) mentioned dedicating the field at Lane Stadium after Fritz Pollard, the 1912 Lane alum who went on to break multiple color barriers in football, our Sports Editor, who closely follows Lane athletics had to look up who they were talking about.
In addition to a playing career that started at 2501 W. Addison St., Fritz Pollard became the first Black head coach in the National Football League (NFL) in 1921. He was a player-coach, playing on multiple teams from 1920 to 1926.
That reason exactly, a lack of knowledge surrounding one of the most important alumni in Lane history, is why the dedication of the football field after Fritz Pollard is a necessary move for a diverse school.
Pollard, who lived from 1894 to 1986, set new precedents as a Black coach and player in the American Pro Football Association (APFA), now known as the NFL. Pollard also was the first Black football player at Brown University.
But before Pollard tore up the gridiron on the collegiate and professional level, he and his family helped break barriers at a local level.
Pollard himself, who also played baseball and ran track, excelled on the Lane football team while being either the only, or one of two, Black students on the team, according to The Sun-Times.
"They were an amazing family and role models for all of us," Michelle Weiner, president of the Lane Tech Alumni Association said. The Alumni Association is leading the effort to dedicate the field.
According to Weiner, we can thank a Facebook user who commented on an Alumni Association spotlight post about Pollard in March 2020 for giving the idea to dedicate the stadium.
"That's kind of how the seed was planted," Weiner told The Champion. "And it took us until summertime to get a real plan formulated and then we had the article in October in The Sun-Times which was a real catalyst for everything. And here we are, we're getting close. So we're excited about it."
The dedication, which has passed preliminary presentations to the CPS legal and sports departments, now is awaiting approval from Dr. Janice Jackson, CPS CEO. Weiner said she will be presenting to Jackson shortly before spring break. 
As Lane athletic director Nicholas LoGalbo puts it, Pollard was a groundbreaker.
"Fritz Pollard is a legend.  He is a trailblazer.  He is a hero.  He is a champion, not just on the field of play, but off of it," LoGalbo told The Champion via email. "He is the epitome of the Lane Tech mantra we challenge all of our student athletes to live by: 'School of Champions.'  It is long overdue.
"How can one of the most elite organizations in the world, the NFL, that only welcomes the best of the best at their craft continually honor Fritz Pollard for all that he has done for the game as a player and as a coach — the first African-American coach in NFL history —  and we at Lane Tech have nothing?  It is time," LoGalbo continued.
After all, Pollard is the NFL Hall of Fame — no easy feat — yet his name is nowhere to be found around the Lane campus.
And what LoGalbo says is 100% correct. Turning Lane Stadium into "Fritz Pollard Field at Lane Stadium" (which LoGalbo confirmed will be the name, should it be allowed), is a necessary step for Lane Tech.
For a school that prides itself on diversity, on having students from all around the city and from all different cultures and backgrounds, it is necessary to recognize the achievements of Fritz Pollard.
"It's really important to highlight our participation as a school that [has] a diverse culture, to look at all of our students and celebrate all of our students," Weiner said. "This is a man who did amazing things. He really was a pioneer and that's the spirit of Lane that needs to be celebrated. And there's never been a better time to do that than now."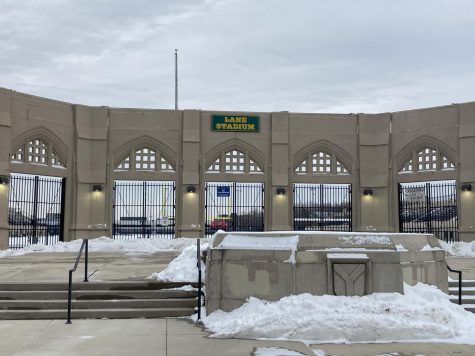 The current timeline for the dedication remains up in the air. Weiner acknowledged that this is not the most important thing going on right now, but said that the Alumni Association will continue to do what is needed to get the process going.
"We have had a lot of interim reviews and approvals or presentations and gone through several iterations of presentations with various departments at CPS — legal and sports," Weiner said. "And now our final presentation will be to Dr. Jackson, and what I'm doing right now is collecting an appendix of community endorsements — from the football boosters, from Principal Tennison, from the LSC, from the alderman, a variety of community members and students — endorsing the idea, getting behind it. And then once Dr. Jackson approves that we will establish a blue-ribbon committee to kick off the design and fundraising for it."
We don't think it's an overstatement to say that there's not that many things that so many different groups of people — alumni, politicians, students and more — agree on. 
But the fact that all of these groups agree on the importance of this initiative is just another reason why it is so necessary for the field to be dedicated after Pollard.
We believe the excitement that LoGalbo had in his email to The Champion is the attitude many Lane students will have when they learn about the life and legacy of Pollard.
"I am ecstatic!  As mentioned, this is long overdue," LoGalbo said.  "I know that there have been so many championing this cause over the years, but to actually get it done takes time and we are getting closer."
And whether the dedication is ready by homecoming next year, as Weiner hopes, or takes longer, it is important that Lane Tech — the School of Champions — finally gives Pollard, a champion of change, the recognition that he so very much deserves.
Staff Editorials represent the majority view of The Lane Tech Champion's Editorial Board.