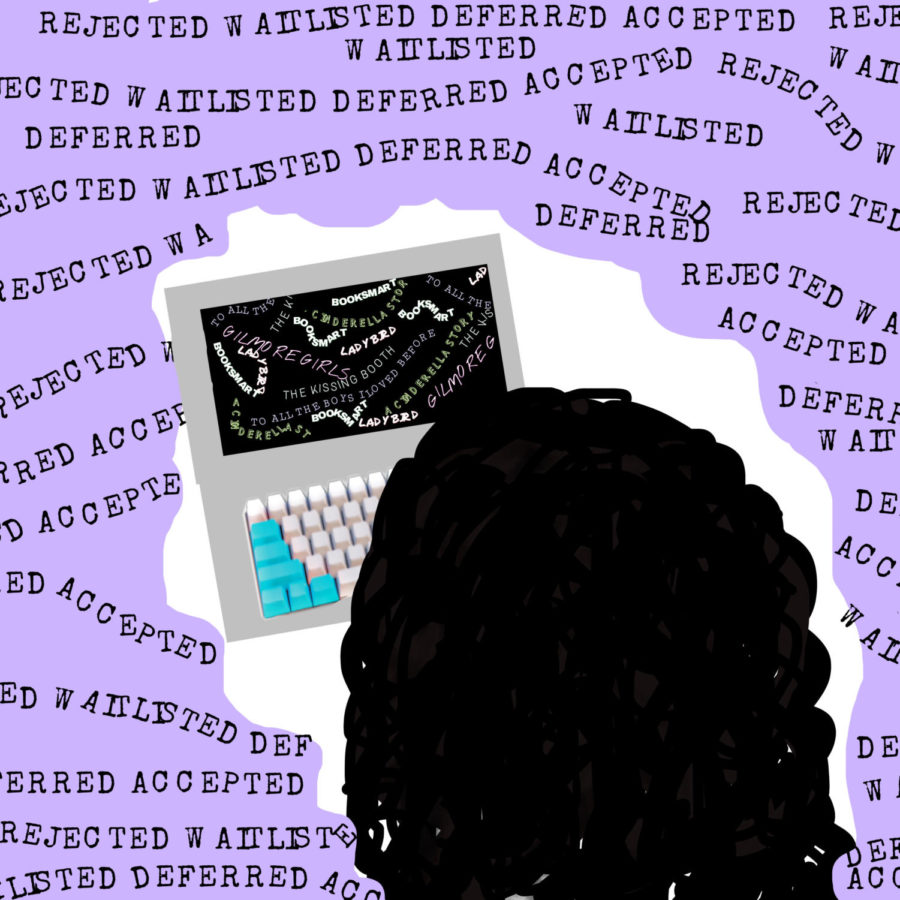 Ella Dame
I spent about 60% of my iPhone 4's screen time watching Ivy League college acceptance videos on YouTube throughout middle school, smiling ear to ear at the wholesome screams of joy. 
As my own college decision season has rolled around, I have avoided them at all costs. 
Before I was the one logging to applicant portals, setting up my camera to record, and anxiously texting my friends to ask if they'd been accepted, I loved watching movies about seniors getting into their dream colleges and looking up acceptance rates that had single digits.
As recently as eight months ago, I was rewatching Rory Gilmore get accepted to Yale and get upset about it in the show "Gilmore Girls." It can be so exciting to live through your favorite TV show or film character as they open such important letters with their families by their sides. The unfortunate and realistic truth didn't come to me until I was waitlisted from my dream school in February.
When I began applying to colleges in November, I avoided cheesy movies like "The Kissing Booth" and "A Cinderella Story" which feature their characters focusing solely on going to prestigious schools, and, of course, all getting in. I knew, even that early in the process, that the film college acceptance standard wasn't realistic at all. Obviously not everyone who applies to Ivy League schools gets in, but there was a lingering feeling that if my favorite TV characters could, I would be able to, as well.
I've always been a perfectionist — I even wrote my Common App essay on it — but it often hurts me more than it helps me. I work hard and expect perfection but when I falter or begin to stray from this idealistic student illustrated on TV, it's hard. Nobody wants to face the fact that their dreams may not be reached because of a couple hard months or academic mistakes, but it's important to realize that we're not all Rory Gilmore.
It's not just not getting immediately accepted into your dream school, getting deferred, or even getting flat out rejected that is most sorely portrayed by trending YouTube decision videos or Netflix originals, it's the cost of attending — and everyone knows that college isn't cheap. The topic has been brought up by television, news articles and especially politics within the past few years, and as I've learned about the move to wipe out student debt, I've started stressing about how I'll be able to afford college.
Even though I've been accepted to schools that have low acceptance rates or are others' dream schools, they seem to be so far out of reach because they're so out of our price range. I had been warned about encountering this by counselors, adults, other students and even some of The Champion's past articles, but it just doesn't feel like it matters until you have to deal with it. 
While I'm still adjusting to figuring out net price tuition calculations and deciding on where I'll be going, I have found peace in knowing that I'm not Lara Jean or Rory Gilmore. I don't have access to the funds that Rory did or have Berkley as my backup school like Lara Jean, but I can be content with the acceptances I worked hard for and the excitement that comes with decision season. 
This realization has come after so much self-doubt and stress. It's come to me as after I had wallowed in my disappointment for so long I got bored of it. It's not worth wasting your time on this trivial issue. I continue to avoid content that can easily make one feel bad for not being able to afford an expensive college or get into a very prestigious one, and I think there's comfort in viewing the process for what it is. Decision season is going to be exciting, disappointing, stressful, and not ideal, but accepting that is the key to peace of mind during this time.