The Return of CPS Winter Sports During COVID-19
COVID-19 has been a disaster for athletics since the beginning of the pandemic, not only with professional sports being postponed, but with youth sports, too. In the state of Illinois, the return of winter sports was not guaranteed. The IHSA and CPS needed time to create a plan, and there was not a lot of hope that winter sports would be able to start, even in the greater IHSA organization. CPS athletes faced greater difficulties because even if IHSA said it was a good to go situation, CPS would still have to approve everything. 
While the hope seemed thin, on Jan. 27, IHSA came out with a plan for winter sports to begin play. The sports that this new plan included were boys basketball, girls basketball, boys swimming, dance, cheerleading, boys bowling, girls bowling and girls gymnastics (as well as badminton, which was allowed to play until April 3). The plan stated that the season would last from Jan. 28 until March 13. In addition, most winter sports were not able to hold state championships, unless the championships were held virtually (dance and cheerleading, and badminton in-person). 
Even with this new plan from IHSA, it was not certain that CPS would approve play for winter sports. After 12 days of waiting on it, on Feb. 9, CPS finally approved the plan for winter sports to return to play. Because teams had to practice seven days before being able to play their first game, that left only about three weeks for the season to actually be played. Regardless of the amount of time that was given to play games, CPS athletes and coaches were eager to play in the time that was given, with COVID rules in place. 
Wearing a mask while playing outdoors is already hard enough to begin with as it is hard to breathe through it, and it tends to get very hot in the mask. Now with playing inside a hot, indoor gym kind of environment, there is a completely different level of playing in the mask. Wearing a mask in this environment is extremely difficult, but athletes and coaches were willing to do so in order to play.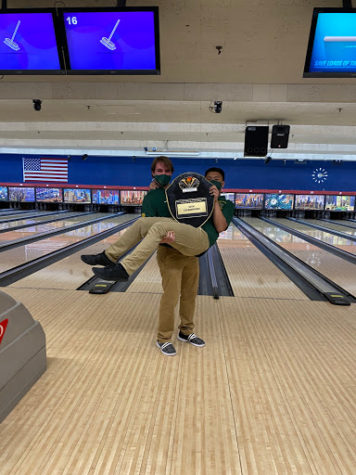 When asked about the difficulties of playing in a mask, boys basketball captain and point guard Justin Brown, Div. 180, said, "For me, it was something that I had to get used to at the start of the season, but wasn't a problem after I adjusted."
To make sure that student-athletes would be safe while playing, CPS created a 30-mile radius for schools to play games in. The majority of these safety precautions heavily rely on the coaches and staff to make sure that everyone in their program stays safe. CPS also requires a daily health screener to be filled out to minimize the chance of COVID cases within the programs.
The changes of playing in a COVID year brought forth many difficulties.
"The lack of team chemistry and time together [was tough]," Brown said. "This year needing to adjust to a whole new set of teammates and play styles in a minimal amount of time gave us a big hill to climb in limited practices." 
Boys basketball forward Chris McQueen, Div. 179, found another part of the changes most difficult. 
"Not being able to play with our fans in the stands [was difficult]," McQueen said. "When we have people cheering us on it gets our team going." 
With COVID-19 still being a concern, the coaches had a lot of responsibility to enforce COVID rules and do their best to make sure that their players and the program in total were being safe while playing. 
"[Coach] LoGalbo heavily enforced the COVID protocol during our time together because he understood many of our last seasons could potentially be canceled due to the contagious virus," Brown said. "Coach put pressure on the players to hold each other accountable when making decisions during our season and made sure to use a see-through mask so we could communicate easier with each other on the court." 
According to McQueen, LoGalbo cleaned the basketballs after the team used them and the balls were switched for different drills.
Playing during COVID-19 times is a struggle. While there are countless guidelines to follow, and following them all may tend to be difficult, at least youth sports are returning to somewhat normalcy.