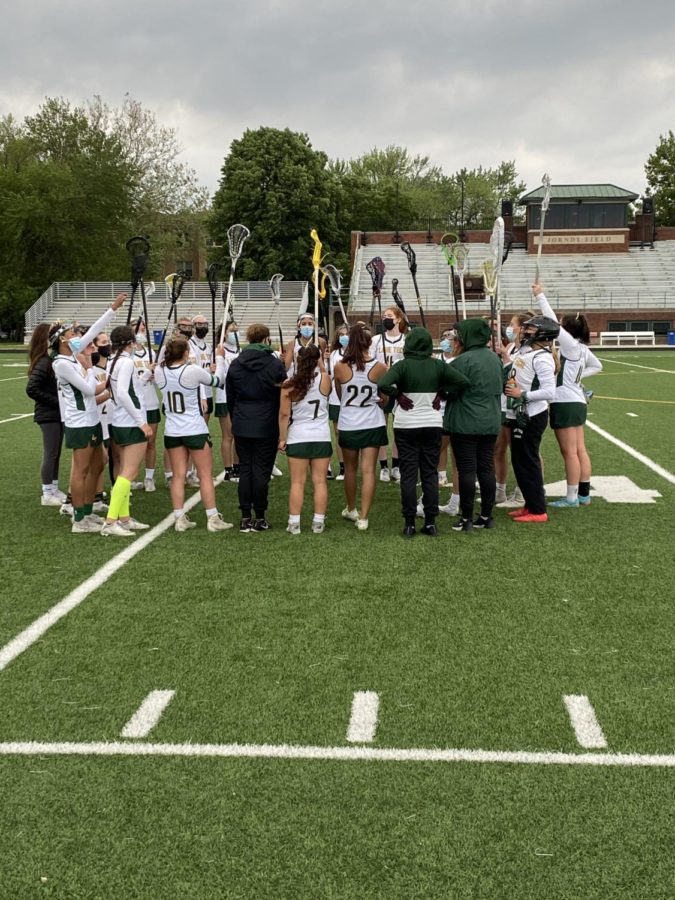 After five straight years of hoisting the city title, Lane faced an obstacle last year. It wasn't a tough opponent, a last-minute loss, but a pandemic, which cancelled nearly all of the season, including city playoffs.
14 months after the players were sent home not knowing when they would play next, Lane finally had the chance to expand on their city-title winning streak this week.
On Thursday, Lane's girls lacrosse team clinched the city championship in an 11-8 win against Walter Payton. The game was competitive and close throughout, with the two teams trading goals throughout the first half. Lane would eventually pull ahead in the second half.
The game, played at Jorndt Field in Winnemac park, was the second meeting of the season between the two teams, the first of which Lane won 16-9. 
Overall, Lane's team had been dominant in both conference and non-conference play this season, including double digit wins over Latin (13-3) and Lincoln Park (19-0).
The game began at 5 p.m. with senior captain Lydia Glenn winning the faceoff. A few minutes later she would score first, making the game 1-0. Lane and Payton would trade goals throughout the first ten minutes. The score was tied 3-3 with around around 6 minutes left in the first half when a goal by senior Allison Glenn – assisted by junior Francesca Spingola – gave Lane the 4-3 lead. Glenn would go on to score four times in the game, with two goals being assisted by twin sister Lydia, who also scored four times. 
"We are able to see each other when we are cutting," Allison Glenn said of their chemistry. "We work really well together." 
The game was 5-4 in Lane's favor towards the end of the first half. Payton had a chance to tie the game going into halftime, but a series of stops by junior goalie Tessa Mitchell kept Lane ahead.
Despite persistently aggressive defense by Payton, Lane began pulling ahead in the beginning of the second half. Goals by Spingola (assisted by Kayla Jones) and Lydia Glenn (assisted by Lindsay Warren) made the game 7-4. 
"I think we worked better as a team in the second half," Allison Glenn said. "We did a better job of rushing to the ball instead of just letting it come to us." 
With 13 minutes left and the score 8-5 and Payton would score two unanswered, taking advantage of some Lane defensive slips. 
But Lane pushed through as their offensive pressure led to three straight goals, extending Lane's lead to 11-7. 
Payton scored once during the final two minutes but it was too late. Time expired and Lane's players rushed the field to celebrate their 6th straight city title. 
Minutes later, they received their medals and hoisted the city trophy once again.