The Champion's fall sports previews
While Lane athletes did get to hit the courts and fields during the 2020-21 school year, a lack of fans and an abundance of precautions took away much of the traditional high school sports atmosphere. As the calendar flips to the 2021-22 school year, precautions stay in place, but players are ready for what seems to be a much more normal season of sports competitions. From football to cross country, here are The Champion's 2021 fall sports previews:
Boys Football
Not many people get a second chance at a first start. But after a shortened spring 2021 season, the Lane football team is getting a second start with former NFL player and Head Coach Dedrick Dewalt.
Short could be an understatement when describing last season for Lane, which ended with a 2-1 record, beating Sullivan 29-0 and Lincoln Park 20-14, while losing to Taft in the season opener 36-34.
The two wins matched their season total from the 2019 season and was one more than they had in 2018, but starting quarterback Donnell Adams, Div. 269, said this year's team can play differently than recent seasons.
"I think this season will be very different from the previous in recent years," Adams said. "Expect Lane football to dominate in an exciting fashion."
With an experienced receiving corps and what looks to be a strong defensive line, Lane hopes to compete for a title in the Chicago Public "Illini – Land of Lincoln" Conference, which saw top teams Taft and Phillips both lose head coaches this offseason.
While past seasons have seen Lane struggle to find themselves in the win column during conference games, Adams said this year's team is playing differently.
"The main difference between this year's team and last year's team is the energy," Adams said. "We have worked incredibly hard to rebuild the name of Lane and we are looking forward to playing a full season."
Lane will see both of its top rivals this year, Taft and Whitney Young, after Whitney moved up into Lane'sa conference. 
While the team has struggled to reach the city and state playoffs in recent years, with a new coach and new look on conferences, Lane looks to have one of its best chances for a strong season in recent history.
Aiding the team's quest for glory will be home field advantage —  six of Lane's eight games will be on Fridays under the lights at Lane Stadium.
So while the players are looking to lock in and flip the script from past seasons during Friday Night Lights, this year they'll have some fan support.
"The most exciting thing this year to me is having the supporters back in the stands," Adams said. "It was quiet all last season because of the pandemic, but it'll definitely be fun to hear the Lane faithful roaring again!"
Lane started off the season on Aug. 27, playing strong against a big Kenwood team, but falling 27-9 to drop to 0-1 on the year.
UPCOMING SCHEDULE:
Friday, Sept. 3 @ Thornton Fractional South (7 p.m.)
Friday, Sept. 10 vs. Whitney Young (7 p.m. – Lane Stadium)
Friday, Sept. 17 @ Lincoln Park (7 pm. – Lane Stadium)
Girls Cross Country
Winning is nothing new to the Lane girls cross country team, and they'll be hoping to do a lot more of that this year, as the team goes for their third straight city title.
Top seniors Kylie Shraiberg and Fracesca Spingola, juniors Olivia Ide and Caroline McCarthy and sophomores Sophie Mullins, Aurdrey Burmeister and Charlotte Muller all return to the team this year and will be looking to lead the squad to another championship performance.
The girls cross country team will be starting their season on Thursday, Sept. 2, at home for a two mile meet. Most of the 275 runners across the boys and girls teams will compete in that race, though some top runners will sit out, according to Cross Country Head Coach Kris Roof. 
The rest of the top girls runners will debut at the Wauconda XC Invite on Saturday, Sept. 11, Roof told The Champion via email. 
UPCOMING SCHEDULE
Thursday, Sept. 2: Lane/Taft/Jones/Payton Quad at Lane (5 p.m.)
Saturday, Sept. 11: Wauconda XC Invite at Matthews Middle School (8:30 a.m.)
Wednesday, Sept. 15: Lane Tech Larry Gnapp Tough XC Invitational (4:30 p.m. at Horner Park)
Boys Cross Country
Led by a mix of strong runners across the 2022-24 classes, the Lane boys cross country team enters the 2021 season looking to run past Jones and take the city title.
"I think that there are plenty of great guys on the Jones team and it will be fun competing against each other," sophomore runner Will Kozlowski told The Champion via direct message. "But I think when it comes to the City Championship, we are going to crush Jones. Not trying to be too cocky, but this year is going to be great."
Juniors Hunter Whitney, Kyle Smorynksi and William Archer, seniors Rory Quinn and Jack Klein and sophomore Kozlowski highlight the lineup as top returners this year, according to Head Coach Kris Roof.
Being a big team, Lane loses talent almost every season. But Kozlowski, Div. 481, believes the team will be able to come back from the losses and have an even stronger year.
"I think that the team is a bit different from last year with the [loss] of last year's seniors," Kozlowski said. "But I think with a couple of our guys coming back strong from injuries, this year will be one for the record books."
For Kozlowski, it's high expectations for the team and individually this year.
"I would say that my expectations for the team is to win the City Championship and go to state, hopefully as a team," the sophomore said. "My personal expectations are to go as close as I can to 15 flat for the 3 mile and to make state as an individual if [the] team doesn't work out."
It'll be familiar ground for Lane runners as they start off their season at home with a 2 mile meet on Sept. 2 taking place on the Lane lawn. The team will hope to get off to a strong start at home, but according to Roof, the team will hold out some of the top runners, who will debut week 2 at the Lake Park HS invitational on Sept. 11.
UPCOMING SCHEDULE:
Thursday, Sept. 2: Lane/Taft/Jones/Payton Quad at Lane (5:30 p.m.)
Saturday, Sept. 11: Lake Park HS Invitational (Varsity-only. 8:30 a.m.)
Saturday, Sept. 11: Wauconda XC Invite at Matthews Middle School Invite at Matthews Middle School (boys races start at 9 a.m., top varsity runners not at meet)
Wednesday, Sept. 15: Lane Tech Larry Gnapp Tough XC Invitational at Horner Park (4:55 p.m.)
Girls Swimming & Diving
Dominance.
When it comes to Chicago Public League swimming, that's exactly what the Lane girls swimming and diving team has done. With nine city titles in the last eleven years and two straight titles, it's been hard for teams to catch Lane.
But despite the recent success for the team, girls swimming isn't taking anything for granted heading into this season.
"I can't say for certain that we will be city champs again since we haven't competed against the best teams yet, like Whitney Young," girls swim captain Maddie Zehr told The Champion via direct message. "I am extremely confident in the team's ability to swim fast and come together when the chips are down. We will strive for nothing less than first at city [this] year."
Girls swimming, one of the first high school sports to return last year, is looking forward to a more normal season after precautions, such as no relays, rocked the sport last year.
"After having such a weird season last year, the team is working on becoming closer and finding our team culture and traditions again, like having our training trip, which we continued to do this year in Holland, Michigan," said Zehr, Div. 272. "Everyone is super excited for the season ahead of us and expect to appreciate being back in the water and competing as we have learned from the past year and a half that these opportunities can't be taken for granted."
Last season's success didn't stop at city for Lane, as the team placed second at the Whitney Young sectional, their highest finish in the last decade. Now the team has even bigger goals.
"I wouldn't say our team is that different from last year, as we want to keep the culture as consistent as possible," Zehr said. "But I would say that our goals are much higher than [last] year. There are some really talented freshmen on the team this year and I and everyone else look forward to seeing what they can do this season and beyond! We have all grown and are tougher than last year, which will be shown in practice and at championship meets."

Lane started off the season on a winning note, defeating Downers Grove South on the road on Aug. 24.
UPCOMING SCHEDULE:
Thursday, Sept. 9 vs. Whitney Young (5 p.m.)
Saturday, Sept. 11 @ Highland Park (time t.b.a.)
Date TBA  @ DOB Relays (8:30 a.m. at Fenwick)
Boys Soccer
After heartbreak in the city championship last season, followed by no state playoffs, the Lane boys soccer team is back with a younger look for the 2021 fall campaign.
"Despite being a younger team and graduating many integral players for the team, our pre-season training has enabled us to familiarize ourselves with one another and assess each other's strengths/weaknesses," senior soccer player Nico Wagner told The Champion via Direct Message. "Regardless of what grade our players are in, I believe that everyone is capable of playing at the varsity level cohesively as a team."
Following a 3-0 loss to Solorio in the city final this past spring, the team will look to get past Solorio, Lane's strongest city opponent as of late, and win back the city championship, a title they last held during the 2019 season.
"Solorio is a beatable team," Wagner, Div. 274, said. "We beat them in the city championship back in 2019 and this year we aim to do the same. Last year's season is in the past and is behind us for a reason. Without a doubt Solorio is notorious for having a talented soccer program but so is Lane. I believe that our team is just as talented as theirs and we will meet them in the final once again and play them just as hard as we did in 2019."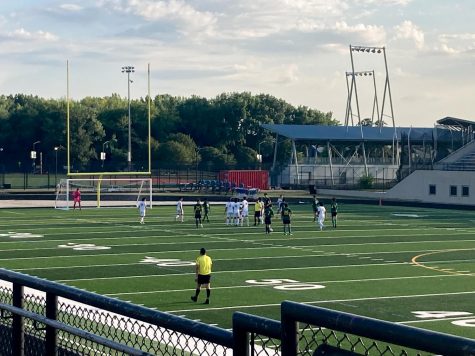 Head Coach Andrew Ricks told The Champion that the team looks "solid and competitive." The team opened their season against Glenbard North on Aug. 23, fighting back from a 1-0 deficit to earn the 1-1 draw at home.
As the team opens what looks to be another competitive campaign, Wagner has his eyes set beyond the win-loss column.
"My expectations for this season are that we work hard and put up a fight against every opponent we face while demonstrating good sportsmanship at all times," Wagner said. "I expect that each of our players represents Lane well on and off the field. Lastly, I expect the boys to enjoy every moment of the season because the moments we share together as a team should be cherished."
UPCOMING SCHEDULE
Wednesday, Sept. 1 vs. Niles West (6:30 p.m.)
Thursday, Sept. 2 @ Lake Forest (6 p.m.)
Wednesday, Sept. 8 @ Steinmetz College Prep (6:15 p.m.)
Girls Golf
After losing star golfer Noel Feller to graduation, the Lane girls golf team has had an additional challenge — replacing Feller — on their quest to repeat as city champions.
Girls golf was one of few sports that had few restrictions during the 2020-21 COVID-19 season, with the only notable changes being electronic scoring and the elimination of the final round of the state tournament. 
Lane took advantage of having a mostly normal season in fall 2020, winning city and having Feller make it all the way to state sectionals.
As a new season tees off, the team will hope to improve on a successful 2020-21 season, even as the team looks for a new star.
SCHEDULE NOT AVAILABLE
Boys Golf
Youth will be the key this year for the Lane boys golf team, as an "unprecedented" four freshmen join the team, according to Head Coach Rob Hirsch.
The team will be hoping to combine the youth with upperclassman experience as the team enters the season with high hopes, Hirsch told The Champion via email.
"Though the team may be young, they have high expectations to perform well while being led by its core of returning upperclassmen golfers," Hirsch said.
While the team awaits their official start to the CPS season on Sept. 2, they have been practicing for three weeks, attending an invitational hosted by Lincoln Park and the Payton/Jones co-op team and taking on DePaul College Prep in a match.
UPCOMING SCHEDULE:
Thursday, Sept. 2 vs. Payton/Jones, Lincoln Park and Northside (3 p.m. at Billy Caldwell Golf Course)
Wednesday, Sept. 8 vs. Lincoln Park, Taft and Northside (2 p.m. at Sydney R. Marovitz Golf Course)
Saturday, Sept. 11 vs. Lincoln Park (11 a.m. at Columbus Park Golf Course)
Girls Tennis 
After a doubles sectional second place finish in 2020-21, the Lane girls tennis team returns to the courts this year looking to repeat their success.
Doubles pair Mirabai Sinha and Mary Rau stormed to second place in doubles at Whitney Young sectional in October 2020. This would mark the end of their season as no state final was held.
While Sinha graduated, Rau was just a sophomore during the sectional run.
Sinha and Rau were the only Lane players to place top four at sectionals, something Lane will look to improve upon this year.
Lane opens conference play on Sept. 9, hosting Northside. They'll also face off against Jones, Lincoln Park, Lake View, Payton, Taft and Whitney Young as a part of the Red Conference, the top Chicago Public League conference.
SCHEDULE STILL BEING FINALIZED
Girls Volleyball
The coaching staff for Lane girls volleyball will look a little different this year, but the team is hoping to pick up where they left off and compete for a city title.
Norman Kwong takes over as head coach of the girls program after former coach Pablo Lopez announced his resignation earlier this summer.
Lane played to a strong 8-2 regular season record during a shortened spring season in 2021 under Lopez, but has struggled to find their footing early this year, playing to a shaky 1-6 start, including a 1-4 record at the Wheaton North Invitational. Stella Smiejek of Lane was named to the All-Tournament Team at the invitational.
Girls volleyball will look to recover in conference play, with a match against Taft on Sept. 2 and Whitney Young the next week to start off Chicago Public Super Conference play.
UPCOMING SCHEDULE
Thursday, Sept. 2 vs. Taft (5 p.m.)
Thursday, Sept. 9 @ Whitney Young (5 p.m.)
Saturday, Sept. 11 @ Leyden Invitational (8 a.m.)