'A dream come true'— LoGalbo brings home gold with USA Basketball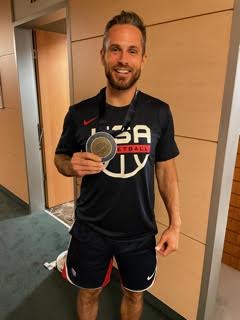 On August 11, USA Basketball released the rosters for the USA men's and women's U18 teams. These talented individuals would be playing for the 2021 International Basketball Federation (FIBA) 3×3 World Cup in Debrecen, Hungary, played Aug. 24-29.
Nick LoGalbo, Lane's athletic director and head basketball coach, was also on this roster. Listed as head coach, he had a very special opportunity to coach these teams in Hungary.
"When working in the coaching world in basketball, the greatest dream is being able to represent your country on the big stage," LoGalbo said. "Very few people get the chance to do that."
LoGalbo has worked with USA Basketball for nearly a decade, doing youth clinics, working on the youth development division, speaking at coaching academies and more. Centering in on his coaching with the organization, LoGalbo has worked with the junior national team, the 5×5 men's team and even helped to run camps for the U.S. Women's Basketball Team (who just won their seventh Olympic gold medal this past summer). 
But even in his rich history working in the sport, he has never had an opportunity such as this one and was elated once he received the news.
"It was a dream come true," LoGalbo said. "Such an unbelievable experience."
The FIBA 3×3 World Cup saw a different discipline of basketball come to life. While it is the same game, 3×3 basketball sets itself apart from the 5×5 game with its swift pace and other nuances. 
Training camp — lasting about five days before the teams left for Hungary — was an essential part of the team's success. The camp took place in Chicago and LoGalbo was able to see firsthand the immense talent that comprised the U.S. teams. Graduating in 2022, these players are projected to be in the NBA and the WNBA, with commitments to elite schools such as Duke, Kansas, Baylor and UConn. According to LoGalbo, coaching such a high level of talent was really special. And in an intense game of 3×3 basketball, such talent is vital for success.
In 5×5 basketball, coaches can call a timeout and make adjustments as needed. But this is where the 3×3 game differs. In 3×3 basketball, the coaches are able to yell things from the side, but can't call timeouts. When the yelling turns excessive, coaches could get a warning.
"I'm not even really technically coaching the game," LoGalbo said. "Essentially, we have to prepare them for everything. They have to be able to call their own timeouts and manage their own subs."
Dubbed "rockstars" by LoGalbo, these players are considered role models by student athletes here at Lane, as they are the highest level players in the country for their age. Naturally, they attracted a lot of attention once the teams flew into Debrecen, with fans flocking to them for pictures and autographs.
"I'm the shortest one there, but I had to be there, kind of like their bodyguard," LoGalbo said. "We couldn't allow them to take pictures because of COVID protocols and such. It was pretty interesting."
With the Delta variant looming over the tournament, COVID was a huge roadblock in LoGalbo's experience in Debrecen with the teams. The arena sat comfortably in the town square, boxed in by a church, school and little markets. But besides gazing at the town from inside the team bus on the way to practice, there wasn't much room to explore the community and go out to eat. Despite this, there was room for team bonding amidst constant COVID testing and seclusion.
"We had a lot of team gatherings," said LoGalbo. "We had trivia night with the team. In the downtime when we weren't playing, we were trying to get them to jell."
The physicality of 3×3 basketball presented another roadblock that LoGalbo didn't anticipate. Overseas, the referees' calls were looser than in the United States, and as a result there was a lot of pulling and pushing.
"Our first game for both the men and women was a lot closer than we thought it should've been," LoGalbo said. "Just because we were getting used to that kind of physicality, and I think in training camp, we could've prepared a lot better for that."
Despite this obstacle, the players were well prepared and shared a great dynamic. 
"They were so unselfish and they just played the game the right way," LoGalbo said. "They didn't care about who scored what or anything like that, they just wanted to win the gold medal."
The men's and women's teams did win a gold medal coming back from Hungary, walking away with a combined twelve wins and a single loss, and LoGalbo was able to walk away having learned a lot from coaching 3×3 basketball. When coaching basketball at Lane, there's a tendency to control and make sure everything is done right, he said. But LoGalbo is learning that his job as coach stays in practice.
"In the game, it's time for the players to perform and I can make adjustments and timeouts," LoGalbo said, "but it's teaching me to give them a little bit more freedom and trust them during the games to make those adjustments on their own instead of trying to control everything."
Coaching the teams came with many other challenges, like missing the first day of school this year and being away from family, LoGalbo said. He hopes that next time, he can coach in the summer so he wouldn't have to miss work. Nevertheless, he's ready to seize another opportunity with the organization.
"Anytime USA Basketball calls, I'm all in," LoGalbo said.