Holiday Recommendations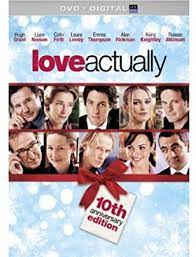 The perfect holiday rom-com: 'Love Actually'
By Mara Mellits, Editor-in-Chief
Every Christmas movie needs a good story, and what's better than that? How about nine stories?
The perfect example of a Christmas movie is "Love Actually" (2003) — which follows nine interwoven stories with a majority of them located in the best setting for a Christmas movie: London.
Young and new Prime Minister (Hugh Grant) has a crush on one of his aides (Martine McCutcheon); meanwhile, his sister Karen (Emma Thompson) has her holiday ruined by her disloyal husband, Harry (Alan Rickman). Karen's friend Daniel (Liam Neeson) is a recently widowed stepfather who is helping his stepson with his elementary crush.
Harry's American colleague, Sarah (Laura Linney), has a terrible crush on her other colleague Karl (Rodrigo Santoro). Sarah meets best man Mark (Andrew Lincoln) at the beginning of the movie at a wedding reception for Juliet (Keira Knightly) and Peter (Chiwetel Ejiofor). However, Mark has a secret — he's madly in love with Juliet. Juliet's friend Jamie (Colin Firth) and Aurelia (Lucia Munoz) fall for each other, despite the fact that neither of them speak a similar language.
Tony (Abdul Salis) directs a movie that stars Judy (Joanna Page) and John (Martin Freeman). Tony's best friend Colin (Kris Marshall) is sick of getting rejected by British women, so he travels to Wisconsin to find someone. And finally, Billy Mack (Bill Nighy), is an old one-hit-wonder trying to make a comeback.
With a star-studded cast, "Love Actually" is definitely on your radar.
Woven throughout the stories, is the ever-present feel-good magic found in all Christmas movies. There are unexplained mysteries attributed to the man with a long white beard and a belly, happy endings and redemptions, and of course, the British.
The Brits excel with their romances — all the way from Jane Austen to "Notting Hill" — and "Love Actually" is no exception to this rule, balancing the perfect amount of cliché with reality. One of the cheesiest moments in the movie is when the Prime Minister of England knocks on every door on the "dodgy side" of London just to see the woman he's in love with. And at that moment, you can't help but want to be her, but you also realize — you'll never be her. At the same time, we all hope to never be the sad mom (Emma Thompson) stuck in a terrible marriage, hoping for a Christmas miracle. Blending real-life British cynicism with Christmas magic almost makes it believable.
I found "Love Actually" through my parents, as it's their favorite movie, and that love was passed onto me. With a full-circle effect where all of the characters come together in the end, the movie wraps up together in the end, with a ribbon on top.
If you're in need of a feel-good holiday rom-com with a happy ending, this modern-day Christmas staple is sure to become a favorite.
An Unlikely Hit — 'Good Luck Charlie, It's Christmas' (2011)
By Avaani Julka, Reporter
Okay, I know what you're thinking, but hear me out.
Disney Channel original movies may not be everyone's cup of tea; however, I can assure you that this is not your average D-Com.
The story follows the same characters from the hit TV show: Teddy (Bridgit Mendler), Charlie (Mia Talerico), PJ (Jason Dolley), Gabe (Bradley Steven Perry) and their parents, Bob (Eric Allen Kramer) and Amy (Leigh-Allyn Baker).
Chaos ensues when a once well-planned trip goes awry, with Teddy and her mother Amy becoming stranded from the rest of the family — the result of an effort by Teddy to prove to her parents that she could be an adult. When the next flights are booked into Christmas morning, they realize they must rely on other means of transportation to make it to their family's Christmas.
Meanwhile, Bob Duncan is left with PJ, Gabe, Charlie and Amy's overbearing mother. Tension rises when Bob and Amy's mother are forced to take care of Charlie together, as their parenting methods aren't exactly on the same page. This leads to Bob taking it upon himself to retrieve the girls; however, this doesn't go as intended either. After Bob finds himself and the boys in a dilemma as well, it is up to all of them to spend Christmas together as a family.
While most Disney Channel original movies are completely focused on their target audience of children, "Good Luck Charlie: It's Christmas!" has aspects that can appeal to an entire family. The conflicts between parents and kids, as well as the sitcom-esque dual storyline, ensure no one is bored.
For "Good Luck Charlie" fans, don't worry — the movie stays completely true to the structure of episodes and general banter/dialogue between characters. However, if you've never seen it, that doesn't mean you can't or shouldn't watch!
'Love Hard': A Catfish Christmas Movie
By Genna Evans and Katie Ratke
The movie "Love Hard" (2021) seems to be your typical Hallmark rom-com, but in all honesty, we were pleasantly surprised by the many unique aspects of the film.
We are not generally fans of rom-coms, especially the cheesy, cliche Christmas movies that seem to be released every year. "Love Hard" showcases the relatable struggles of finding love in the modern age, tense family dynamics and humor that targets all audiences.
Natalie Bauer (Nina Dobrev) is an L.A. journalist who engages her readers with endless tales about her horrific love life. After years of writing solely about dating disasters, Natalie decides she wants a change.
She finally meets Josh (Jimmy O. Yang), whom she believes is her dream guy, and she flies out to the East Coast to surprise him for Christmas, intending to write about her positive experience, only to realize she has been catfished. Again.
While things may be looking down for Natalie, she seemingly finds her way through humor and ultimately being true to herself. Throughout the movie, we see Natalie discover what she truly wants through a series of unconventional experiences.
From dramatic allergic reactions, remarkable karaoke performances and fake marriage proposals, the movie is sure to keep viewers engaged and laughing with its never-ending surprises. We loved how much humor Natalie and Josh brought to awkward situations, and that's what made this movie so compelling. They kept the movie light-hearted and whimsical with their easy going personalities and willingness to take chances, like dating a complete stranger!
The overused trope of 'opposites attract' is apparent in "Love Hard," but there is a fresh feel to it through the use of pop culture references that most will understand.
Our favorite part of the movie was the characters' initial banter over their favorite Christmas movies, Natalie's being "Die Hard" and Josh's being "Love Actually," hence the title of the movie. This adds to the charm of the characters and makes them even more likable.
However, the one thing we were not able to get over is the nonsensical rom-com logic. Natalie ends up agreeing to stay with Josh to make his family believe they are dating, even after he catfished her. This aligns with the fact that the characters continually forgive each other for their flaws throughout the movie.
When it comes to reality, this movie is far from it, but we do appreciate the fact that it sheds light on insecurity, male beauty standards, feminism and Asian American representation. Overall it was a compelling watch, and we would certainly recommend it to anyone who is looking for something heartwarming to watch this holiday season.
'Die Hard': The perfect violent movie for you this Christmas
By Saskia McDonogh Mooney, Features Editor
Since the movie's release in 1988, "Die Hard" has been a classic in the realm of action-packed thrill rides.
The film starts off with a general snapshot of John McClane's character, through an interrogation by the limo driver, Argyle, taking him to his wife Holly's Christmas party.
John McClane is a man married to his work as a police officer in the NYPD — he is impulsive and stubborn, which has caused his relationship with his wife to deteriorate to the point where they have barely spoken since her move across the country for work with their two kids
Later, as McClane is sulking in the bathroom, the entire Christmas Party is held hostage by German armed robbers acting as terrorists. They are led by a man named Hans in an elaborate robbery designed to steal millions of dollars from the Nakatomi vault. McClane immediately leaps into action, attempting to take the bad guys down from within, without ever considering the possibility of his own death.
Between killing the Germans, desperately attempting to contact the police, numerous explosions and antagonizing Hans through the radio, we begin to see Holly's affection for him grow, and his own realizations at his failures as a husband and father.
In a way, with each kill and death-defying stunt, he's atoning for being absent by fighting to save the people trapped within the building, and it's quite honestly a Christmas miracle that so many bullets missed him.
Along the way, he befriends a cop named Al Powell through the radio, and they talk about family and duty and develop a truly beautiful bromance. Al helps him to realize the importance of family and keeps him grounded when things seem hopeless by reminding him why he's fighting.
In the end, McClane defeated the Germans against all odds, and his friends Al and Argyle have their own moments of glory. Not only this, but he drives off with his wife and their seemingly repaired relationship.
The movie ends as a testament to the strength of love and determination — it gives you hope in the wake of watching more things blow up than I could count.
However, despite Holly and John being seemingly happy driving off into the distance, the stunts he pulled off seem to have inflated his police ego, and they never solved the real issues in their marriage. McClane is deeply flawed and never seems to be properly held accountable for his actions. Yet because it is a movie, his personal issues are the audience's perfect entertainment. It has everything you would want out of an action/holiday blockbuster- excitement, love, fire, tanks, stunts, Californians and more.
Not only that, but the underlying themes of love, family and hope that contribute to the Christmas spirit throughout overall make it the perfect unconventional holiday favorite.