New year, new me… or is it?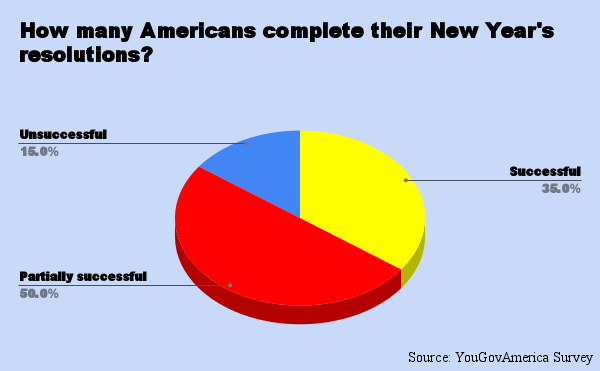 Every winter there is growing excitement for what the New Year has to offer. New Year's resolutions have been around since the early 19th century and are used to start fresh and break the bad habits of the previous year. However, some Lane students find these resolutions can be broken just as quickly as they are made.
According to a YouGovAmerica survey, only 27% of Americans make New Year's resolutions. Among them, only 35% of Americans say they kept all the resolutions they made, and 50% managed to keep at least some of their resolutions.
Junior Julia Koziol, Div. 373, shared her past experience with New Year's resolutions, and the school-related resolutions she plans to make for 2022.
"Every year I say I [make a New Year's Resolution], but in reality, I pass them a month later," Koziol said. "But this year I'm trying to make more resolutions academically with school, especially since it's junior year."
Similarly, junior Logan Silvers, Div. 363, also wants to focus on the academic side of things this New Year.
"My New Year's resolution is definitely going to be looking towards colleges and figuring out what my education is going to look like in the future," Silvers said. "So my New Year's resolution is to create a pathway for myself in order to look towards new opportunities."
Although some student resolutions revolve around academic achievement, others are looking to focus on the social aspects of their lives. Due to COVID-19, some Lane students are even directing their New Year's resolutions to being more involved with extracurricular activities and giving back to their community to make up for lost time.
"I wish I could've been more in a club, or a committee, or like student council. Because now I'm in my Junior year, and that's one of the main important things for you to do to get into college," Koziol said.
Tiffany Kim, Div. 652, a Lane Academic Center eighth grader, said that many of her resolutions revolve around building relationships and staying connected with friends.
"[My resolution is about] having fun with friends," Kim said. "Leading more of a social life rather than just an introverted kind of way of life."
Despite her resolution, Kim said she finds it difficult to keep long-term goals. While she finds that the New Year signifies the importance of a fresh start, Kim also recognizes the effectiveness of short-term resolutions in her personal life.
"It depends on the person but for me, I think setting goals regularly is more helpful because I'm not the kind of person that can think of goals for a long period of time," Kim said. "I think just a small goal within a couple of days is more efficient for me as a person."
However, other students find long-term resolutions to be an effective way to stay organized and look ahead towards their futures. Silvers expressed that New Year's resolutions allow students to set long term goals and become more productive overall.
"My New Year's Resolution from last year was to be aesthetically pleasing as a person. I think everyone had their own little quarantine glow-up in that way, so I found that buying new clothes and setting a new standard for how I want to express myself was one of those things," Silvers said.
Yet the significance, benefit and usefulness of New Year's resolutions are still unclear among parts of the student body. Some Lane students find that resolutions aren't as remarkable as any other goal. Senior Magdalena Wegrzyniak, Div. 282, thinks the idea of a 'new year, new me' isn't achievable.
"It's literally just a change of a day on a calendar, there's nothing special throughout that time period," said Wegrzyniak.
Others believe that the New Year sentiment is an important motivator for perennial goals. For many students, the amount of time and dedication that New Year's resolutions require is what makes it special for each individual. The practice of planning for the forthcoming year allows people to improve themselves and their lifestyle.
"The whole year you are trying to do something that will make you feel better or the world better," Koziol said.