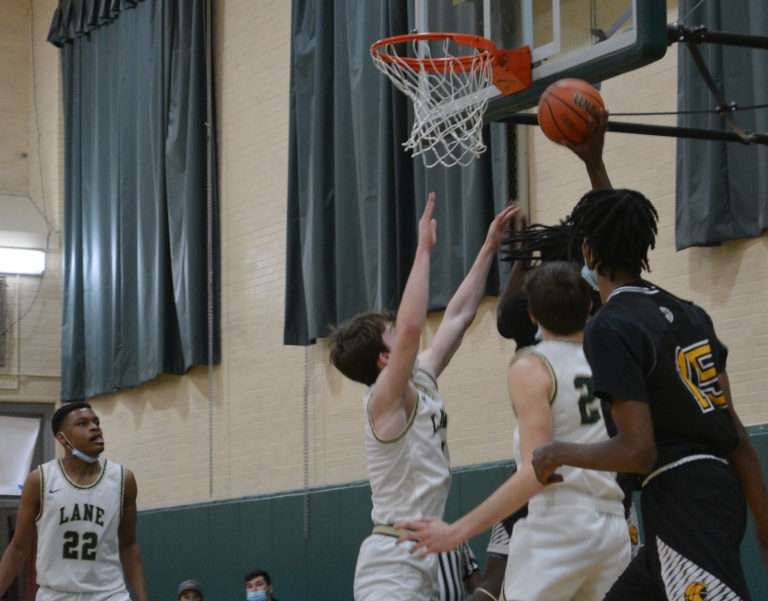 Mara Mellits
Lane came into Monday having lost two straight and they would exit with a third, falling to the Clark Eagles 64-56. Kept at bay the whole game, Lane never could quite take any kind of permanent lead in the make-up Red North-West conference game. (The game was originally supposed to be held Jan. 12 but was postponed to Jan. 24 due to a COVID outbreak in the Clark program.)
Lane started hot. After a pair of misses from Shaheed Solebo and Sean Molloy, Ethan Grunebaum hit on his first attempt. Later, Solebo, who finished with 21 points, converted an and-one drive. Given the many slow starts this season, Lane's Head Coach Nicholas LoGalbo was pleased with his team's start against Clark.
"We're fourteen and six, and our losses this year, we've started slow," LoGalbo said postgame. "Marshall, we started slow. Westinghouse, we had a really slow start in the beginning, we competed well, but there was a stint in the first half where we just did not play well. This game, I thought we played a pretty good first half."
What was apparent as Clark stepped onto the floor was their size. Brothers Mikell and Mikqwon Jones, both 6-4, presented an immediate matchup problem; Lane had nobody with their height, size and skill. Early in the first quarter, Mikqown Jones gathered a miss and put it in for an and-one.
"[Mikqwon Jones] was more of a guard and [Mikell Jones] was more of a true post. Just keeping them out of the paint, keeping them from getting paint touches was a big goal for us," LoGalbo said.
Stemming from Clark's offensive mistakes, Lane had early energy. One sequence included three-pointers by Molloy, Solebo and Stephen Goonan. Molloy came out slightly injured at the 2:45 mark but swiftly returned with 1:13 left to play in the first quarter.
According to LoGalbo, Molloy is fine.
At this point Lane began to struggle, going cold from the field while also switching to a zone to counteract Clark's inside advantage. However, to start the second quarter Clark and Lane would trade threes. Something that, according to Logalbo, is central to Lane's game.
"We shoot the ball really well," Logalbo said. "Our goal is to make ten threes a game. That's our goal in every game that we come in."
Clark, especially in the first half, pressed Lane fullcourt. This required a second player to break the press and bring the ball up the floor. Lane's big men, Lucas Basille, Parker Springer and Jack Tzur, fill that role well according to Logalbo.
"Jack is really a guard," Logalbo said. "And he plays kind of in the four spot for us because we play four guards a lot of the time. Lucas and Parker are really our true bigs. But we play kind of an inverted offense, we play five out. [Meaning all five of Lanes players start the possession outside the three-point line.]"
Midway through the second quarter, Lane's offense stalled for good. After hitting the bonus early, with 4:20 left in the second quarter, stellar free throw shooting from Solebo kept Lane in it.
"Friday night [against Orr], we missed a ton of free throws and honestly could have won that game if we made our free throws. Last night we made our free throws," Logalbo said.
In the late second quarter, the energy swung entirely to Clark when Mikqown Jones hit a transition three and Lane's Will Rosenkrantz answered by airballing an open three. Lane never regained the lead.
Lane went into the halftime locker room down five, 35-30.
Solebo was shadowed all night by Clark's Katrell Weekly. Despite finishing with 21 points, none of it came easy.
"It was kind of rough," Solebo said. "They face guarded me all night, so, I think, just every time I got the ball just trying to score, get to the line, just do anything [to] score."
Clark set the tone immediately in the third quarter when Mikell Jones backed down a Lane defender and scored a tough inside bucket. From there, the paint and the offensive boards were his. The Jones brother's post play was an area of defensive focus according to LoGalbo.
"So for the most part we tried to negate it by, in the second half, doubling on the post entries, fronting where we could, and on our switches making sure we scram switch where possible," LoGalbo said. "So it worked for the most part, but again it wasn't their post touches that absolutely killed us — a lot of it was second-chance points."
Lane built some momentum again at the end of the third and start of the fourth quarter when Molloy batted a rebound to Basille for a corner three. Mikell Jones, despite his dominance, was benched with three fouls. Grunebaum forced the issue and was fouled on a drive to the rim, making the first free throw, with his second being disallowed for lane violation.
"Fourth quarter we got back to it a little bit," LoGalbo said. "We got some threes we were able to get back in that game. But you know that third quarter, we got really away from what we do offensively."
Just when things seemed positive, Grunebaum came up limping after hustling for a loose ball and would not return, exiting the game in the third quarter.
"Ethan is day to day," LoGalbo said. "It's not looking good for tomorrow [against Whitney Young]," LoGalbo said.
Clark's Suliman Agiste punctuated the quarter with a thunderous block on Molloy. The third would end with the Eagles holding a 47-38 Lane.
The fourth quarter was an exercise in finishing. Clark's Cordy Johnson hit corner three after corner three as the Eagles kept a refocused Lane team from making any kind of run.
Lane's defense played well down the stretch, forcing stops and turnovers. The issue was cashing in those stops. In one instance Lane forced a miss by Clark's Mikell Jones but Molloy missed a shot of his own.
Clark's Daveonta Wynn-Patton all but finished the win with a strong putback-and-one.
Even though they battled at the end, Lane couldn't overcome Clark's size, losing 64-56.
Lane (14-6, 4-4 conference) will close out conference play on Wednesday, hosting rival Whitney Young. Tip-off is slotted for 5:00 p.m. Clark (16-3, 6-1) takes on Lincoln Park at home at the same time on Wednesday.