Starbucks Holiday Drinks, Ranked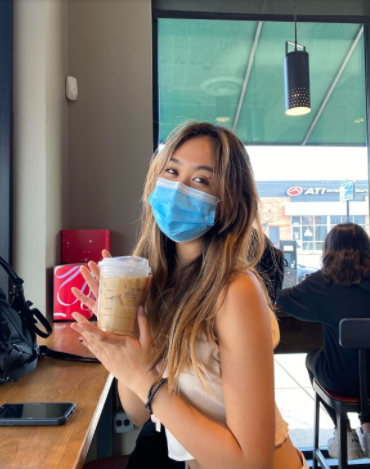 The holiday season is here! Along with the yearly ritual of hanging up the stockings and lighting the menorah comes the holiday food and drinks promoted left and right at every store. One much anticipated treat is Starbucks' festive lineup of holiday-themed drinks, featuring classic tastes like peppermint mocha and bold flavors such as Irish cream. This year, Starbucks released six holiday drinks to the public.
Toasted White Chocolate Mocha
8/10
Sitting at first place is this enigma of a drink. Is this coffee? Hot chocolate? Upon the first sip, it was hard to tell, but that doesn't mean it wasn't pleasant to drink. True to its name, it boasts a caramelized taste and reminds us of marshmallows toasting over a bonfire. Unlike a majority of white chocolate drinks, it isn't over-the-top sweet, but it is certainly on the sugary side. The whipped cream and sugar sparkles bring this cozy espresso together, making it a solid choice. 
Iced Sugar Cookie Almond Milk Latte
7/10
This one might be a bit controversial. While this drink can be ordered hot, we decided to order it as it is marketed: iced. Ordering iced drinks in the winter is a brave decision, so is it worth getting this one? While this drink doesn't necessarily taste like a sugar cookie, it has a smooth and buttery taste, harnessing the almond flavor of the milk to make a great pairing with the nutty notes of the blonde espresso; it works. This drink isn't the peppermint Christmas-y coffee most would expect to be at the top of the ranking, but it is still reminiscent of the holidays. The red and green sprinkles on top are also a cute decorative flair (although they quickly sink to the bottom and lose their color).
Caramel Brulee Latte
6/10
As the drink is modeled after a well-loved dessert, we hoped to taste the burnt caramel in this one, but it didn't really deliver. We were a bit disappointed in the lack of caramel flavor after a couple of sips. While we enjoyed drinking it, there wasn't really anything noteworthy about it. We wouldn't go out of our way to order it again. But if you're looking for something subtle to warm you up, this one may be for you.
Chestnut Praline Latte
6/10
Reflecting its namesake, this drink has a nutty taste to it. Something about the taste also reminded us of popcorn kernels and tasted like a snowy night indoors. It's a sweet homage to Nat King Cole's "The Christmas Song," but this seems like something that would be available on the year-round menu. Overall, pretty average.
Peppermint Mocha
6/10
While peppermint is one of the most popular holiday flavors, we weren't fans of this mocha. The peppermint flavor was overpowering, and it outshined the rest of the drink. This drink would be nice on a really cold day, but it isn't something we would drink normally. 
Irish Cream Cold Brew
6/10
After the first sip, the drink had a sharp, strong taste. The drink is a bit bitter, but it's a great choice if you aren't a fan of some of the overly sweet drinks Starbucks has to offer. The cold brew isn't as dark and bitter as your typical dark coffee — it's almost a watered-down version of a stronger drink. Not sure how "holiday" this drink really is, but it wasn't terrible.