Boys Lacrosse dominates Taft 21-4 in city semi-final
Win sets up tenth straight Lane-Young final
After a first round bye in the Chicago Public League playoffs, Lane's Boys Lacrosse team headed into the semi-finals at Lane Stadium on Wednesday, May 4, ready to show why they're the top seed.
In a rivalry matchup, Lane looked to beat the Taft Eagles for a second time this year after a 19-2 regular season win on April 22.
Lane's offense would prove to be even hotter than their first matchup with the Eagles, scoring 21 goals in a 21-4 rout, booking Lane's spot in the championship game.
Junior Captain Augie Watts started off the game strong with two goals within the first minute of the game. That energy was carried throughout the quarter with another goal from Watts, three goals from Andrew Katz, one from Nico Valentino and one from Will Morgan.
Lane kept their offense moving, even a without strong defense by Taft. 
"The shots were just flowing," Watts said postgame. "They're a less skilled defense, so you get a lot more opportunities — a lot more shots. They give up a lot more space, so if you have a wide open look, take it, but make sure that you're getting the ball around, practicing good lacrosse, instead of wasting [shots] and shooting it from wherever."
Taft learned from their early mistakes, starting off the second quarter strong, gaining possession off of the face-off and scoring their first goal of the game to bring the score to 8-1.
Lane's Sebastian Cordero and Adam Tsai both received misconduct penalties but bounced back with a goal from Cordero and an assist from Tsai. Then Katz led the offense to more success with two goals in the second quarter. 
"Well obviously, you know me, I love scoring goals," Katz said postgame. "I had a couple more assists today than I usually do. I got to deal it out to my teammates."
Taft took one more successful shot to bring the score up to 14-2 at the half.
At the beginning of the second half, Taft gained possession, but Lane's defense kept it clean. After a steal and a fast break down the field by Cordero, and a pass and assist by Watts, Katz scored again. 
But as Taft began to learn Lane's offensive patterns and step up their defense, Morgan fought to score one more goal for Lane. 
Tsai contributed two goals, and Watts had one more to close out the third quarter.
Max Vandyke finished the game with the final goal in the end of the fourth quarter. Taft only managed to score once more, leaving the final score as 21-4. 
"I feel like we're just building chemistry as the season goes on. We're all feeling more connected with each other," Katz said. "Our offense is flowing better and our defense is playing better as well."
Lane now heads into the city championship game against Whitney Young on May 6. The game is set for a 6 p.m. face-off at Lane Stadium.
In the past nine years, the city final game has been a face off between Lane and Whitney Young in which Young has taken the city title each time. 
"We used to lose [to Whitney] by a much more significant margin," said Lane's Head Coach Dave Barr postgame. "Our program has gotten a lot better, and I think we are the favorites going in."
In the regular season, Lane beat Young with a score of 15-5, so Lane expects to see a favorable outcome. 
"Our fate is in our own hands," Tsai said postgame. "I have a lot of faith in my guys and my team and the work we've put in this year to finally get a city championship." 
About the Contributor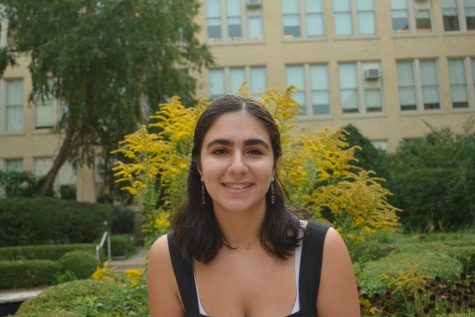 Mara Mellits, Editor-in-Chief
Mara is a senior and this is her second year with The Champion. A creator at heart, Mara loves to read and write stories. She also loves creating art and...