Lane students shine on stage as the annual Play Fest returns in-person
The auditorium filled with laughter as Elly Cruz and Celia Marie took the stage for the first performance of the night, Girl Code. A whirlwind sort of love story, with drama left and right, didn't fail to keep the audience intrigued and wondering what twist could come next. 
This was from Lane's 14 annual Play Fest, held on April 27 and 29. This student-led production, showcasing the talent and hard work of Lane Tech drama students, serves as a great opportunity to see friends and classmates on stage and working behind the scenes. 
The show, which usually runs a little over an hour, consists of five plays written, performed and directed by Lane students. This unique project starts in the classrooms of drama and creative writing classes, where students individually write one-act plays to be submitted and considered as one of the final plays chosen to be produced. 
"This year, we had about 120 students write one-act plays," said Lane Drama teacher Kirsten Hanson. Also acting as one of the chaperones for Play Fest, Hanson explained that of the 120 plays submitted, only around 15 got chosen to be considered for on-stage production, and the list eventually gets narrowed down to five plays for the final production. 
"We actually spend a day and read through all of them out loud. We take on all the different characters and think about what might work on our stage, and ask questions like: do we have the set pieces? And do we think the audience will like these plays?" Hanson said. 
For the five "winning" plays, there is also a group of directors, which are usually advanced drama students who are responsible for staging, blocking, casting and rehearsing the different plays in order to be ready for on-stage production.  
Play Fest is just one of the many theatrical productions held throughout the school year, and for students interested in participating in the years to come, it is usually only around a five-week commitment. 
"It is an extracurricular project, so there is an after school requirement, but it's a shorter commitment than some of our larger productions, and it's a great way to get involved in theater and see if it's something you're interested in," said Hanson. 
The chance to showcase personal work and ideas on stage is what makes Play Fest stand out compared to Lane's other productions. 
Junior Lainie Weishuber made her Lane Play Fest debut this year after wanting to participate because of the fun she had as a part of the musical. 
"It's such a unique opportunity to do something that's fully student-led. It's student written, directed and acted, so I think it's really cool to see everyone's ideas come together," Weishuber said. 
As for the students who sat in the audience this year but are inspired to get involved, Wieshuber encourages others to be part of it in future years.  
"It's such a great place to make friends and meet people that you wouldn't have met before, with Lane being such a big school. It's also just fun to be so creative and make something with your peers," said Wieshuber. 
The return of in-person theater for the drama department has been strong this year, and it seems that Playfest was just the way to finish the school year off. 
Donate to The Lane Tech Champion
Your donation will support the student journalists of Lane Tech College Prep. Your contribution will allow us to cover our annual website hosting costs.
About the Contributor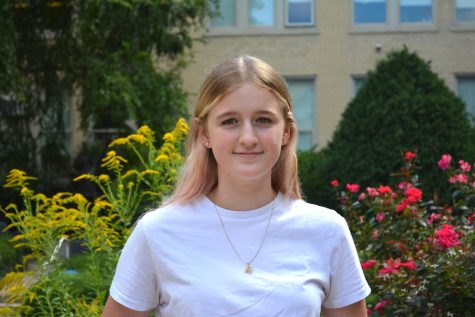 Ruby Thompson, Managing Editor
Ruby Thompson is a senior in her second year with The Champion. She can often be seen taking photos on the sidelines during Lane sports games, and she...