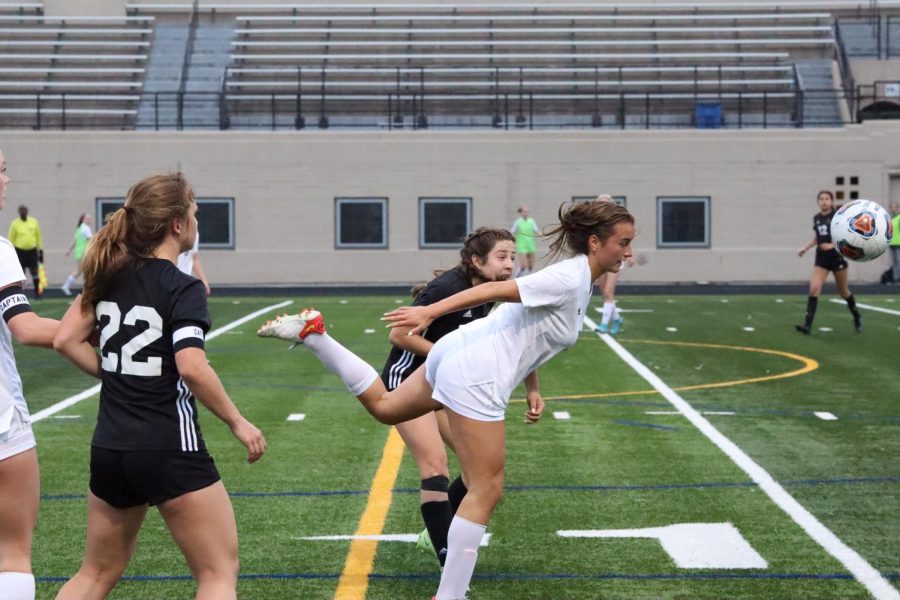 Early goals the difference in 2-1 Regional Semifinal win for Girls Soccer over St. Ignatius
May 20, 2022
Offense wins games and defense wins championships. 
As Lane looks for their first Girls Soccer regional title since 2013, the classic sports cliché may be just the story Lane needs to follow.
Wednesday night, two early goals — from Scout Murray and Dale Sink — built a lead Lane would never relinquish against the St. Ignatius Wolfpack in a IHSA 3A Regional Semifinal at Lane Stadium May 18.
Now it will be the defense's turn, as Lane will attempt to hold off Eastern Michigan commit and Maine South single-season goal record holder Molly Pistorious at tonight's Regional Final game. Maine South enters the game averaging 3.3 goals a game, with Pistorious averaging 1.9 of them.
"We will be working on playing defense, and we will be working on making sure that we can play from the back," Head Coach Michelle Vale said after Wednesday's game. "So just connecting from our defense, moving it forward to build into just as powerful of an attack."
It was no easy task for Lane to advance to the final. After Lane's commanding first half, Ignatius, a 10-seed, came storming back in the second half, outplaying Lane, but it wasn't enough to take the victory.
For the first five minutes of the game, it looked like the two teams were equally matched. There was a lot of back forth and even a Wolfpack shot on goal. But Lane couldn't get clear possession of the ball. 
Lane's Ohio University commit Scout Murray changed that. An assist from the midfield around the 50-yard line turned into a game of Murray versus the entire Wolfpack defense. Soon, that turned into Murray against the St. Ignatius goalie MC Galante, a matchup that would be seen throughout the 80-minute contest.
"Those situations are tough but usually if you take a good touch [and] you're on the goalie — you can get on it," Murray said after the win. 
Murray ran down the right side of the field, then quickly took the low shot inside the penalty box with the goalie going in the opposite direction.  
And it wouldn't be the last time Lane showed their dominance over the Wolfpack. Less than 15 minutes after Lane's first goal, in the first half Lane had another goal. 
Oberlin College commit Dale Sink took a shot far out from outside the box on the right side, just going over the goalie, with just 19 minutes left in the first half. That would be the last time Lane would score.
"The two goals helped bolster their confidence and push them forward through the first half," Vale said. "It really helped them feel confident with this team. They had not played St. Ignatius at all this season and so they were wondering what Ignatius was going to bring."
The Wolfpack brought out a team centered around one player, defender Ellie Doherty, who not only defended the goal but had multiple shots on offense as well. The second half was time for Doherty and the rest of the Ignatius team to shine. 
Up by two, Lane's attack slowed in the second half. Mistakes and miscommunication from Lane plagued them. Lane left their own players wide open, looking in the wrong directions and couldn't pass to them. Ignatius found their players open, and off a Wolfpack throw-in, Forward Mia Cadichon took the chance and scored, with 23 minutes left in the half.
"That's just communication because it was a throw-in, and there was one unmarked player so we just let her get the ball," Lane's Maya Martinez-Bates said. "We have to just get better with communicating and the stepping and moving as a unit."
But that didn't stop Lane from one last push.
In the second half, Murray had another duel against Galante, and this time it led to a free kick and Galante receiving a yellow card, causing her to be taken out of the goal for the kick. 
"Sadly, she fouled me," Murray said. "That would have been a goal."
The free kick didn't materialize into a goal, but it set a tone to end the game. 
"In the end, our drive to win pushed us to get back and get up," Martinez-Bates said. "And I think that we just kept pushing and on defense — we had to be strong, and we also had to capitalize on our offensive attacks. And I think that we did a good job of that." 
The Ignatius team ends their season with this game while Lane moves on to the Regional Final against Maine South at 5 p.m. on May 20 at Lane Stadium. 
"I think we came in maybe too cocky, and not knowing at these games everyone puts in their all. Even if one team is better than the other, the other team can win because they give it their all," Murray said. "I think we are the underdog on Friday, and I think if we bring everything, that we can [win]."