Get to know Class of 2022's Valedictorian and Salutatorian
After a long process sorting through fifty of Lane's top students, two were chosen to walk the stage at Credit Union 1 Arena on June 7, donning the honorable stoles around their necks.
Gustavo del Castillo
Coming into high school, Gustavo del Castillo didn't expect to be valedictorian – but the possibility did linger in the back of his head.
"It was in the back of my mind," del Castillo said. "I was like, it'd be really cool to have this."
So when he opened the application for valedictorian, he went all in.

"I was like… you know what, I'm gonna do this," he said. "I feel like I can speak pretty well in public."
Now at the end of a six-year tenure with Lane and its Academic Center, del Castillo is headed to Princeton University, intending to major in economics. He leaves behind a high school experience well spent, having checked off nearly every mark on the list of every Lane activity in existence. Across all four years of high school, he played soccer and lacrosse. He was also co-president of Polynesian Club, did internships with Rush Hospital and worked with Cradles to Crayons Club.
But everyone knows that while it's impressive to carry a wide variety of extracurriculars under one's belt, it certainly is not easy. In del Castillo's case, it was all trial and error. 
When it came to soccer, he was cut from the team freshman year, but came back strong with offseason practice and was able to make the team his senior year, del Castillo said.
As for lacrosse, it was another interesting story for him.
"Lacrosse was definitely a big development for me because I hadn't played at all," he said. "And then freshman year, my friends convinced me to join. It's definitely the best decision that I've made in my entire high school career."
And Polynesian Club? A huge shot in the dark. Like lacrosse, his friends convinced him to join.
"Learning how to dance was hard," he said. "I was also thrown into a leadership role being co-president. It was a little nerve-wracking — being responsible for all these things and all these people, but it was definitely a good experience."
His experience with sports starkly contrasts his academic experience, because according to del Castillo, he's always been lucky that school comes a little easier for him. Sports, he said, have always been his driving force.
"I'm not the most physically gifted," he said. "So it definitely pushes me more and I learned to push myself more to drive to be better."
At a selective enrollment high school like Lane, strong academics foster a competitive environment for students. Each individual finds their own way to push through it – and for del Castillo, it's all about that strong support system.
"My friends drive me to be better," he said. "There's a lot of healthy competition and it can also sometimes be unhealthy. But I have a bunch of Lane Tech friends and we all push each other academically and athletically which is great."
And in the end, that driving force has become synonymous with his character.
"A big part of my growth as a person is finding that inner drive to be better at something or be the best at whatever you do," he said. "Even if it's something that doesn't seem like it matters."
On June 7, the Credit Union 1 Arena set the stage at Lane's graduation – and the emotions ran high.
"Now that I got [valedictorian], I'm a little bit nervous," he said. "I'll have to speak at graduation, but it's definitely something that if I feel like if I didn't do it, I would have regretted it in like ten years from now. "
Zaryaab Khan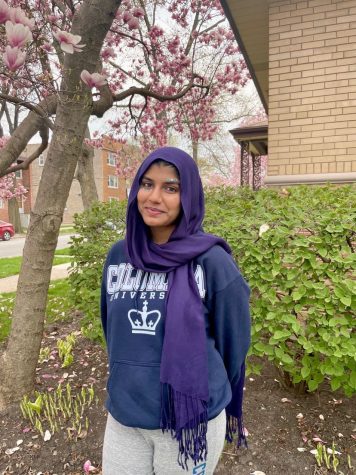 Like many freshmen stepping foot in Lane for the very first time, Zaryaab Khan started out high school timid and nervous about talking to new people. Fast forward to 2022, and she's about to walk the graduation stage and give a speech to around a thousand seniors and their families as Lane's salutatorian.
It's safe to say that time in quarantine during the COVID-19 pandemic has helped people to reflect, grow and change. This was definitely the case for Khan.
"Being inside, it really gave me the option to see my voice and where I stand," she said. "From there, I started a lot of social justice clubs and made sure that I was involved with that because that's what I was really passionate about."
And now, that passion has taken her to Columbia University where she'll be majoring in Computer Science thanks to the QuestBridge scholarship program. As a part of the Alpha Program, her love for STEM not only echoes in her future at the Ivy, but it also reflects in her involvement with the Lane community.
Khan is president of the GEMS (Girls' Electronic Mentoring in Science, Engineering and Math) Club, a program started in 2011 to help girls explore their interests in various STEM fields – which are mostly male dominated. She's also vice president of the National Honors Society. 
The senior has also extended her time and efforts beyond the walls of Lane. Outside of school, she is a part of the Mayor's Youth Commission, which is a cohort focused on bringing light to Chicago issues such as poverty, homelessness and mental health. She is also involved in the Asian Coalition for Substance Abuse, deeply inspecting the dynamic between youth mental health and substances. 
And through it all, patience has helped push her to this point.
"I think patience is a value that I hold myself accountable to," she said, "because you don't get to where you are without patience, and having that is motivating."
Even with all of Khan's deep involvement in her hobbies, she still felt unsure about achieving such an honor as it wasn't a set expectation.
"I think I had a lot of competition," she said, "but I guess it worked out. There were so many other great finalists for valedictorian and salutatorian but I hope to have a speech just as great as theirs. Or even better."
The road from freshman year to senior year hasn't been a smooth one. As a first-generation minority college student, Khan hopes she can resonate with others of a similar background – and all high school students.
"I'm so grateful for all the support because honestly, it's been a tough ride throughout high school," she said. "I hope I get to represent everyone, from their backgrounds to their diversity, and I hope my speech is open to everyone."