Community to confinement: changes to annual Art Week
Sarah Wain, a Contemporary Painting and AP Art History teacher, chose to have students do palette knife paintings for Art Week. These paintings are made by applying paint to a canvas but with palette knives instead of brushes. Wain chose this activity because of supplies on hand that she hadn't used throughout the year yet. 
"We've done paintings a lot this year but we haven't done anything with palette knives. So I honestly have some materials that are getting old, and I am repurposing some materials by doing a fun activity," Wain said. 
This year, Art Week ran from May 31 to June 7. Each day one or two activities would be hosted by different art teachers, where students could stop by and try out various art techniques throughout the day and after school. 
"[Art Week has] been about opening up our classrooms so that students who walk by every day can peek in and actually get a chance to come in and see what we really do all day," said Greg Steffens, a ceramics and Art I teacher at Lane.
Steffens hosted a pottery throwdown that drew inspiration from the Great Pottery-Throw Down, a British television show which was brought to life by the creators of the beloved Great British Bake Off. 
"We had little events and did little competitions based on the skills [ceramic students] learned throughout the year," Steffens said.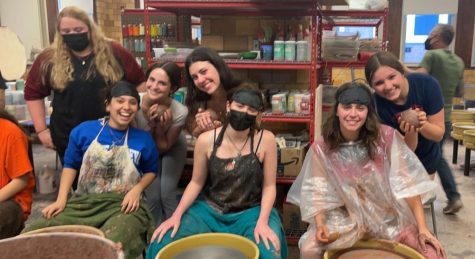 The competitions involved the use of classic pottery techniques, according to Steffens.
"They did who could center clay fastest, who could throw the most, who could center the most clay in 10 minutes, who could pull the highest cylinder. And then they had to throw a bowl blindfolded" Steffens said. 
But despite the fun activities, Art Week was different this year in comparison to the years pre-COVID.
"It looks a little different this year, but we're still glad to put on a version of art week," said Wain.
Students in art classes not paying their art fees was a contributing factor. Further, problems with sourcing materials from vendors made it difficult for art teachers trying to find materials on hand to put an activity together. Plus, lingering requirements from COVID on the amount of people who can be in proximity to each other took away the sense of community that comes with Art Week according to Wain. 
Teachers are also planning on having Art Week earlier in the future, Ideally before course selection, so students can try out art classes before having to settle on one. Additionally, Wain said that art teachers are hoping to grow the event in the future to become more localized. 
"We're definitely going to start earlier next year. One thing [we] would like to include more is a community aspect to it. By inviting families to come, we used to do it outside so if we could do that again, but also invite some local elementary schools… I think we could get some more by-in from the community" said Wain. 
Regardless, students still thoroughly enjoyed art week according to junior Liliana Rohlf, Div. 379.
"I loved the competitive attitude students displayed during the pottery throw down. Everyone was really into it, and the energy in the room was really exciting," Rohlf said. 
Steffens enjoyed art week because it was an opportunity for students to realize how much they have grown in a specific area of art since the beginning of the year.
"I had one kid center eight balls of clay in 10 minutes, which is really fast, and I don't think she knew she could do it. And when it was over, she was just like, oh my god," Seffins said.
Art Week has and will continue to be a great opportunity for involvement in the arts according to Rohlf.
"I think art week is a great way for students to be exposed to new art forms and activities that could potentially increase their involvement in the arts," Rohlf said.  
Students who participated in art week hopefully learned new techniques and were proud of their creations and can expect big changes for the coming school year to bring back the annual community of Art Week, Wain said.  
"We have some big plans next year and we'll get more students involved, and we've already talked about what we would like to see for next year," Wain said.