Junior Amaan Khan heading to World Baseball Classic Qualifiers as youngest Pakistan National Team player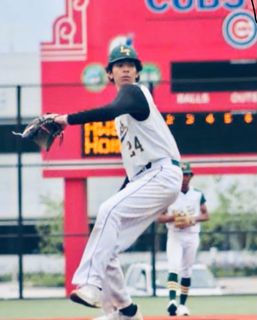 After helping lead Lane to a JV baseball city championship this past May, junior right-handed pitcher Amaan Khan will be sporting a different shade of green this fall.
Far from the confines of Kerry Wood Field, Khan will be pitching in Panama City in late September as the youngest member of the Pakistan National Team, who hope to qualify for their first ever World Baseball Classic (WBC) — "the biggest stage in the world for baseball," according to Khan.
"It's probably the coolest thing in the world for me to be able to represent your home country. … It only happens every four years and just to be able to have that opportunity, it's just a blessing," Khan said.
Khan, who was born and raised in Illinois but comes from a Pakistani background, will be a part of a team hoping to advance to the WBC after going 0-2 in the 2017 qualifiers. The team is made up of a mix of different player types, from high schoolers and college players to a former MLB draft pick.
The process for Khan making it onto this team started through a Twitter post. Someone from the national team reached out to him through one of Khan's posts of him playing. 
"We kind of just hit it off from right there," Khan said.
Pakistan's Manager Musadaq Hanif said they found Khan about three months into their search for players. After checking Khan's player metrics, they determined he'd be a good fit for the team, despite his age.
"He is [the] youngest in our team, [but] he [has a] good support family and in Pakistan we lack pitchers," Hanif told The Champion via email. "[Our] average pitcher is pitching 82-85, so why not have a player who is now 82 plus [at] just age 16."
While Khan sees the age difference between him and some of the players he will pitch against, his focus is beyond the experience gap.  
"It's a blessing to be able to have that opportunity to play against them, but it's the same thing competing against guys like I [did] this summer," Khan said. "Just having confidence in yourself. I got this through [Lane Tech Varsity and Junior Varsity Baseball Head Coaches] Sean Freeman and Sean Pfeiffer and my travel baseball coach — just having that confidence to be able to go out and compete against those big guys."
Khan's two years with the Lane Baseball program thus far have helped him establish that confidence, which he says has helped his growth as a player.
"Every coach that I've had [at Lane] so far has been one of the best coaches I've had," Khan said. "They've put confidence in me, put confidence in the team, and just brought confidence to the program. … Lane's helped me so much. And I just want to thank them for that."
Confidence is one of multiple factors that Khan will be bringing with him to Panama from his time with the Lane team, which included being named the JV "Cy Young" winner for Lane this year, given to the top pitcher on the team.
"I think the thing that impressed me most this year about Amaan's play was his dedication to growing as an athlete and a player, especially as a pitcher," Lane Junior Varsity Head Coach Sean Pfeiffer told The Champion via email. "He takes a lot of pride in his preparation and his approach towards the game."
While Khan has benefitted from the program, he says he hopes to gain some new skills out of this experience to bring back to the Lane program, which is looking to win a second straight varsity Public League title. 
Pfeiffer thinks that Khan, with his Lane teammates, have what it takes to keep the program going in the right direction.
"Our program at Lane requires hard work and dedication on and off the field, and Amaan has shown that he understands what it takes," Pfeiffer said. "I am extremely excited to see him and his teammates move up through our program to continue pushing our program where we want to go."
While Khan will be representing Lane and the Chicago Public League this October, Hanif is hoping Khan and the other high school players will gain experience for additional international play.
"We are making [high school players] confident for future events they can play with Pakistan or other teams," Hanif said.
Qualifier play will take place for Pakistan between Sept. 30 and Oct. 5 in Panama, with the full bracket yet to be released. Two teams will advance to the World Baseball Classic, set to be held in Chinese Taipei, Japan and the United States in March 2023.
"It's definitely a surreal experience," Khan said. "It's gonna be something different, but I think I just can't be thinking about that when I'm out there and just handle it just like every other high school game so far."