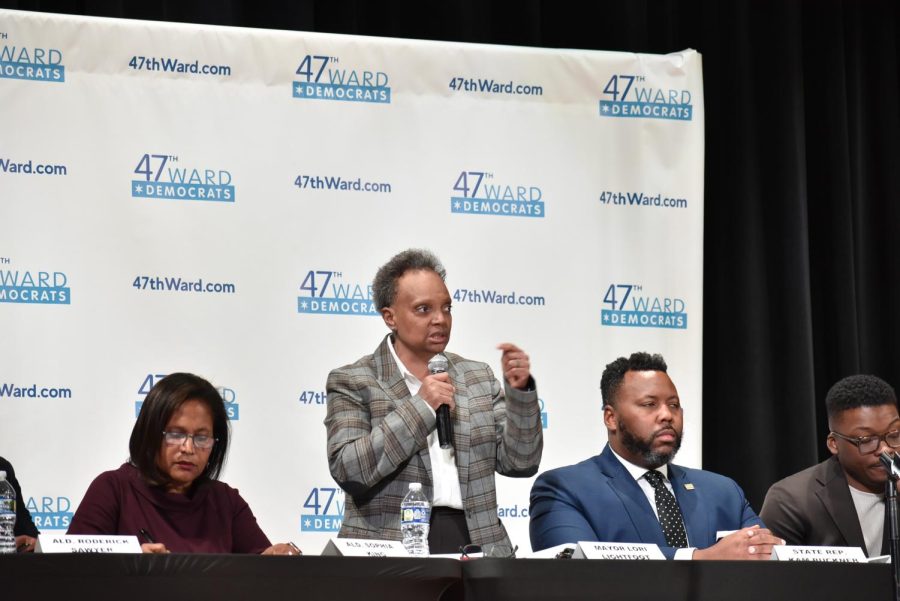 Mayoral candidates double down on mental health initiatives, a top concern in new Champion student poll
On Jan. 15, the 47th ward of Chicago hosted a Mayoral Candidates Forum at Lane Tech, where all nine candidates running in the Feb. 23 election met and discussed their stances on topics including the CTA, the police, funding for the Board of Education and pensions. It was after the event, however, that The Champion spoke with some candidates about their thoughts on another topic on the minds of many students at Lane: mental health.
"We need to increase the amount of funding so that we can staff therapists at every school in the city of Chicago and have the correct number of ratios from therapists to students," mayoral candidate and activist Ja'mal Green said. 
"So we've got to do a whole bunch of things to address that mental health crisis and we're going to prioritize [that] in our administration." 
In a December poll of 426 Lane students, The Champion found that 66.4% of respondents were either concerned or very concerned with the issue of mental health.
In follow-up interviews, some Lane students said they were concerned about the accessibility of mental health resources, confidentiality, and the effectiveness of the support staff at Lane. 
"I think that the guidance counselors just kind of act so far removed from the rest of the school, that it doesn't feel like an accessible resource," Carolina Herrera, one of the poll respondents, said.
At Lane, there are three different kinds of support staff that students can reach out to for help: counselors, social workers and psychologists. According to Dr. Jacqueline Gilson, one of Lane's school psychologists, the counselor department is there to help students with a broad range of issues. 
"We think about the counselor as your first one stop shop for all things related to adjustment to Lane, class selection, adjustment issues as they come up and so forth," Gilson said.
The social workers and psychologists, however, are more specialized, according to Gilson, and generally spend a lot of time supporting students with disabilities and/or impairments. They are also there to help students with acute needs and students in the general population.
"With 4,500 kids, you get every kind of human being, right? So I can't necessarily say that [one] particular issue would come to psychologists versus a social worker versus a counselor, but generally if the needs are more significant or acute, they tend to move up to the psychologists and social worker." 
There are 4,486 students at Lane, and Gilson is the only full time school psychologist for the school. Dr. Kevin Kahler also works as a psychologist, but is only employed to work at Lane for three days a week, and 2 days at another school.
"To put it succinctly, Lane Tech is profoundly underserved from a mental health perspective." Gilson said. "And if you were to view the staff directory on some well-resourced, suburban school districts, you find clinicians tripping over themselves, tons of social workers, behavior specialists, psychologists, many, many, many counselors, but our social workers, our psychologists our counselors here at Lane, are operating among ratios that are not our professional recommendation."
National guidelines recommend that schools should have at least one psychologist for every 500 students, one social worker for every 250 students and one counselor for every 250 students. These guidelines are issued by the National Association of School Psychologists, National Association of Social Workers and the American School Counselor Association. 
Lane falls woefully short on mental health staffing. The school's student body totals 4,486 and should have about nine psychologists available to students, based on the aforementioned recommendations, yet Lane offers just one full-time psychologist and one part-time psychologist. 
A school the size of Lane should have about 18 social workers: Lane has five. Guidelines also call for 18 counselors: Lane has 11. Despite improvements in recent years, only 392 CPS schools have at least one full time social worker, and only 117 schools have 2 counselors, according to Chalkbeat Chicago.
Improvements to mental health services in Chicago — a top concern among Lane Tech students — didn't make the list of talking points for most mayoral candidates during a Jan. 15 forum, however, The Champion spoke with some candidates after the event to get their views on the issue. 
Mayoral candidate and state rep. Kambium Buckner said that he wants to focus on making sure schools have the mental health resources they need. Buckner also wants to prioritize reopening the city mental health clinics Mayor Rahm Emanuel closed in 2019 and making them accessible to young Chicagoans. 
"[The clinics] were 18 and up…. It's problematic, we have young people in this city, we want them [to have] access and opportunity to have mental health care when they need it," Buckner said.
Current Mayor Lori Lightfoot's 2023 Mental Health Budget proposes to invest in the existing Chicago Department of Public Health mental health clinics, which would involve supporting child and adolescent mental health services at the clinics. Lightfoot also wants to invest in her Trauma-Informed Centers of Care Program that funds community mental health organizations, according to the framework on the Chicago government website. 
Candidate and U.S. House Rep. Jesús G. "Chuy" Garcia hopes to hire more mental health clinicians, through collaboration between the county and the city. 
"I think there's great potential to increase the supply of mental health clinicians in places where they're needed, and they're needed now more than ever because of the pandemic and the civil unrest that all of us have experienced," Garcia said. 
Green stated that on top of reopening clinics, he would also allocate city resources to build new institutions beyond just psychiatric ones, to address mental health holistically. 
"[Mental health] is a big issue, it's gonna be a big issue for our administration," Green said. "Because what are we if we don't talk about mental health? The suicide rates are high not just about young people, but amongst folks, even in city workers, and we're not doing anything about it."
Donate to The Lane Tech Champion