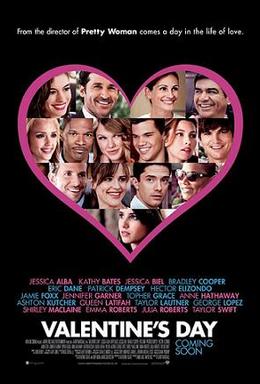 'Valentine's Day' is comedic rom-com that connects unlikely characters
"Valentine's Day" is a romantic comedy that explores the lives of a diverse group of characters and how they are connected through love, family, and relationships. The film features an ensemble cast that includes Julia Roberts, Jamie Foxx, Anne Hathaway, Ashton Kutcher, and more. While such a loaded cast may seem hectic, the movie is very well-executed and can easily be deemed a season staple. The film is directed by Garry Marshall, who is known for his feel-good, romantic comedies, and Valentine's Day is no exception. 
The film is light-hearted and fun, with a predictable but entertaining storyline. The characters are likable and relatable, and the movie provides a good mix of comedy and drama. One of the strongest aspects of the movie is the ensemble cast, which includes some of Hollywood's biggest stars. Each actor brings their own unique charm and talent to their respective roles without making it tasteless, and the chemistry between them is palpable. 
This plot also explores a wide range of relationship dynamics, from first love to long-term relationships, and this adds depth and variety to the story. Though there is a wide range of dynamics, the movie doesn't invalidate the intensity of the power of love, highlighting that everyone deserves love and acts of kindness. The film also has a great soundtrack and the music adds to the overall atmosphere of the film. The film is also visually appealing, with the setting of Los Angeles being used effectively to create a romantic atmosphere. 
Overall, "Valentine's Day" is a fun, feel-good romantic comedy that is perfect for both a date night or a night in with friends. The ensemble cast is strong, the characters are likable and relatable and the film explores a wide range of relationship dynamics that will resonate with the audience.
Donate to The Lane Tech Champion