Underclassmen spring into spotlight in 'It's Murder in the Wings'
"It's Murder In the Wings" can be characterized by a comedic yet mysterious plot. However, what influenced drama teacher Julie Allen to select it as the Lane spring play was the setting and character opportunity.
"I decided to kind of roll it back and set it in the 80s, because the 80s have kind of had a resurgence in popularity with 'Stranger Things,'" said Allen, who is serving as the play's director. "And the music, or the style of the 80s, feels like it's coming back. So all of that combined, and when I read the play, I really liked the strong female characters. We typically have more female-identifying students audition for us."
Each year the spring play is open for Lane freshmen and Academic Center students to audition. The fall play is when upperclassmen have the chance to be cast as the leads, because they have more experience under their belt, according to Allen.
"We have this slot in our schedule for those younger students to really get a chance to shine," Allen said. 
The lead character of "It's Murder In the Wings" is Maddie, who is an editor of Wings Publishing Company. Freshman Melanie Ortiz was cast as Maddie. Maddie is a calm, quick thinker while uncovering her boss's untimely death, according to Ortiz.
Originally Ortiz wasn't planning on auditioning for the role, but encouragement from others prompted her to join the auditioning process. 
"I was shocked [to get the lead], I didn't really expect it. I was honestly really scared because I honestly wasn't planning on auditioning at all but my director, who was also my drama teacher, recommended me to do it," Ortiz said. 
The production process for the show is roughly two months. At the start, students work on analyzing and mastering their characters. 
"We read the script, and we start thinking about who are these characters. Then I take a couple days, before we even start blocking, to do vocal and physical workshops where they try different vocalizations of their lines as their character," Allen said.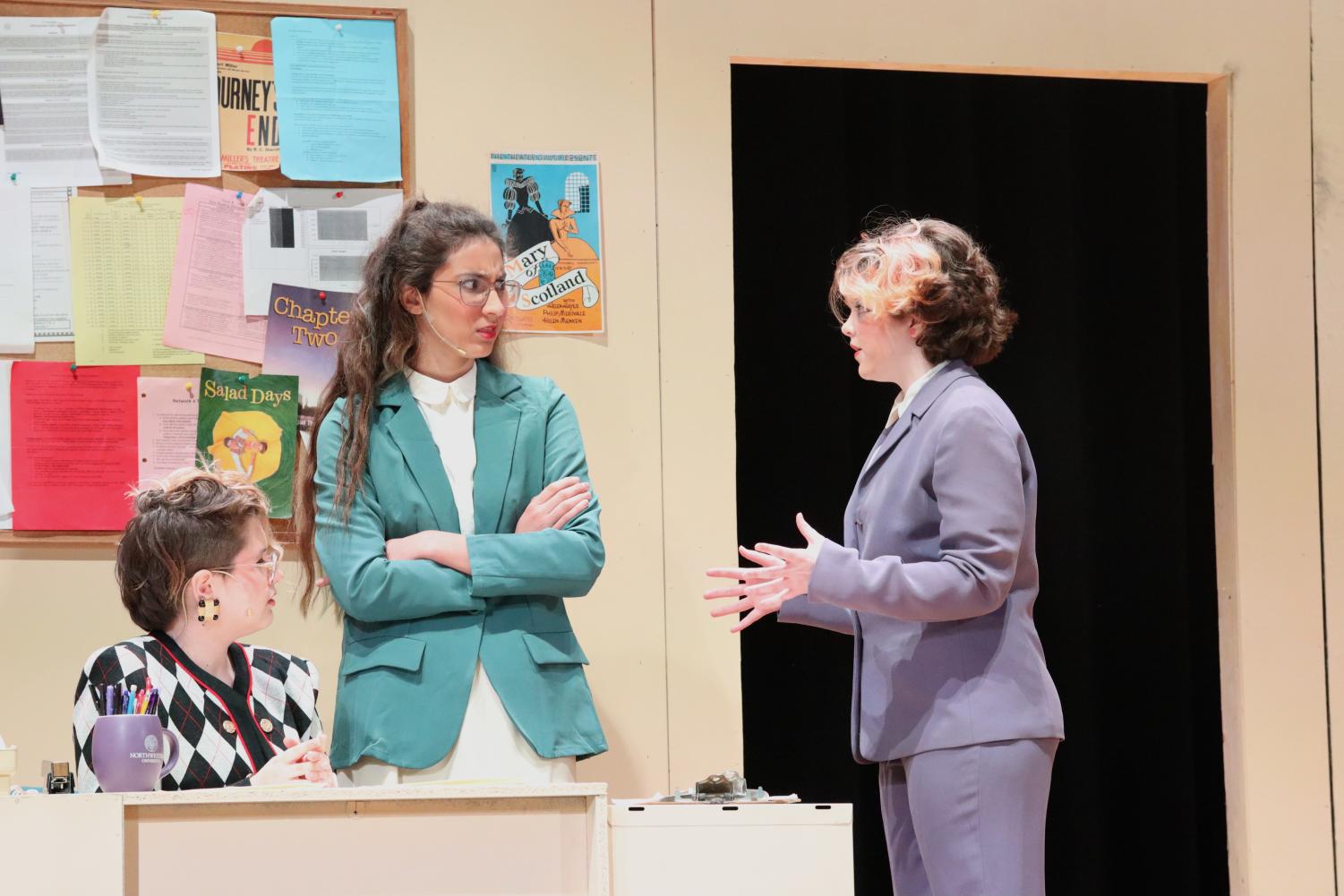 Each character is unique and some are even multi-faceted, according to Allen.
"We have a few characters who are not quite what they seem and are actually undercover. And so they are not only playing a character, they're playing a character who's playing a character," Allen said. 
Once students are experts on their characters, they move on to blocking scenes and eventually move on to tech week.
"Moving to tech week, we're still playing with, you know, those little moments, those little reactions," Allen said. "How does a character act to big news? How does a character react to a crisis, just as humans react differently to a crisis, characters react differently to a crisis. Each one of them, as the actor, has to make a choice with me as the director to decide what that will look like."
Other aspects of the play, such as set and costume, vary depending on the production, according to Allen. For "It's Murder In the Wings" the set is one location, so Allen designed the set and costumes.
"I designed the sets and costumes, and all of the technical elements are fairly minimal," Allen said. "Even though it might be complex, it's still minimal because there's only one location, so we don't have any set changes. There's no costume changes either. It all takes place within about the 90 minutes that the show runs."
Once all the rehearsals are said and done, seeing students take a character and add personal subtleties is Allen's favorite part. 
"As a director, and as someone watching, I can see that moment of genuine connection between actor and character," Allen said. "And that really only comes deep into the process when they really know their character, and actors interacting with each other as characters and finding new and fun moments."
"It's Murder In the Wings" had performances on March 22-25. The next production from the drama department will be Play Fest on April 27 and 28. At Play Fest, students write the scripts, direct and perform.
Allen said she is grateful for the passion her students bring to their performances.
"I am really grateful to our administration and our student body that there is such a passion for performance in the school," Allen said. "Not just theater, but I see it in I-Days. I see it in the art that's displayed in the studio. I see it in the band and choir concerts that there is a passion for art performance at the school. And it makes me really glad that we have so many different outlets for students."