Third time's a charm for Girls Water Polo in 2023
Entering the St. Ignatius Sectional championship on May 13, Lane Tech Girls Water Polo knew their opponent quite well.
The Jones-Payton co-op team was the only public league team to best the Champions in the regular season (on April 17), and Jones-Payton again defeated Lane in the city championship (April 29).
But with revenge on their mind, Lane, led by six goals from Martha Palmentera-Reid, defeated Jones-Payton 7-6 in the sectional championship.
"It felt really good especially because the two games we played against them we lost by one and two goals," Palmentera-Reid said. "So it was really fun just to be able to beat them this time and win sectionals again."
This was the third straight sectional Lane Tech won. Girls Water Polo has not lost a sectional match since the 2021 season.
But according to Head Coach Ally Cortez, this year's team has a new energy.
"I think the team dynamic is a little bit different," said Cortez, who is in her second year as head coach but has been with the team since 2019. "We've had a tough season with some pool closures and some scheduling conflicts, but ultimately the girls have been really good at coming together when it matters."
Lane has also been led this year by both Martha and Susan Palmentera-Reid, who had eight saves and two steals in goal during the sectional championship. 
But recently younger players have stepped up to help propel Lane to a state run, including sophomores Georgia Fournier and Andriana Shoorgot.
"There were players who really did not know how to play in the beginning of the year and knew a little bit who came in and are now on our sectional team and our state team who have really really grown," Martha Palmentera-Reid said.
The team now hopes the third time will be the charm for them again. This is the third straight season Lane has won sectionals, but they have yet to make it past the state quarterfinals.
Lane opened up state quarterfinal play this past Thursday, May 18, taking on Hersey.
"It's going to be exciting," Cortez said before the game. "And I think that this could be the first year that we make it past the first round. So I'm really excited to see if we pull that off."
Photo caption: Lane Girls Water Polo with their 2023 sectional title plaque.
Donate to The Lane Tech Champion
Your contribution will allow us to cover our annual website hosting costs, which are no longer covered by our district/school. If we do not meet our goal this summer, we may lose this website and its archive of stories covering 2009-2023. Student journalists at Lane Tech use this archive to research past coverage of various topics and link to past stories to offer readers additional context for current stories. Thank you for supporting the award-winning reporting and writing of journalism students at Lane Tech College Prep!
About the Contributor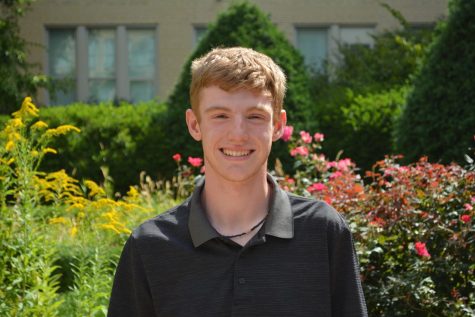 Alex Burstein, Editor-in-Chief
Alex is a senior in his fourth year with The Champion. Alex loves covering news and sports in the Lane community and beyond. He also broadcasts for a variety...