Girls Track sends five runners to state
Lane Tech Girls Track and Field showed off both speed and endurance at Eastern Illinois University this past weekend.
From one of the shortest events (200 meter dash) to one of the longest (4-by-800 meter relay), five of Lane's top athletes took center stage at the IHSA 3A State Finals.
For five straight years, Lane has qualified a 4-by-800 team for the state finals. Sophomore Claire Davis, Junior Charlotte Muller, Junior Sophie Mullins and Senior Caroline McCarthy made up the squad for the Champions this year. 
But qualifying for state was not a sure thing, coming down to a matter of milliseconds.
With a 9:43.41 run at the St. Ignatius sectional on May 11, Lane's 4-by-800 team qualified as an at-large bid by two-tenths of a second.
"I was the anchor leg. … I was kind of watching the clock as I was coming down the straightaway," McCarthy said. "And I was just hoping that we made it. I literally had no clue." 
Led by a personal record 800 split by Mullins, the Champions qualified for state by less than a second.
"I just kind of got out a lot faster than I normally do," said Mullins, who suffered an injury during indoor season but returned for outdoor. "And I just was going [with] the mindset that we need to hit the time today."
The team, according to Muller, hadn't run a 4-by-800 with this combination in about a month, but the team still entered the qualifying race with a sense of cautious confidence in qualifying for state.
"I mean, you gotta leave it all on the track for those races," Muller said.
As the relay team, along with alternates, worked on strategy for PRs, Lane's other state qualifier, Charlotte Price, was training on dropping milliseconds off her 200 time. 
After dropping time consistently in the 400 meter race this year, Price was just over a second out of a qualifying spot at sectionals. 
But not even a half hour later, her fastest 200 yet qualified her for state.
"After running 400 meters your legs get pretty tired," Lane's sprint coach Javier Reyes said. "So yeah, we just hoped for the best and I was really excited when she qualified by being top two."
Price finished second in her sectional, with the top two advancing to state. Her 26.68 PR was more than a second ahead of the third place finisher.
After battling injuries midway through the outdoor season, Price returned to action a week ago at the Chicago Public League City Championships.
But even with that obstacle, Reyes has seen improvements throughout the season.
"Her 200 time has gotten better, her 400 time has dropped by maybe two, two and a half seconds. So all those things are great," Reyes said. But she already came in with the top times for the team so I don't think anything personality-wise, anything effort level has changed at all. I just think her times have improved because she's been putting in that work."
Lane entered state with a tall task ahead of them. The girls 4-by-800 was seeded 29th out of 32 at state and Price was seeded 31st of 31, but even with this, Reyes was just hoping they would run their best to close out the season.
"I always tell them you don't win at practice, there are no medals at practice," Reyes said. "So you put in the work early and and then hopefully you peak at the right time and you're running your best times when the races really matter."
Donate to The Lane Tech Champion
Your contribution will allow us to cover our annual website hosting costs, which are no longer covered by our district/school. If we do not meet our goal this summer, we may lose this website and its archive of stories covering 2009-2023. Student journalists at Lane Tech use this archive to research past coverage of various topics and link to past stories to offer readers additional context for current stories. Thank you for supporting the award-winning reporting and writing of journalism students at Lane Tech College Prep!
About the Contributor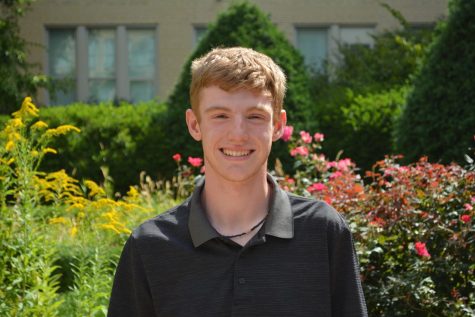 Alex Burstein, Editor-in-Chief
Alex is a senior in his fourth year with The Champion. Alex loves covering news and sports in the Lane community and beyond. He also broadcasts for a variety...