Logalbo assists Team USA to a victory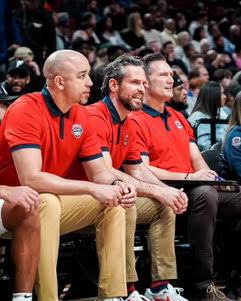 The USA men's basketball team recently advanced their record to 17-6 against Team World at the Nike Hoops Summit, which debuted live on NBA TV, April 8. This was the 24th annual Nike Hoops Summit which showcases the top talent from American high schools versus the top international players, all under 19 years old.
 Weeks prior, Lane Tech athletics instagram was promoting this event because of Head Boys Basketball Coach Nick Logalbo's relation to USA Basketball. 
The Nike Hoops Summit is a highly competitive event that showcases around four to five star recruits, ESPN's top 10 players for the class of 2023, competitors on the World Team representing over 17 different countries, USA gold medalists and 25 McDonald's All-Americans. 
Since 1993, when the first Nike Hoops Summit was held, over 253 alumni have been drafted in the NBA; of those, 14 were the No. 1 overall pick and 38 would go on to be All Stars. 
The Nike Hoop Summit has been held in Portland, Oregon's Moda Center Arena since 2008. This arena is home to the Portland Trailblazers and holds 19,000 people. Many NBA scouts were in attendance at this event as well as current professional athletes. 
The athletes touched down in Oregon and quickly headed to practice where they met their head coach Steve Turner (Gonzaga College HS, D.C.) assisted by Frank Bennet (Chaminade College Prep, MO) and Lane's very own Nick Logalbo. 
This was Logalbo's tenth assignment with Team USA and just last year he was head coach of the 2022 men's and women's 3×3 U18 Nationals team. Logalbo first began working with USA Basketball with running youth clinics and speaking at their coaching academies before getting his first head coaching position of a 3×3 in 2021.
Some of the places Logalbo has gotten the opportunity to travel include Hungary, Texas, and Minnesota for the finals. This upcoming summer, Logalbo will be visiting China for an assignment with USA Basketball. 
For his most recent assignment, Logalbo had a while to prep for the new coaching gig.
"I knew officially that I'd be coaching the team back in October, when I officially got the call from USA Basketball, and pretty soon after that I started watching previous Hoops Summer games, then once we officially got the World team roster, the coaching staff met on Zoom pretty regularly and we broke down film."
It was crucial for the coaching staff to recognize which players had chemistry together in different rotations, Logalbo said. 
"It's not like Lane Tech, where I have my team, I know all my players in and out," Logalbo said. "That team was coming together for the first time. Those 13 guys kind of all knew each other or have played against each other.
Logalbo also discussed the strengths of Team USA during the game, particularly highlighting their defense.
"It was clear we were turning them over, we were pressing, we were causing havoc, we forced a lot of turnovers," Logalbo said.
In regards to their weaknesses offensively, he mentioned their intensity. 
"That intensity led to a lot of fouls and they out shot us 24 to 8 in the first half at the free throw line, which kept them in the game" Logalbo said. If we weren't fouling I think we would have pulled away pretty early, but that kept them in the game,"  
However, he said that the team's ability to defend without fouling led to "easy buckets" and a good offensive flow. 
Ahead of such a competitive game, Logalbo was able to make an impact on his players through words of encouragement.
"You never know who's watching, who's going to directly change the trajectory of your life," Logalbo said. "It's not just about what you do in between the lines but getting into the arena, how you carry yourself or how you handle yourself in the locker room. We all want to score and do our thing, but how are you handling the game plan? How are you as a teammate?"
Although there are many top players in this retrospective class, Logalbo highlighted three players: Bronny James (recently committed to University of Southern California), Jared McClain (committed to Duke University), and DJ Wagner (committed to University of Kentucky). There was a lot of attention surrounding Bronny James, the son of Lebron James, as at the time every competitor in this game was committed to play Division 1 College basketball except him. 
Logalbo got to work with social media sensation Jared McCain, who is 10th ranked in his class.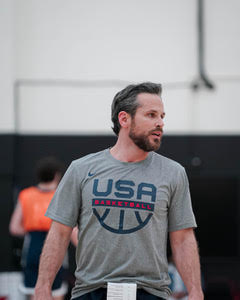 "He was actually really fun to coach; very, very committed," Logalbo said.
He found similar efforts out of the entire team.
"I mean every one of those guys is really locked in and coachable."
Ahead of the game, as Logalbo stood on the Portland Trail Blazer Arena he heard a voice calling his name. To his surprise, it was a Lane alum from the 80's who mentioned how proud he was to be in the stands at the game. 
This encounter, according to Logalbo "kind of got me grounded and back to [thinking] never forget where you came from. I love Lane and have been working here for over 20 years and have played here, and to be able to represent Lane on that stage was an incredible honor."
 After every assignment with USA Basketball, Mr. Logalbo uses his experience to help better Lane Tech's basketball team. 
"Some of the stuff we did with rotation and game planning is stuff that I am going to use with our guys here," Logalbo said. "Getting in and out of our lineups was one of my big jobs coaching the team and I learned a lot there that I'll be implementing with our team this year."