Lavelle breaks numerous school swim records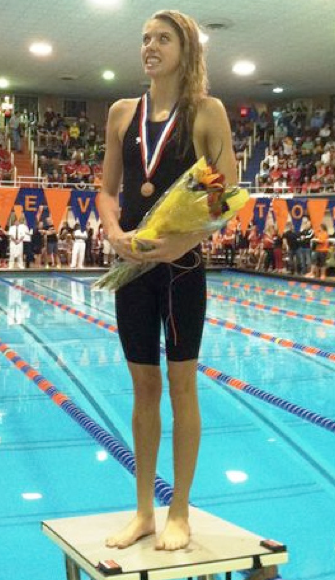 By Tristan Bugos
Adrenaline-pumping, stomach-churning, with sweaty, shaky hands, Meghan Lavelle, Div. 464, steps up on the block towering over the pool. Feeling uneasy did not begin to cover how Lavelle felt before her State meet in Evanston on Nov. 16-17, 2012 where she finished fourth in the state in the 200 meter individual medley.
With nine school records broken so far in her high school career, Lavelle thinks she still has a ways to go and believes two more school records are still within her reach: the 100m breast stroke and the 200m free swim.
Lavelle has been swimming competitively since age seven. It is as if she is built for it. Measuring in at 5'11 with a wingspan of six feet, she has the body type that makes other swimmers jealous.
work in the pool. Lavelle knows that a swimming scholarship
is one of her best chances at college. Feeling the extra pressure to perform at a high level can take the joy out of the sport. Lavelle ad- mits she does not feel the same passion for swimming as she once did.
"I mean yeah, it sounds bad to say I'm only using swimming for college, but the road to paying for college is becoming tougher so why not keep doing something that's beneficial towards my future," Lavelle said. "Swimming has become the main priority in my life, and as much as I hate it some- times, I have to keep going. Although I have wanted to join gymnastics, my coaches and teammates keep me in check."
Lavelle claims that the main thing that makes or breaks the outcome of her meets are her nerves. But she tries to calm them
with comfort food. "Before my meets, I like to get Burger
King for breakfast as a pre-meet ritual," Lavelle said.
Her swim mates and family support her with pep talks and motivational advice.
"Before my championship race, my friend Lizzie Rzeznik inspired me with a pep talk in her Morgan Freeman voice, which made me loosen up and I ended up doing really well in the end," Lavelle said.
Even though Lavelle excels in athletics, she has not done as well in academics as she would like. As swimming season comes and goes, she has noticed a corresponding fluctuation with her grades. With the swim team practicing over twenty-five hours a week, Lavelle claims she hardly has any time to relax.
"I haven't yet mastered the balancing be- tween sports and school life, but some advice I'd give to students
It is not just Lavelle's physique, however, just starting their high school
that contributes to her excellence in the sport. Fellow swim teammate Taina Reyes, Div. 475, says Lavelle's hard work also has something to do with it.
"Meghan is the perfect fit to be a record- breaker swimmer. Her body slides right through the water and her determination towards the sport is amazing," Reyes said. "She's definitely the most dedicated swim- mer I've ever met and [she] trains year- round seeing as she's been State-bound since freshman year. Meghan always strives to be the best…and that's exactly what she is."
Over 26 colleges have mailed or contacted Lavelle, most of the schools Division 1 uni- versities. Her top two college choices are currently Indiana and Michigan State. And college is a central motivation for her hard
careers would be to keep mov- ing forward and win. Just like my favorite quote from Talladega Nights, 'If you're not first, you're last,'" Lavelle said.
Varsity Swim coach, Mr. Rum- melhoff, sees Lavelle as one of Lane's most prized possessions.
"As a swimmer, Meghan learned how to take practices a day at a time and understood how seasons worked so that she could be at her top game by the end of the sea- son.," he said. "She sets standards for others on the team and shows leadership. Definitely one of the best athletes I have had a privilege of coaching."