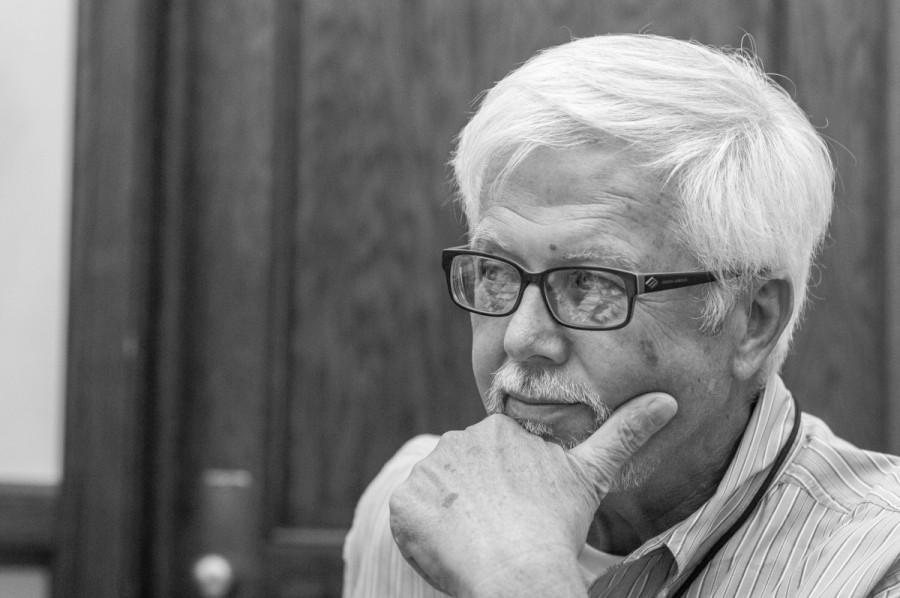 Colin Boyle
A tall man in a white plaid dress shirt, with snow white hair and beard, can often be found in Lane's hallways. His name is David Gilligan.
Gilligan introduced himself as Lane's Administrator in Charge in a July 8 email after Lane's Local School Council (LSC) was unable to choose a permanent principal. 
Before retiring in 2010, Gilligan worked 30 years for CPS in many positions, such as teacher for 22 years, assistant principal at Kennedy High School, principal at Chicago High School for Agricultural Sciences for six years, and Chief High School Officer. He has been interim principal at Clemente, North-Grand, Hubbard, Collins, and Chicago Academy high schools.
With the years of experience, Gilligan feels that a lot of high schools are pretty much the same.
"Same procedures, good kids at all high schools, teachers want to work hard," Gilligan said.
But he was particularly impressed with the environment of Lane.
"The building is great. The tradition … you can just feel it here, right?" said Gilligan.  "It's got a beautiful campus. A lot of nice students, nice teachers. A lot of good things are happening here. I can see the students are working hard. The teachers are working hard. The first day, second period, everything was quiet. Everyone was at work. It was like we were open all year long."
Gilligan loves the tradition, but there were many changes occurring at Lane during the summer. Major projects included working with budget cuts and remodeling classroom and staircases.
CPS made budget cuts to all Chicagoland high schools due to state aid losses of over $100 million, according to CBS News.
Gilligan says that Lane is among the fortunate schools that have not been hit that hard with budget cuts.
"Lane lost about $700,000 to budget cuts. But the good news is Lane has a budget of 23-plus million dollars," Gilligan said. "At the time that we had the $700,000 budget cut, we had 10 teacher vacancies. So what we did then was we went over student scheduling requirements and discovered that we didn't need to hire all 10 of those teachers. We could get away with hiring five. Not hiring those five teachers made a big difference for Lane in the budget cuts."
Principal Selection Update
The current candidates for principal are Kathy Anderson, a current Lane assistant principal, and Clifford Gabor, principal at Mary Lyon Elementary. The LSC was unable to come to a conclusion at its Thursday, Sept. 10 meeting.