Girls Basketball works towards improving record
The girls basketball team jogs onto the court as the crowd cheers for them before they play against Niles West, which has a D1 bound guard. With bright, white game-day sneakers on their feet and their Lane Tech jerseys on, they warm up together.
As of Dec. 17, the girls' overall record is 4-8 and their conference record is 3-3. From Dec. 6 to Dec. 13, the basketball team has been on a three game winning streak. They beat North Lawndale on Dec. 6 with a score of 39-33 and Lincoln Park on Dec. 11 with a score of 47-35. The girls went on to defeat Schurz with a score of 67-54 on Dec. 13.
The first game of their season was a non-conference game against Oak Park-River Forest, which they lost 61-80. The girls' first conference game, which occurred after their Thanksgiving tournament, was against Westinghouse — a close game that ended with a loss of 36-33.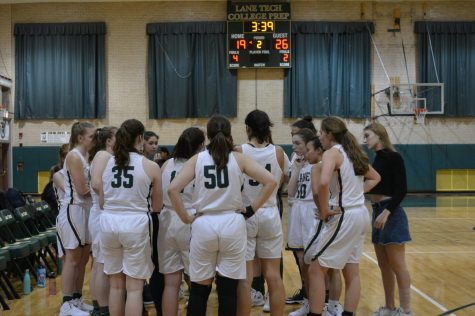 Injuries caused some starters to miss big conference games such as Walter Payton on Nov. 29, which ended with a score of 45-49, the girls had a rocky start to their season. Varsity point guard, Kendra DeSimone, Div. 075, noted how the team was impacted by the players' absence.
"Our season has been greatly affected with [two] of our starters out and injured." DeSimone said. "The current team, with these players out, has to step up our game and learn to work together and pass the ball to get more shots open. Everyone on the team is realizing their own importance and becoming a better player."
The team lost nine graduating seniors, leaving few returners. One of the team's newest players, senior Taylor Lowe, Div. 967, said that their new coach encourages them to push their limits.
"Our coach, Megan Molloy, is all about getting to business and working on the things we are struggling with," Lowe said. "She always encourages us to keep pushing and do our absolute best whenever we step into the gym."
Lane's girls varsity basketball team is coached by Megan Molloy. Molloy initially started coaching LTAC and later moved up to freshmen. From there, she coached the JV team and was an assistant coach to the varsity team. The 2017-2018 season was her first year as the head coach of the varsity team as former head Coach Ulmer left for maternity leave.
Tryouts were held on Oct. 29, and since then the girls have been practicing six days a week, even if school isn't in attendance.
"When we step into the gym, it is our time to mentally step out of any other situation and think solely about basketball," Lowe said. "Practices are a great opportunity to stop worrying about everything else, like school, relationships, etc and be in the moment with your team and people who support you."
Their last game of 2018 will be against Elmwood Park on Dec. 28 for the DePaul Prep/Northside Christmas Tournament. The girls will begin the new year with a game against Whitney Young on Jan. 10 at Lane Tech.