Crazy Asian representation: From Singapore to America
"Black Panther," "Love, Simon," "The Hate You Give," "To All The Boys I've Loved Before" and "Crazy Rich Asians." Since their release, these films have been praised for showcasing minority groups that often lack representation in the entertainment industry. From the LGBTQ+ community to the Asian community, 2018 has been a year of representation.
"Crazy Rich Asians" is the first Hollywood film in 25 years since "Joy Luck Club" to feature an all Asian cast. Although the film is set in the small island country of Singapore, the cast identifies with a variety of Asian countries from Malaysia, China, Taiwan, to Singapore itself.
Tamara Valdez, Div. 184, said showcasing Asians in entertainment is especially important for the youth because it shows them that they can achieve the same success that is often only associated with white actors and provides them, specifically young Asians, with strong role models that show them they do not have to fit a certain stereotype.
"Having Asian people in movies allows people to see the different cultures of Asian roots and where Asian people come from because not every single Asian person is the same," Valdez said.
Loyan Gould, Div. 340, mentioned how featuring Asian actors in films shows young Asians that you can pursue the career you want to pursue.
"For younger people, it shows that no matter what your race is you can do anything, especially if you want to go into acting," Gould, said. "You don't have to stick to the stereotypical 'Asian careers,' like doctor or lawyer," Gould said.
Outside of the cast, "Crazy Rich Asians" broke down more barriers through its almost entirely Asian-sung soundtrack. With a Mandarin cover of Coldplay's "Yellow," and Cantonese cover of Madonna's "Material Girl", the film managed to feature both Asian actors and Asian musical artists.
The "Yellow" cover was performed by a college student and Asian-American, Katherine Ho. The song has a deeper meaning for the Asian community as it is commonly used as a racial slur or derogatory remark.
Gould said, "Your skin color and Asian identity is something to be proud of and you shouldn't let someone make you feel ashamed of it."
Originally, Coldplay declined the request to use their song — until the director, Jon M. Chu sent a personal letter directly to the band. In the letter, published by The Hollywood Reporter, Chu states, when describing his connection to the color yellow, "It's always had a negative connotation in my life… That is, until I heard your song."
Combining the traditional with the modern, the soundtrack features a 1950s performance of "Wo Yao Ni De Ai," or "I Want You To Be My Baby," by the Chinese actress and jazz artist Grace Chang as well as Awkwafina rapping in "Money (That's What I Want)," which plays during the end credits.
Two days following the release of "Crazy Rich Asians," Netflix released their summer romantic-comedy, "To All The Boys I've Loved Before," which revolves around a biracial family and stars an Asian lead.
Being biracial is a big part of Gould's identity, so seeing people like her being represented in media had a very positive effect on her. "I am half Chinese and half American, so it made me feel good as it is not really common for many biracial people to be in movies," Gould said. "It was really inspiring for me, especially since I really like the arts and music and acting."
"To All The Boys I've Loved Before" revolves around the relationship between Korean-American, Lara Jean Covey (Lana Condor), and her love interest, Peter Kavinsky (Noah Centineo).
"To All The Boys I've Loved Before made me feel like guys don't just go after one girl, I know it's kind of cliche," said Valdez. "It's nice to know that people are different at that there is someone out there who will like you for who you are, not just your skin color."
Asian representation in entertainment spreads beyond the Asian community and affects people from a variety backgrounds.
Abriana Rosario, Div. 177, said, "I think it is a positive thing for the Asian community, and to be honest, I think it is a positive thing for all minority groups in general, to finally see a different race."
Looking forward, Asian representation looks like it will continue to grow. Talks of sequels for both "Crazy Rich Asians" and "To All The Boys I've Loved Before" proves the popularity and desire for more Asian representation and Asian lead stories.
"Crazy Rich Asians" has also recently achieved another groundbreaking success- two Golden Globe nominations. Constance Wu has been nominated as Best Actress in a Motion Picture, Musical, or Comedy, making her the first Asian woman to be nominated in the category in 44 years. The film has also been nominated for Best Motion Picture, Musical, or Comedy.
Valdez said, "We [Asians] are very different, but we are also strong and can also be successful," an idea that is reflected in these numerous nominations.
About the Writer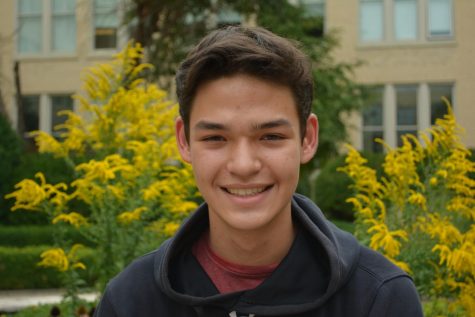 Ryan Fairfield, Editor-in-Chief
Ryan Fairfield is a Lane Tech senior in his third year of journalism. At Lane, Ryan has been a part of the Omega program since his freshman year and a...