Award show season: Do teenagers care?
Every year, Hollywood rings in the New Year with back to back award shows, starting with the Golden Globes in early January and ending with the Academy Awards, or Oscars, in late February. From strong political statements to extravagant outfits, award shows are watched across America and are reported on and talked about for weeks following.
The 2019 Golden Globes was considered groundbreaking, with the show's first Asian-American host, Sandra Oh, and nominations going to many diverse films, such as "Roma," a film that follows a family in 1970s Mexico City, to "Black Panther" and "Crazy Rich Asians," two films with all ethnic casts. However, viewership declined by 2 percent, from 19 million viewers to 18.6, while the award show's rating increased from 5.0 to 5.2, according to Nielsen Ratings.
Emery Lawrence, Div. 059, said that award shows tend to have fewer viewers from all age demographics, citing repetition as a reason why teenagers specifically do not watch award shows.
The repetition in award shows is emphasized in the similarities between the nominees. In the 2019 Golden Globes and Oscars, the nominees for "Best Animated Motion Picture" are identical, and the nominees for "Best Picture" in the Golden Globes all got Oscar nominations, with the exception of "If Beale Street Could Talk."
"I think award shows have just become redundant," Lawrence said. "Now, most of them become more about a statement on politics rather than a focus on achievement in film."
In recent years, many celebrities and influential figures have used award shows to spread a message. For example, at the 2018 Golden Globes, many stars wore all black to show solidarity with victims of sexual harassment and the Time's Up movement, as well as advocate for change in Hollywood.
Many speeches have also been used to convey certain ideas, like Meryl Streep's anti-Trump speech at the 2017 Golden Globes and Glenn Close speaking on the sexism in Hollywood.
Although political messages and actions can become repetitive and divert attention away from the achievements in film, many viewers like Julia Gorka, Div. 180, appreciate the message and actions these celebrities take to promote change.
"Teens should watch these award shows because while they are meant mostly for entertainment, celebrities incorporate important messages throughout the shows and teenagers should hear them," Gorka said.
But, with social commentary comes controversy. Luciana Girardi, Div. 184, said that many celebrities are often put in situations that cause debate.
"Without fail, someone does something stupid at an award show to mess it up," Girardi said.
One event that caused controversy included Kevin Hart and his decision to step down as host of the Oscars.
The dispute began when homophobic tweets from Hart's Twitter reemerged. With much public pressure to step down and backlash from the LGBTQ+ community, Hart eventually came to the decision to not host the 2019 Oscars.
Amongst fans of award shows and non-fans alike, this controversy has been a highly talked about event and something many young teenagers have an opinion on.
"I do support a zero-tolerance policy from the Academy on prejudice and discrimination," Lawrence said, adding that controversy in award shows is something she anticipates yearly, but is something shows have to look into carefully.
On the other hand, some believe that these controversies get blown out of proportion.
"I think that the things Kevin Hart said were extremely offensive, but that was 10 years ago," Gorka said. "He has publicly apologized many times since then, and I don't think that should follow him and destroy his dream of hosting the Oscars."
Award shows are a chance for people to appreciate films and acknowledge the efforts that go into creating them, but Lawrence, who is a frequent movie-goer, believes there are other ways for people to show their appreciation for film.
"It's important to celebrate the arts and achievements in film," Lawrence said. "However, this can be done in other ways rather than watching award shows, like supporting independent films and buying tickets to see movies at the theater instead of on a streaming service."
About the Writer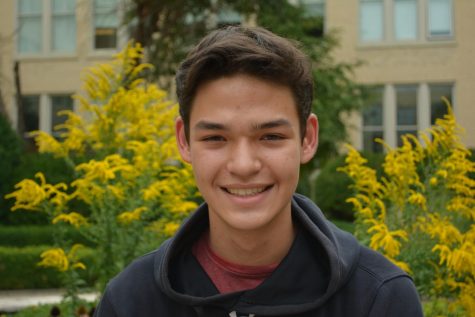 Ryan Fairfield, Editor-in-Chief
Ryan Fairfield is a Lane Tech senior in his third year of journalism. At Lane, Ryan has been a part of the Omega program since his freshman year and a...