The benefit of summer studies
Summer is something almost every student longs for: a time to relax and kick back, a time where you don't have to worry about homework, studying or waking up early. However, in my case, I have spend my past summers studying across the country.
School provides many opportunities to explore your passions, but due to graduation requirements and the limited periods one has, it's hard to do everything you want in school.
By spending the summer studying, I've able to experience a variety of subjects that I would have never been able to in a school environment. These programs allow students to explore their passions in a positive, enthusiastic environment.
In 2017, I spent the first half of my summer in New York City studying at The School of the New York Times. The program is a two week, residential or commuter program where you chose a topic of study, ranging from International Relations to Photojournalism, and immerse yourself in studying that subject along with The New York Times.
The course I took part in was called "Writing the Big City," a course that focused on journalism and reporting in an urban, city environment. In this course, I studied under Ari Goldman, a New York Times journalist; Evan Simko-Bednarski, CNN reporter and Ellen Loanes, a Columbia University graduate student. This created a diverse, informative class environment for the two weeks.
Although it is an educational, classroom-based course, it did not feel that way. At least three times a week we went on a field trip. Some of them were more common, tourist activities, like the Metropolitan Museum of Art, and some being unique experiences to the program, like visiting the New York Times "morgue," a term used to describe a place that holds archived newspapers. We also toured The New York Times building.
The ungraded course consisted of in-class lectures and activities or field trip. However, all classes had a final project, which for my class, was a full article profiling a business in Jackson Heights. Even though there are no grades, a couple of months after the course ends, all students are sent a written report by mail from their instructor regarding their behavior and abilities.
Outside of class, we were given immense freedom. We could basically spend our free time doing whatever we wanted, as long as we stayed in New York. This freedom gave me the opportunity to explore New York City with friends — a very memorable experience.
Along with social life, there is dorm life. For two weeks, I was housed in Fordham University's Lincoln Center campus right in the heart of Manhattan. The rooms were spacious and shared a bathroom with only one other room, which provided more privacy, an added bonus.
Jumping from the East Coast back to the Midwest in Evanston, I attended a program called Center for Talent Development at Northwestern University. This 3-week course allows you to choose a class in a specific subject, from politics to cancer research, and receive high school credit.
Last summer, I took a politics class that focused on protest culture in America. This course, unlike New York, felt a lot like school. Class started at 8:30 and went until 2:30, with a one-hour lunch break. During classroom hours, activities differed day to day with lectures some days and research projects on others. Much like school, all classes started with a pre-test, had midterms, had a final and of course, nightly homework assignments.
Ms. McMahon, a Lane teacher and AP Psychology teacher at the Center for Talent Development said that students must be motivated and prepared when considering a summer program like Center for Talent Development.
"Expect to do work. It's summer. It's a break, you can choose what you want to take, but again, it's an accelerated class, so it's still going to be a lot of work," McMahon said.
In my class, we had approximately 50 or more pages of reading every night, combined with whatever side project or notes we had to take.
My homework would take me about an hour and a half to complete. Outside of class, freedom was more limited than the freedom I was given at The School of the NYT, but it was still good. I never felt restricted and I was able to go wherever, whether it be Target or a coffee shop. There were certain checkout times where you could walk around campus, or visit Downtown Evanston, which truly gives you a college experience. There was a strict "no wheels" rule, which meant any form of transportation other than walking was prohibited, but I never felt confined.
Campus life allows for a very positive learning experience.
"[Students] don't really know what college is going to be like. So, CTD is a really good 'trial run,'" McMahon said.
When you live on a college campus, you are exposed to all aspects of college life, from eating in the dining halls to using communal bathrooms. I picked up some tricks and tips that I will use in college, like learning to fill Ziploc bags with food from the dining hall
Personally, I believe that these two programs helped shape me into the person I am today and taught me things I would never have been able to learn in a classroom. By completing The School of the NYT, I saw first-hand the lives of journalists and both the highs the lows they face. It allowed me to experience every aspect of a journalist's life, which made me even more fascinated.
With the Center for Talent Development, I studied exactly what I wanted while receiving school credit. It allowed me to take a class that is not offered at my school and further developed my passion for politics.
Now, as deadlines for many of these programs approach, do further research and consider applying to a program or two, whether it be one mentioned above, or another program. Maybe you see yourself in New York writing stories or maybe you want to go further and leave the country. Summer programs are universal and you can find one in almost every country. Get outside of your comfort zone and experience something you will remember forever.
About the Contributor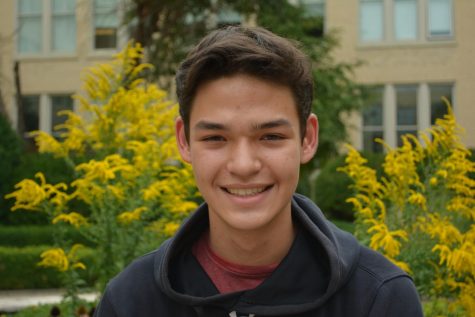 Ryan Fairfield, Editor-in-Chief
Ryan Fairfield is a Lane Tech senior in his third year of journalism. At Lane, Ryan has been a part of the Omega program since his freshman year and a...