Open Mic a 'safe and supportive space' for student performers
As soon as the guitar room door opened, the air was filled with slow strumming and loud bangs of a drum. Students filed in after their eighth period class and took a seat before the stage as they waited for the performances to start.
The idea to start routine open mics came from Karol Skoczen, Div. 976, after Unplugged, a yearly event where students were able to perform in front of their peers, was canceled. Held monthly in the guitar room, Open Mic is organized by Skoczen, who works closely with Music Teacher Mr. Comiskey.
Skoczen said it is vital for students, especially in high school, to have an artistic platform in a safe environment where they are able to perform freely.
"Open Mic is extremely important because it gives kids the opportunity to express themselves on stage and put their art out," Skoczen said.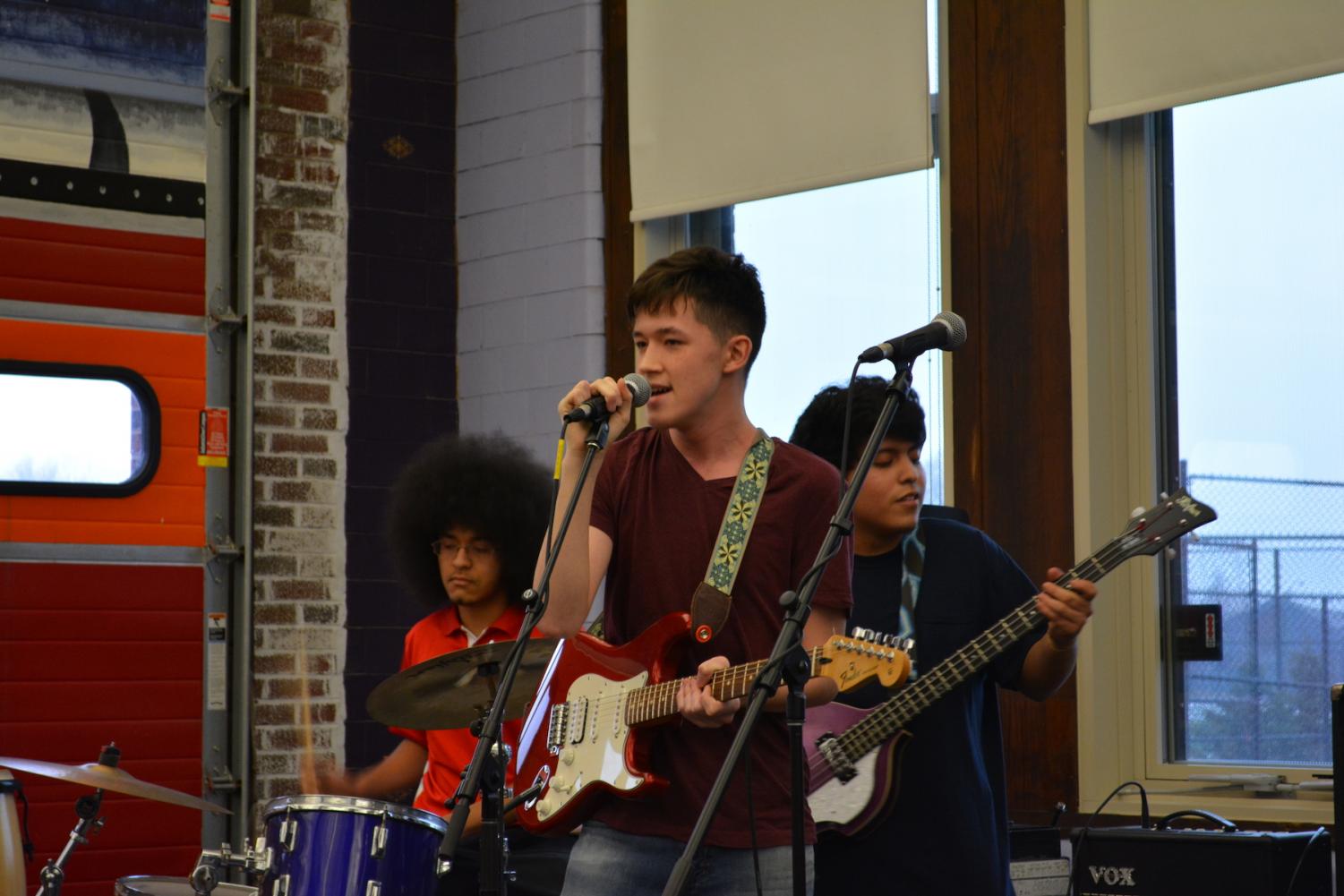 Frequent Open Mic performer Olivia Brunell, Div. 060, said that Open Mic is a good learning opportunity for those seeking performing experience, especially since they are limited outside of the school setting.
"I think it's important because outside of school and just in general, I don't really get a chance to perform because I'm not 18, and I can't perform in bars or anything," Brunell said. "Having a space at Lane to perform is really important because my friends can come and see it, and it's a good learning opportunity too because I learn what I like and don't like doing on stage."
In addition to providing a platform to explore varying forms of performance art, Open Mic gives students a space where they are able to get comfortable with their art and how to express it, according to Skoczen.
The uplifting audience and casual environment of Open Mic contribute to a comfortable vibe felt by those performing and a sense of security even when things do not go as planned, Brunell said.
"You get on stage, and they don't care if you screw up," Brunell said. "You can start over your song as many times as you like, and we're still gonna clap and we're still gonna cheer for you."
Shermar Price, Div. 969, performed at the December Open Mic, where a large crowd gathered to watch him rap his song, "Syrup Sandwiches," which was inspired by Kendrick Lamar's song "Humble."
Price said that he had stage fright before performing, which was enhanced by the substantial turnout of the audience. However, the positive energy of the crowd boosted his performance, Price said.
"The crowd loved my performance, and it gave me a rush I have never felt before — I think it was adrenaline because I felt amazing," Price said. "It was definitely amazing to have the opportunity to perform Syrup Sandwiches at Open Mic."
According to Price, the positivity of the audience at Open Mic helps with the flow of performances and the nerves performers get when getting on stage.
"It's very positive, very uplifting," Price said. "Whenever you mess up, you always have people there supporting you, to egg you on and keep going even if you mess up."
Staying true to its definition, Open Mic is an event where all students are welcome to perform. The event primarily features singers and bands, but Skoczen does hope to see more variety among the performances as Open Mic goes on. Through an online form in the student newsletter, performers can sign up for when and what they want to perform.
The next Open Mic will be Feb. 21 in the guitar room. Hoping to have a larger crowd and more performances, Skoczen said there will likely be an event held in the auditorium in the near future.
"I highly recommend people go check out Open Mic, even if you're not really interested in it," Price said. "I say that you're going to find something good in it and at least one performance you'll love."