Clubs don't equal dubs
The gym was full of girls equipped with their lacrosse sticks, goggles and mouthguards, dressed in their workout gear prepared to try out for a spot on the team. Among the girls were a few wearing shirts branded with logos like True Lacrosse and Lakeshore Lacrosse. The logos may mean nothing to other students, but they show that the athlete has been playing lacrosse during the off-season and working on their skills with coaches.
An informational meeting is held for girls' lacrosse every year before the conditioning season starts. There, athletes are exposed to the push for club teams if they weren't already aware of them or a part of one.
When I attended this meeting, we were told that we should be working out and playing lacrosse all year round because the best players are made in the off-season. This common athletic phrase is said with good intentions, but  causes some athletes distress because it means joining a club or travel team.
My plans for off-season consisted of playing wall-ball on the side of my home and getting into shape — it did not consist of participating on a club team. Even before I looked up teams, I knew that they would be expensive and that the chance of me joining one was slim to none.
After researching, I was hit with a wave of discouragement. To begin with, most teams do not openly share the cost on their website, which made me assume that the cost was large enough to scare interested players away. I searched through every tab on the True Lacrosse website, only coming up with names of people to email who would tell me the price.
I resorted to talking about club and travel teams with my high school teammates because I knew some of the girls were a part of them. They all ended up giving me a similar price of about $5,000 a year. The pressure of improving during the off-season stressed me. I wanted to join a lacrosse club or travel team, but I did not want to put any more financial stress on my parents.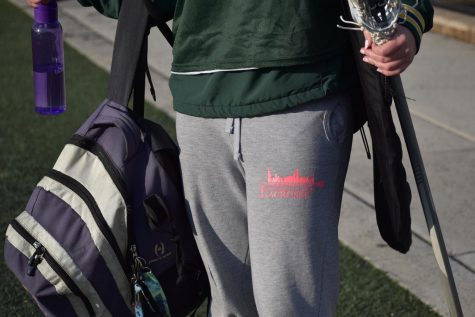 Although some teams do offer scholarships, I imagine most middle class families feel discouraged middle-class families feel discouraged because they don't imagine themselves getting enough money.
Not only was the cost an issue, but the locations of the games and practices were too. Most of them do not take place in Chicago as they are based in suburbs such as Vernon Hills and Lombard. Many students, like myself, don't have cars or people who can drive them, so there was also an underlying travel pressure that came with joining a team.
Mairead Harris has played for numerous travel hockey teams in her career. She describes her experience as a tedious process to get to games and practices.
"My mom would have to come home from work early and I would have to do homework in the car," Harris said. "We always tried to pass the traffic. I would leave the rink at like 10:30 on a Wednesday night and it would take me an hour to get home. I still had to shower and try and eat dinner and then get up for school at 6:30 the next morning and do it all over again."
Most teams play during the summer, so the athletes who have jobs or volunteer over the summer may not be able to join.
Clinics present other opportunities for athletes to learn skills and are often held from one to three days. But playing with some random girls and new coaches for a couple of days does not compare to playing and growing with a team.  In addition to that, the coaches may not be comfortable enough to critique a new player versus a player that has been playing with them for a longer span of time.
Club and travel teams are perfectly set up for certain players, leaving other players practicing on their own and feeling less confident than those who can be a part of one. But even though the extra practice is a great opportunity, athletes who aren't a part of a team aside from their high school team can still obtain the same skills are those who are through hard work and practice.