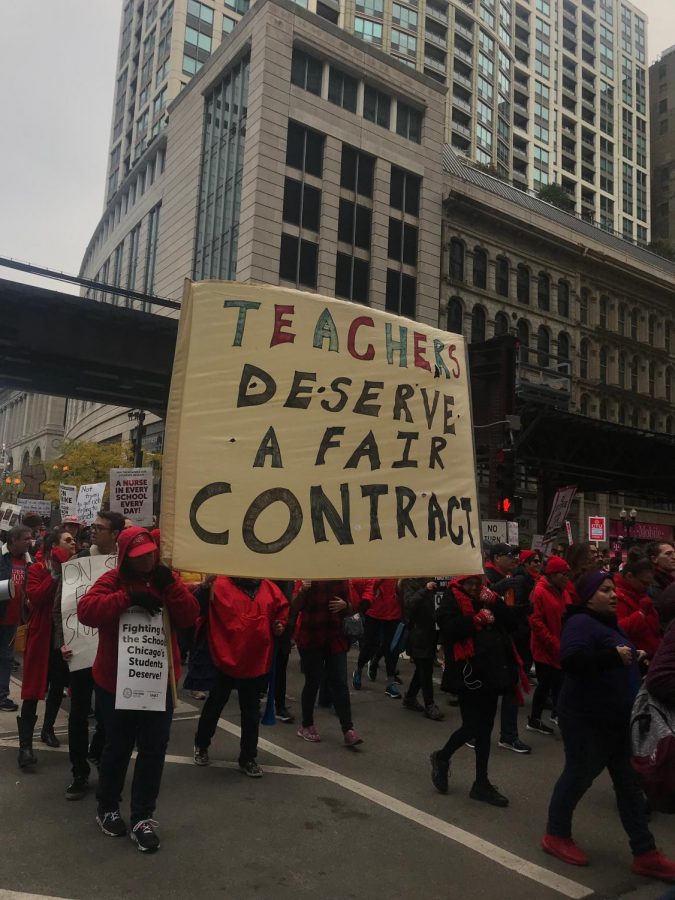 You heard right, CTU continues strike to get students back in class
October 31, 2019
Late Wednesday night, the CTU House of Delegates approved a tentative agreement, 364-242, that Mayor Lori Lightfoot, CTU President Jesse Sharkey and Vice President Stacy Davis-Gates have agreed is nothing less than historic educational justice: for the first time in CTU collective bargaining history, there are enforceable class size caps and staffing guidelines, including a nurse and social worker in every school by 2023, and schools that are most in need of this attention have finally been prioritized.
In addition, PSRPs and teachers are guaranteed 40% and 16% raises, respectively, over the contract's five-year run.
All of CTU's hot button issues — save elementary school prep time and the contract's length — have been addressed in what Sharkey himself called "an agreement that will produce real, lasting benefits in our schools."
Why, then, are we not in class today?
Citing the need for time to prepare for AP exams, standardized benchmark tests and helping students apply for college, as well as rebuking what the CTU considers a punishment for striking, CTU has demanded that all 10 missed instructional days be made-up.
Ostensibly, this is a request submitted with the students' best interest in mind, and the mayor, CPS and CTU agree that instructional time is vital to student success.
This said, I cannot believe that continuing the strike for this reason, after winning unprecedented and impressive gains for our students, is anything but crude irony.
From a student's point of view, it seems that the CTU values instructional time so much that it is willing to increase the number of days that need to be made up. In essence, the union has decided to keep students out of school as a way of demonstrating that the time spent in school is valuable. So valuable, in fact, that it is worth extending the school year into at least June 30, or cutting chunks from our spring and winter breaks.
And the irony, the odd paradox, does not stop there.
Just as I was given demerits for cutting class to attend September's climate strike, just as my teachers warned me that I could and should stand for my ideals, but I would have to accept the consequences, so I believe my teachers should have to do the same.
By voting to authorize a strike, union members acknowledged that they would be forfeiting their pay for the duration of the work stoppage. They also acknowledged that class size caps, better staffing and an altogether more sustainable future for Chicago's students were more important.
There is great integrity in this, but this integrity is compromised when teachers wish to be civilly disobedient in theory but not in practice, and opt instead to use students as pawns to earn pay they knew they would not receive (and, in my view, to which they are not entitled).
This work stoppage has lasted 14 days and led to the cancellation of the PSAT-NMSQT for juniors; rescheduling circuses surrounding the Lane Homecoming game, Spirit Week, Oktoberfest and Open House; and caused forfeited athletic championship competitions across CPS and frankly unquantifiable stress about college applications and AP tests.
I, as a Lane student, will blatantly admit that these are infinitesimal consequences that largely plague the privileged, and ones that, when regarded against the reasons the CTU chose to strike, seem almost trivial.
I do not think Homecoming matters when there are schools that have a nurse present once weekly. I do not think this school year's AP tests are relevant in a discussion about severe overcrowding and under-funding in black and brown neighborhoods — in a work stoppage, there will always be priorities, always parties who gain and lose, and the CTU has chosen to fortify and improve our schools for posterity instead of safeguarding AP scores and sports championships.
I applaud this and wholly believe it was done in good faith.
This is why I have reported from the Lane picket line all but two days that my teachers, counselors and clinicians were there; this is why I have interviewed them and tried my damnedest to be unbiased in my reporting. 
I think there is tremendous honor in their standing on rain-soaked sidewalks in the gelid morning. I am astounded by their commitment to the fight for the educational justice that has too long been denied our students. And I admire every single one of them all the more for it.
But as this strike plods on, now the longest since 1987, I can no longer say that students are at the fore of the CTU's agenda. If we were, we would be in class today.
Donate to The Lane Tech Champion