Musical.ly walked so Tik Tok could run
Sitting in their classrooms, many students are often seen using their phones. Typically, students can be seen utilizing apps such as Snapchat and Instagram, but in recent months, that has changed due to the rise of Tik Tok.
In the past year, Tik Tok, an app previously known as Musical.ly, has increasingly gained popularity among teenagers. Users on Tik Tok post 15-60 second clips and the app has gone from being infamous for its "meme" content to one used by millions worldwide. 
According to Vox, Tik Tok surpassed Facebook, Instagram, Snapchat and YouTube in monthly downloads in September of 2018. Today, the app stands at number one on the App Store top charts for Top Free Apps. 
Much of Tik Tok's popularity has come from its diversity of content and creative capabilities according to Emilka Koziol, Div. 251.
"There's funny videos, artsy videos, singers with amazing talents, psychological facts videos, and so many more. Tik Tok has a fantastic balance of video content," Koziol said. 
Koziol said she first downloaded Tik Tok because it was starting to gain popularity and she did not want to miss out on the latest trend. Today, she says she uses the app for approximately an hour daily, with that number increasing on weekends. 
Koziol also credits much of Tik Tok's popularity to Vine, or the lack thereof. Vine was similar to Tik Tok, where users would post short clips that became extremely popular among teens, before it shut down.
On the creative side, Tik Tok is a fairly easy app to use and create content with. 
"It doesn't take much to understand how it works, which leads to a lot of people being able to understand what to do and how to do it without too much thought put into it," Samantha Schuberth, Div. 272, said. 
Like Koziol, Schuberth uses Tik Tok daily, whether it be to distract her from homework or to simply entertain herself without having to watch a whole movie or TV episode. However, Schuberth said that she initially downloaded Tik Tok as a joke, which she feels is a common theme among teenage Tik Tok users, but kept the app because she found joy in making videos and having fun with the app.
Sophie Harris, Div. 152, agrees with the idea that many teens download as a joke initially.
"So many people still associate Tik Tok with Musical.ly, which many people were not big fans of, so it [Tik Tok] is often downloaded as a joke," Harris said. "I myself would make fun of my friends who used Tik Tok before I got the app because it seemed silly. 
Tik Tok differs from other social media apps because, while Instagram has an "Explore" page and Snapchat has a "Discover" page, Tik Tok has a "For You" page, in which users can see a variety of different content, both popular and more unknown. 
The "For You" page is known for drawing attention to smaller, more unknown Tik Tokers, allowing them to gain views and likes on their content. Schuberth, for example, has amassed a total of 571,000 views and 62,000 likes on one video alone, which followed a popular trend at the time.
"On Tik Tok, people aren't afraid to show other sides of themselves and show people that they are more than what they might portray themselves to be on Instagram or other social media outlets," Schuberth said. 
Instagram has a reputation for having finely curated content, with teenagers spending large amounts of time editing their photos and deciding exactly what to post to make their profile stand out. Tik Tok, however, is considered more laid back and has a more playful atmosphere than other social media apps. 
"It is just short clips that you can do whatever you want with or just something silly, but with an app like Instagram, you usually put more thought into what you post," Koziol said. 
Harris, who downloaded Tik Tok in early August of this year, has gained popularity on Tik Tok for both her musical theater-related content and her own original content. 
"When coming up with video ideas, I think of funny things that have happened to me or my friends and just make a video about it, sometimes, that involves using a popular audio," Harris said. "I have a document on my phone of ideas for videos that I add to whenever I get bored."
Tik Tok, although known mostly for its humorous content, does serve other purposes, whether they be political or economic.
"People also use Tik Tok to spread awareness for different causes and issues," Koziol said. "Overall, it is a very open platform where people are free to entertain, educate, and share." 
While also being an entertainment platform, the app has created an environment of positivity and acceptance among many teens. 
"For the most part, Tik Tok is a safe space and community for teens and older people," Schuberth said. "They can be themselves without being judged or made fun of.
About the Writer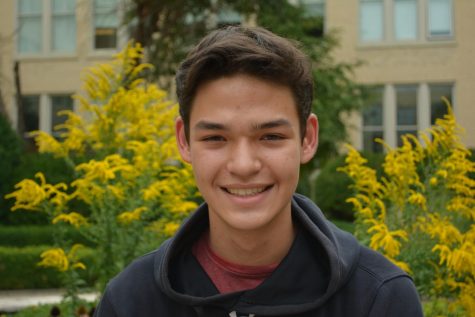 Ryan Fairfield, Editor-in-Chief
Ryan Fairfield is a Lane Tech senior in his third year of journalism. At Lane, Ryan has been a part of the Omega program since his freshman year and a...