Coxswain, Rower and Friend: In Memory of Becca Herbig
Members of the Lane community grieved over the loss of recent graduate Rebecca Herbig, known to most as Becca, as the news of her passing on Aug. 2 came to light.
Becca graduated from Lane this past June and planned to attend San Diego State University on a student-athlete scholarship as a coxswain for San Diego's Women's Rowing Crew. Becca started coxing in high school as a part of the Chicago Rowing Foundation. 
"I first met Becca my freshman year when she started rowing," said Megan Minas, Div. 160. "I thought it was weird that she rowed because she was so short, and before I knew her, I referred to her as 'the short girl who rows.' We got close later on, when she started coxing."
Minas describes Becca as a talented coxswain who never failed to encourage her rowers. 
"During winter conditioning, she was always my number one motivator. When she came up to me and told me to go hard, I did," Minas said. 
Fellow rower, Lilly Springer, Div. 065, first met Becca through rowing and the two soon became very close friends. 
"Becca was one of my 'persons,'" Springer said. "She was the one who you wanted to text all the time because she made you so happy. She was someone you could run up to and hug. She was someone you could ask for advice on your problems. Becca was always there for you when you needed her." 
Becca rowed for over five years as both a middle schooler and a high schooler. Despite being a part of such a rigorous sport, Becca always brought her sense of humor and positivity to practice. 
Anna Grace Skrentny, Div. 150, first met Becca at a volleyball practice when she was in eighth grade, but the two didn't become close until they started rowing. Becca and Skrentny rowed together in the fall of freshman year and Becca coxed her through much of her sophomore year. 
"Becca was so sarcastically hilarious and always a good time. She never took herself or anything too seriously and could make me smile even during the most intense practices," Skrentny said. 
Skrentny also described how Becca helped her through an especially tough time during rowing on season
"Not being in the boat I wanted to be in was hard, but Becca made it easier to enjoy every day at practice. When we had an erg piece or a hard time at practice, I knew she was counting on me and encouraging me over my shoulder every second," Skrentny said. 
Being a part of the Chicago Rowing Foundation, a city-wide rowing club, allowed Becca to meet people from schools across the city.
Francesca Onofrio, a student at Regina Dominican High School, first met Becca in 2017 and ended up having her as coxswain for two years. Onofrio described how one of her favorite memories with Becca was when the pair of them went out in a double, a boat for two people, in the summer of 2018. 
"She found the biggest house on the river and told our coach that she lived there and he believed her for only a little bit, of course, but it was hilarious," Onofrio said. 
The following season, Becca and Onofrio were put in the same boat, which allowed them to spend a lot of time together. 
"We would constantly be laughing because of something one of us said or just because her smile was so contagious that it made me smile, especially during races. Our coach would constantly yell at us for talking or not listening but eventually gave up on us," Onofrio said. 
McKenna Genyk, a student at New Trier High School, described how her relationship with Becca was one that developed and changed every day. Genyk explained that since she saw Becca at practice almost every day, the two created many memories together. 
"Six days a week, I would go to practice, row in her boat, hear her voice and look her in the eyes. Every race, every training trip, every practice, is my favorite memory with Becca," Genyk said. 
Despite all of her memories with Becca being her favorite, Genyk said one memory stands out amongst them all. One day while Becca was coxing, everyone in the boat felt a big crash and Genyk was unable to control her oar due to the impact. They had hit a goose.
"Becca started laughing so hard, then everyone in the boat did, and all I remember is her saying was, 'Guys, I didn't see it!'" Genyk said. 
Carley Walker, a student at Lake Forest High School, remembers Becca as "one of the coolest people." Becca coxed Walker both her novice and varsity years. Walker remembers how last Christmas, part of their team did a Secret Santa and Becca was the one assigned to give gifts to her. 
"She gave me these fox socks, two essential oils, and a bullet journal. I still have all of them and use them a lot, especially the essential oils when I'm stressed. She was truly one of a kind and there will never ever be anyone like her," Walker said. 
Becca's memory not only lives on in her friends and the people whose lives she impacted, but also through CRF Cares. 
CRF Cares, which stands for "Coxswain And Rower Empowerment Support," is a well-being initiative started by the Chicago Rowing Foundation in honor of Becca and the other athletes who passed away this summer, Garrett Brodersen and Jack Newhall, a student at Northside College Prep. The initiative is meant to support the rowers and coxswains mentally, physically and socially.
Nathalie Sanfratello, a student at Francis W. Parker High School, wants people to remember Becca as an inspiration. 
"Although she isn't here right now," Sanfratello said, "that doesn't mean she isn't hoping, wishing and giving us luck, love and happiness."
About the Writer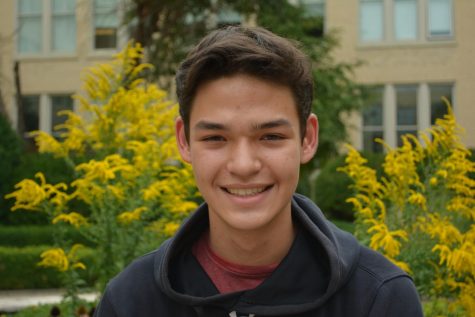 Ryan Fairfield, Editor-in-Chief
Ryan Fairfield is a Lane Tech senior in his third year of journalism. At Lane, Ryan has been a part of the Omega program since his freshman year and a...