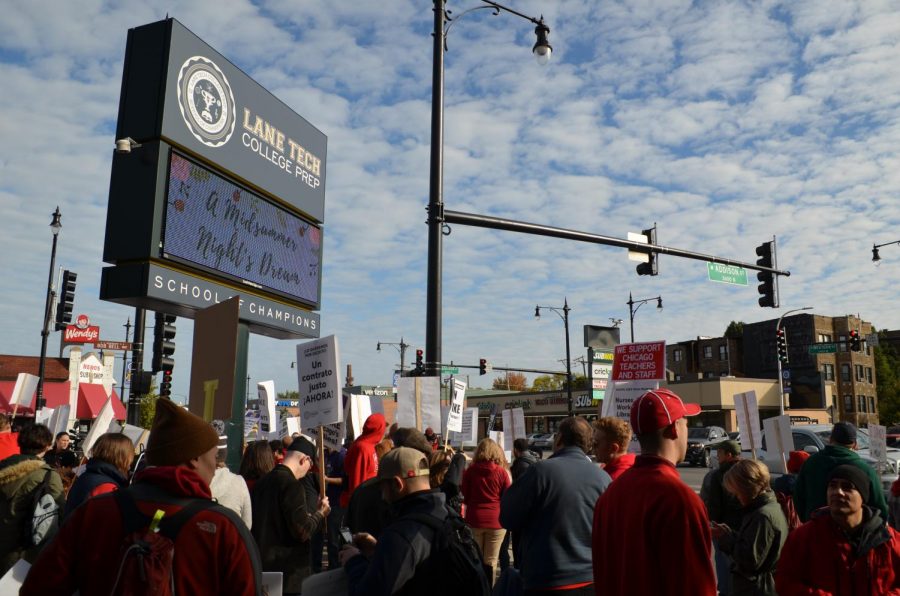 CPS, CTU both praise deal after contentious 11-day strike
Both CPS and the CTU concur that the tentative agreement — which CPS CEO Janice Jackson described as a "strong and fair deal that results in a very generous raise and improvements in [teachers'] working conditions," and that CTU President Jesse Sharkey described as "[recognizing] and [valuing] the voice and experience of Chicago educators" —  represents an unprecedented investment in Chicago's schools.
For the first time in a CPS-CTU labor agreement, there are both funding and enforcement mechanisms in place to keep class sizes in all high needs schools (those with over 60% of the population residing in a Tier 1 neighborhood) below the set limits, as well as provide automatic class size relief in all classrooms above the upper class size limit.
In CPS high schools, this means that every class with 35 or more students is automatically guaranteed "funding to split the class and add a teacher, add a teacher assistant where there's no capacity for a second class, or other appropriate relief," and that any high school class over 28 students is immediately eligible for this relief, according to the CTU.
Additionally, by July 30, 2023, the agreement guarantees that there will be a full-time social worker and nurse in every school; 120 additional positions, including counselors and librarians, in high-needs schools; and "one full-time homeless student coordinator in all schools with 75 or more homeless students," among other boons.
With $5 million guaranteed annually for veteran teachers' step increases; $35 million for class size relief; paraprofessional and school-related personnel (PSRP) raises of 40%; teacher, nurse and social worker raises of 16%; and the compounding expenses from increased staffing, this is the most costly CTU-CPS contract in CPS history, the Sun-Times reports, and "with the new expenses, the overall costs of the contract, including all teacher pay, would ramp up to $3.1 billion annually by the end of its term" in 2023.
This said, one question remains: How will CPS finance the contract?
Mayor Lori Lightfoot's 2020 budget includes $163 million in TIF surplus funds to finance the contract's first year, but TIF surpluses are a one-time revenue, according to a mayoral aide, and it is unclear where the remaining capital will be sourced.
In an interview with the Sun-Times, CTU Vice President Stacey Davis Gates suggested a corporate head tax and a financial transaction tax, among other solutions.
"[Tax] rich people. Reinstate the corporate head tax. We are encouraged that the governor has put forth a fair [graduated income] tax to put that on the ballot," Davis Gates said. "We're gonna be working on that."
Among its losses in this agreement, the CTU counts the lack of reform in elementary school prep time and midyear transfer policies, grading guidelines, assessment votes and the length of the contract (they originally wanted a 3-year agreement).
The length of the contract may be key to finding a viable source of funding.
According to the Sun-Times, "Another top mayoral adviser said the city and school district's steadfast position that a new CTU contract needs to run five years has to do with giving officials more time to find long-term budgeting solutions."
Despite the agreement's importance for Chicago's students, the strike has resulted in the cancellation of the PSAT, some sports' teams inability to compete in state championships and stress surrounding college applications and AP exams.
At Lane specifically, it has resulted in a three-day Spirit Week, shifting the Homecoming game to basketball from the traditional sport of football and pushing back the fall play and Open House.
Aside from scheduling issues, Lane students may not see much of a change. This is because Lane qualifies as a priority school — Principal Mr. Tennison has ensured the school has two full-time social workers, two full-time case managers and a full-time nurse — and it's class sizes generally fall below the mandated caps, according to Mr. Vlahos, social science teacher and delegate of the CTU.
According to Vlahos, even though Lane is in a good position, these sacrifices were still necessary.
"What we were trying to achieve was the greater good for the greatest number of students within CPS, so to that extent, unfortunately, some people were negatively affected and for that we're all sorry for them," Vlahos said.
Assistant Principal Ms. Hanly says she believes Lane will persist through any derailment of normal classwork.
"I'm sure our teachers will make sure that we get as much in as workable to not stress out students," Hanly said. "I think our students are pretty resilient and hardworking enough that I know most of them are doing work on their own to keep up with their studies."
During the strike, Hanly said, the administration did their best to facilitate a smooth transition back to school. This included going into Naviance and sending school documents to colleges and universities for students who applied early decision or early action, as well as sending a poll over email on when Homecoming and Spirit Week would be held.
According to Hanly, though juniors can submit their SAT scores to qualify for the National Merit Scholarship, the administration is still organizing a PSAT practice test day in December for freshmen, sophomores and juniors.
"[It's] just to give everybody the opportunity to take the test because I think that one, it's important — it's definitely important for the juniors to practice. We don't want them to go into the SAT cold, and even if they've done it for two years, it's good practice." Hanly said.
While the contract's effects on Lane may be minimal, math teacher and CTU member Mr. Rummelhoff believes that the contract's benefits extend further than Lane.
"If it doesn't end up affecting Lane personally, it doesn't mean the contract was bad. It can't all be just about one school in one neighborhood," Mr. Rummelhoff said. "It has to be about the greater good of all schools and all public education. We know that we are fortunate to be at a selective enrollment school, so even if we never see the biggest impact, I don't think we were ever supposed to be the ones most impacted by this."