'Last Christmas' Is No Longer Just A Song
I have to say when I first heard Emilia Clarke was going to be starring in a Christmas comedy, I was very skeptical. I, like many people, know Clarke as a drama actress in "Game of Thrones" and the romantic-drama "Me Before You," so hearing about her role in a comedy was something that immediately intrigued me. 
"Last Christmas," which draws inspiration from the Wham! hit, follows Kate, played by Clarke, who works in a Christmas shop in London. One day, Kate sees a man named Tom, played by Henry Goulding, outside the window of the shop and is immediately drawn to him. Soon enough, their meeting grows into a Christmas  romance filled with laughter, love and family. 
The film follows Kate and Tom as they experience the holiday season in the heart of London. From ice skating to singing Christmas carols together, the couple do it all and establish a relationship that is truly in the spirit of Christmas.
What originally drew me to the film was not just that "Last Christmas" is my favorite Christmas song, but the star-studded cast. Goulding, whose career exploded after "Crazy Rich Asians," plays a very similar character to the one he played in "Crazy Rich Asians," with both characters being humorous, down-to-earth boyfriends. Also from "Crazy Rich Asians," is Michelle Yeoh, who plays Santa, the owner of the Christmas shop where Kate works. 
Like Clarke, Yeoh is known mainly for her dramatic works and strong roles in film, such as her leading role in "Crouching Tiger Hidden Dragon."
Despite "Last Christmas" being one of her first comedies, Yeoh delivers a hilarious, memorable performance from both her character's storyline and her chemistry with Clarke. Even from the trailer, you can see Clarke and Yeoh having a very humor-based relationship in which they both like to poke fun at one another, which adds to the comedy in the film. 
Aside from Clarke as the lead, the most notable name in the film is Emma Thompson, who not only acts in the film but was a co-writer and producer. This is Thompson's second comedy following "Late Night," for which she has been nominated for a Golden Globe.
Thompson is an acting legend in both the U.K. and the U.S. and has starred in many iconic films such as "Love, Actually" and "Sense and Sensibility." 
In "Last Christmas," Thompson plays Kate's mother, who is an immigrant from Yugoslavia. In the few scenes she has, Thompson manages to steal the show with lines that will make you cry laughing. 
One of my favorite aspects of the film was the music, which was just as much a part of every scene as the acting was. Although the film was only released this year, Thompson received the approval of writer and singer of "Last Christmas," George Michael, in 2016 prior to his passing. In tribute to him, all of the songs in the film are his, including "Faith" and "Freedom! '90." Although some of the songs seem out of place at times, it is undeniable that they were fun to hear. 
"Last Christmas" also features two separate interracial relationships, something that is extremely rare in the film industry. It is indisputable that in recent years, Hollywood has become more diverse in terms of its storylines and casting, but interracial relationships are still rarely shown on screen. Some notable films that have been released in recent years that do feature interracial couples are "To All The Boys I Love Before" and "Everything, Everything." Not only is the main relationship in this film one that is interracial, as Kate is from a Yugoslavian family and Tom is Asian, but the side relationship between Yeoh's character and her love interest is also an interracial one. 
In addition to the racial diversity in the relationships featured, there is also diversity in sexual orientation. Kate's older sister, Marta, is lesbian, however she tries to keep it from her mother. This is a subplot in the film but it is successful as a subplot because, unlike many major blockbusters that try to "overdo" LGBTQ relationships, often border-lining stereotyping, Marta is not defined by her sexuality—rather it is just one part of her whole character. 
In my opinion, "Last Christmas" is best when you do not take it too seriously. The film is not meant to be an award-winning comedy; it is meant to be a cheesy Christmas romance. The whole concept of falling in love during the holiday season and finding your soulmate has been used time and time again in films, and yet, it is still popular today. Especially with the song "Last Christmas" at the core of the film, which also features some cheesy lyrics, it is essential that one takes off their critic hat and just laughs along. 
Although the film overall was not positively reviewed by many critics and has only earned a 47 percent on Rotten Tomatoes, it does succeed in being a cheesy, humorous Christmas film you can laugh at during the holidays, while also featuring diversity and quality music. Whether you are a fan of romance, comedy, or George Michael, "Last Christmas" will succeed in making you laugh and get you in the Christmas spirit.
About the Writer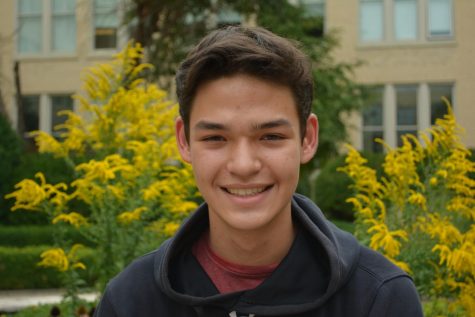 Ryan Fairfield, Editor-in-Chief
Ryan Fairfield is a Lane Tech senior in his third year of journalism. At Lane, Ryan has been a part of the Omega program since his freshman year and a...