One match at a time
The growth of Women's Wrestling
January 7, 2020
After waiting all of middle school to join wrestling, it wasn't until my freshman year where I was finally given the opportunity to participate.
I stood alongside the only other girl at the information meeting, Jasmine Guzman, brought together simply by the fact that we were the only girls.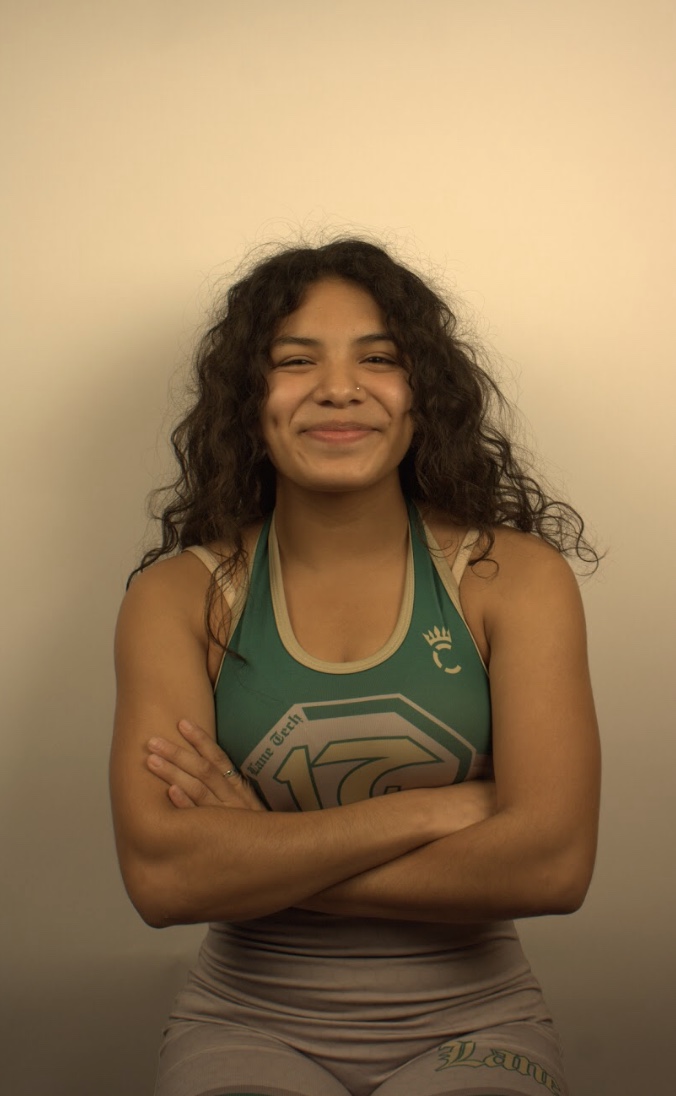 After a few practices, we came to find out that Guzman had scoliosis — and could no longer participate, leaving me alone to find my way amongst the boys. 
Thankfully, Guzman brought another girl from her PE class to join, Aaliyah Vargas. As the season progressed, Vargas and I competed hard but came out without a single win. There were some injuries and a bit of insecurity, but a lot of heart in every match we wrestled. We knew that we had each other no matter what happened on the mat- and that we would keep pushing. 
At this point, it was clear that wrestling boys meant we would compete against kids who had been in the sport since they could walk. It was a challenge, and it was not until I decided to do off-season wrestling that I understood I would have to put in three times the work no matter what.   
After being cleared of my injury in the spring, I spent many nights at Taft High School drilling with the same partner in hopes of feeling as if I could truly compete rather than simply be dragged along. 
My dad put little connect mats down in our basement and I began to drill on my own in hopes of being able to soon hit clean leg attacks in matches. Vargas and I attended our first summer camp with a few other teammates to attempt to become the state champs that Jeff Jordan's State Champ Camp promised. Although we didn't end up being champs, we did go to state the following season. 
Soon after the season began, a new face joined us. Ivy Huang had decided she would give wrestling a chance. Now with three girls on the team, head coach Mr. Yan began to look for girls to pair us up against at meets and girls only events.
During my sophomore year, Coach Yan began to place an emphasis on getting matches against girls rather than boys. It wasn't that he thought we couldn't do well against boys, he just wanted to place us in an equitable situation. 
"Girls can have more success against other girls in that scenario," Yan said. "You're going to wrestle women in college, and you're going to wrestle girls at the national tournaments and the state tournaments, so you might as well learn how to wrestle girls." 
Seeing women's wrestling growing not only here at Lane, but also within the city excited me so much, as it was so rare to see other girls at competitions. According to Shannyn Gillespie, head of the Illinois Girls Wrestling Coaches Alliance, there are 621 girls reported to be involved in wrestling in Chicago, almost a 40% increase from 2018. That number may seem small, but the growth of the sport can be seen in all the female competitions that have popped up in the past year. 
My sophomore year, my teammates and I were able to attend the first-ever girls festival hosted by Homewood-Flossmoor. In total we attended eight girls meets the entire season, including the first-ever girls' city championship, as well as the third annual girl's state championship. Additionally, Vargas and I attended Freestyle Nationals in Fargo, North Dakota to compete against the best girls in the country.
Women's wrestling is spreading so quickly in Illinois that on the IHSA website it is marked as an emerging sport. It has become a big goal in Illinois to grow women's wrestling, to the point that there is a network of coaches working to get girls involved, create girls-only tournaments, as well as get an IHSA sanctioned girl's state championship. Specifically, the Illinois Wrestling Coaches and Officials Association, IWCOA, has several girls competitions listed on their website and they also host Girls State in Springfield, Illinois in the spring. 
Competing in Freestyle Nationals truly opened my eyes to the growth occurring in women's wrestling across the nation.
According to FloWrestling, it was reported that 44 states were represented by girls and that from 2018 to 2019 both the Cadet and Junior divisions grew to a total of 954 girls. This was about a 28% increase from the 2018 championships. Although the girls' participation was a fraction of the boys' at 4,420 wrestlers, the expansion of girls wrestling is clear when one compares 2019's participation numbers to 2008's, which sat at 204 girls total. 
From just a little over 200 to almost 1000 girls is slow but steady growth over 11 years. In all honesty, I never thought as a freshman that I would return as a junior to a team of 10 girls. Wrestling has truly shaped me as a person, and to see other girls coming to join the experience is something so fulfilling, it's almost indescribable. My senior hopes are to send multiple female wrestlers to state and nationals as well as continue this widespread phenomenon of women in male-dominated sports.