Coffee Shop Review
Three great cafes for studying, snacking, or just plain relaxing.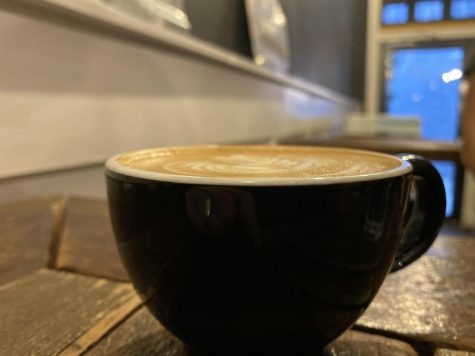 Ritual Coffeehouse — 1821 W. Irving Park Rd.
Emma: After the somewhat aggravating Chicagoan task of trying to find reasonable street parking on top of a brewing snowstorm, Ritual Coffeehouse offered a calm space in the bustling city life. Upon entering, we were immediately greeted by the barista and we grabbed a seat at one of the wooden high-tables. There was not much seating or space to spread out, but the cozy atmosphere and earthy decorations made up for it. I expected Ritual to be bustling with customers, especially due to its location under the Brown Line, but it was relatively quiet, with a woman and her dog at one table and a man with his laptop at another. The basic menu was what I would expect from a smaller coffee shop, and its drinks stayed in the safe range (around $3 to $5 a cup). There were no frilly drinks, but instead your coffee classics, ranging from a simple latte to a cortado. I ordered a cold brew, which was a reasonable $3.50. The cold brew was average. Cold brew is usually a good way to get a good idea of the type of brew that a coffee shop uses, and I was slightly disappointed, being that the bean was not as strong as what I am normally used to. The drink had more ice than I would have preferred and watered down the tasting experience for me. It was not a bad cup of coffee, but if I were to go again, I would likely get something else. Ritual is the perfect coffee-run location, whether you are early to catch your train or need to pound out an essay in a cozy, quiet cafe, even if the cold brew was mediocre. 
Ela: Ritual Coffeehouse offers visitors the perfect, cozy study environment to enjoy a well-made cup of coffee. I will say, the cafe took a while to spot, given that there was no sign in the front. However, the small shop pulls people in with its inviting atmosphere and convinces them to stay with its array of sweet treats and drinks to keep you warm. As far as snacks, the shop serves predominantly sweet items, including donuts and muffins, with a limited choice in bagels. The choice of drink was also rather small, with less than twenty options, some of which, like the iced tea, were not even available to order. Nevertheless, I ordered myself a cappuccino, which came in a small 8-ounce size and a larger 16-ounce size, and took a seat. The drink itself more than made up for the small variety presented, served in a quaint little mug and topped with cute foam decoration. If you like your coffee more on the strong side, this would be a good choice for you, as I found myself adding quite a bit of cream and sugar to my cup. Otherwise, the drink was completely satisfactory. I would highly recommend this small, inviting cafe to those who just need a quiet place to chill and a tasty caffeine fix.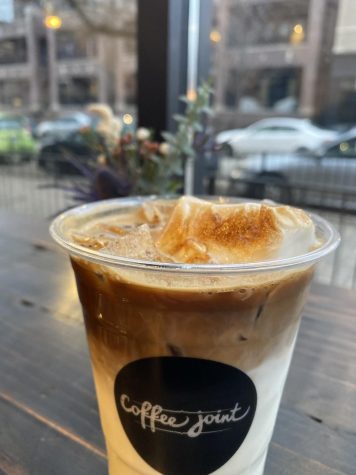 COFFEE JOINT — 2059 W. Irving Park Rd. 
Emma: Coffee Joint is a well-loved location by many Lane students, and hearing all good things about it, I was excited to see what the hype was all about. The shop is easy to find, located right on Irving and about a five minute drive from Lane, or an easy twenty minute stroll. When walking in, it was easy to understand why Coffee Joint was loved by so many — the many variations of wood furniture and sleek coffee bar made it a pleasing space to grab a cup of coffee. The menu is drawn on the tiles behind the bar, and I found myself attracted to the specialty menu, filled with unusual drinks that are not available at your standard coffee shop. After much deliberation over the many options, I opted for the marshmallow latte, which both amused and surprised me. When I got the latte, I was pleasantly surprised to see a literal roasted marshmallow floating in my drink. The flavor was subtle and left a sweet marshmallow taste lingering with each sip. The drink was on the pricier side, but because it was from the specialty menu, I am okay with the six dollars spent. I would definitely consider going back to Coffee Joint and explore the rest of their staple coffee shop menu. 
Ela: With a coffee aroma that could be picked up from down the block, Coffee Joint set high expectations for what the charming cafe would hold for their customers. Upon entering, visitors are greeted with a cozy environment and tons of antique decor, creating a well-rounded, rustic design that makes for the perfect atmosphere for a great coffee date. I could immediately tell that the shop must be worth returning to as I arrived just minutes after they had opened for the day and, already, three tables were filled by customers that had very likely made The Coffee Joint the usual stop for their morning cup. The menu offered a decent selection, with different options for either a hot or cold coffee, as well as teas and other iced options. In addition to classic caffeine beverages, such as the cold brew and macchiato, the cafe also offers less traditional choices, advertising items I had not heard of before, like the marshmallow latte, a sweet drink topped with a toasted marshmallow. I went for the "affogato": a sweet coffee poured over a small scoop of vanilla ice cream. The drink, despite being a classic Italian treat, was new to me in that I hadn't seen it in other shops. I found the drink to be a perfect storm, the sweetness of the ice cream complementing the strong coffee wonderfully. The cafe's choice of food was almost even more impressive. The cafe serves up snacks both sweet and salty, with donuts and croissants, as well as heartier options, such as sandwiches and bagels with lox. This spot even has a kids menu, which I have never before seen in a typically adult dominated venue such as a coffee shop. Located right on the corner of Irving Park and Lincoln, this place is the perfect spot to drop by for a great drink and yummy snacks.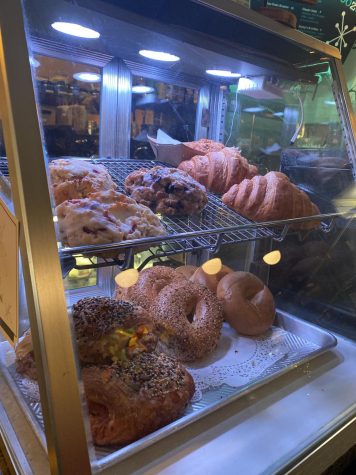 Avondale Coffee Club — 3185 N. Elston Ave. 
Emma: The Avondale Coffee Club was a coffee shop that I had always been curious about, as I drive past it nearly every day on the way home. I was dropping in for a quick coffee after school and when I walked in, it felt like I was in some sort of time warp and immediately taken back to the 70s. The shop was relatively quiet, being that the only people in there were the barista and a man working on his laptop. The Avondale Coffee Club seems like a quirkier place and I was expecting more creative drinks than were on the menu, which was relatively basic. There were four different sizes of drinks, ranging from 8 ounces to 20 ounces. I played it safe and went for a mocha, which I feel is a pretty telling drink about a coffee shop and their abilities to make a good cup of joe. When I ordered my drink, I didn't think much about ordering the smallest size, however I was thoroughly disappointed when I got my cup. The drinks are made in fully recyclable cups, which I can appreciate, but I did not appreciate paying almost $5 for an 8 ounce cup of coffee, which is smaller than a tall drink at Starbucks (12 ounces). I likely will not be returning to this spot, solely because I can't make an excuse for purchasing a mediocre, very small mocha for more than three bucks. While this place passed the vibe check, their prices didn't, and unfortunately that is where I draw the line. 
Ela: For being one of the busier establishments of the ones we visited, the Avondale Coffee Club manages to maintain a laid back atmosphere, complete with soft music and a friendly staff. In addition to being a popular spot, this cafe also offers a significantly larger venue, ideal for bigger groups. While the vintage aesthetic and retro decor made for an incredibly visually appealing setup, by far the most impressive aspect of this spot was its extensive menu options. In addition to the classics, the cafe also serves beverages one might not typically see, such as their café con leche, matcha lemonade and warm apple cider. To get a good read of their coffee construction, I went with a more traditional option: the vanilla latte. This drink was the definition of the classic latte. Topped with beautifully smooth foam, the drink had just the right amounts of vanilla, cream and sugar to make me wish I had purchased a larger size. Whether you are looking to snack and study with friends, or just stop in for a quick cup, Avondale Coffee Club is great for catering to any expectation you might hold for the typical cafe.