Australian bushfires motivate students to combat environmental issues
Fay Lin was shocked to see all of the posts her fellow classmates were sharing online about the Australian Bushfires' damage back in December. The seriousness of the event, as shown by the posts, encouraged Lin to conduct her own research, which led her to find out about all the individuals that were harmed.
Because situations like these have encouraged teens to be more environmentally conscious, students and clubs at Lane have been trying to spread awareness by figuring out ways to help their communities and other countries.
In September, Australia was struck with major fires that have burned more than 11 million hectares of land, according to BBC News. Though Australia has an annual fire season, that of this summer has been worse than usual, killing 33 people and harming half a billion animals, according to BBC News.
The severity of these fires led to students reposting links to charities and other resources on social media to spread information and encourage people to donate. Apart from informing people about the situation, students have also come up with their own ways to help Australia and victims of the fires.
In January, Lin, Div. 150, began her own fundraiser to help wildlife that has been hurt by the fires; she is making crochet koala keychains and selling them for $12 each. Lin said that 75% of the proceeds from the keychains will be donated to WIRES Wildlife Rescue, an organization that provides rehabilitation care to Australian native wildlife, and the rest will be used for materials. 
Lin said that she believed creating the fundraiser would be a great idea since she would be able to help out by doing something that she already knew how to do.
"I was already making small crochet things, and I just figured that I have this skill that could be useful," Lin said. "I could make it into a tool that could help something or someone."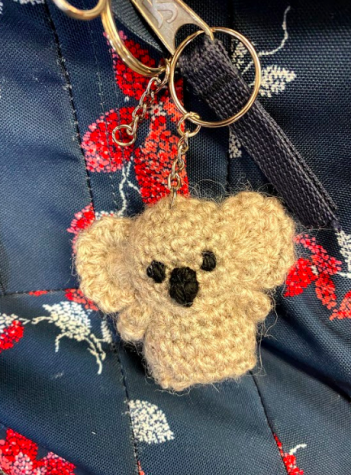 With her fundraiser, Lin is hoping to make sure students understand that they can use their skills and talents to alleviate problems, no matter how big they seem.
"Small actions matter and using one of your skills can be a great way to help," Lin said.
The fires have not only inspired students to become more active in environmental issues as individuals but have also motivated clubs at Lane to help with these problems in the school and its surrounding communities.
This year, Ana Young, Div. 160, and Joseph Striguil, Div. 156, created Sustainability Club to inform students of ways to live eco-friendly lives and assist communities in need, benefiting the world around them.
Right now the club is focusing on raising $500 for the National Parks Foundation's "50 Million For Our Forests" campaign, in an attempt to plant trees that can help sequester carbon pollution. Apart from this project, the club hopes to start bi-monthly food drives so that they not only help the communities themselves, but also the people living in them
Young and Striguil also set up an Instagram page for their club where they post eco-tips and climate change news so that many people can be more aware of events that aren't receiving a lot of coverage. Sustainability Club posts its eco-tips on Mondays, Wednesdays and Fridays, while news is posted on Tuesdays and Thursdays.
"We post eco-tips so that students, no matter who they are, can be more sustainable in their everyday lives," Young said.
Just as Sustainability Cub has been able to share their tips online to a large audience, the internet has allowed for information about the Australian Bushfires to be easily accessible to people of all ages around the world. 
Julian Zea, Div. 052, the president of Environmental Club, first found out about the fires when he saw a picture of a koala that was critically burnt on a news website.
Zea said that seeing a koala in danger was unusual since he has always pictured them as cute and happy animals. Zea said the situation made him realize that Earth and its inhabitants are fragile, meaning that people should work together to protect areas in danger.
"If we don't take steps to help out areas that we really need to help out then stuff like that is just gonna keep happening," Zea said. "Even though it is a natural event I'd like to think that we will get to the point where we can prevent it all."
To support Lane with its own problems of pollution and waste, Environmental Club takes care of recycling in all classrooms after school. By doing this, the club hopes to teach the school population about what it means to be green, according to Zea.
The club's main duties are usually in the school, but from time to time they volunteer with Friends of the Forest Preserve or with The Chicago Park District.
To Zea, the magnitude of the action or place where people help out doesn't really matter because even small acts can prevent problems from worsening.
"Little events build up," Zea said. "Whether it be donating a pair of jeans, picking up a piece of trash, or recycling instead of throwing things out in the garbage, it all really makes a difference."