'Little Women:' About women, by women, for everyone
In just the first ten minutes of watching "Little Women," I was captivated. Every scene looked like a perfectly painted portrait of the Reconstruction-era America, bursting with color, light and beauty. Even when the scenes themselves were not so joyous, they were shot in a way that made you so desperately want to enter the world of the March sisters. 
After I first watched "Lady Bird," I knew there was something special about writer and director Greta Gerwig. From the dialogue to the way it is shot, taking you into every aspect of Lady Bird's life, I immediately fell in love with the film. So when I found out Gerwig would be both writing the screenplay and directing the new adaptation of "Little Women," I was hooked. Then, I found out that the film would star Saoirse Ronan, Timothee Chalamet and Emma Watson, some of my all time favorite actors, and I knew this was a film I had to see. 
"Little Women" follows sisters, Jo (Ronan), Amy (Florence Pugh), Beth (Eliza Scanlen) and Meg (Emma Watson) as they grow up together during and after Civil War America. Every sister is unique and Gerwig is sure to make sure each character is definite and memorable in their own way, as this is a character driven film, in which the story revolves around the characters, rather than a story driven film, in which the characters are simply figures in the story. 
At its core, "Little Women" is a simple story of sisterhood and family and Gerwig stays true to those roots, while adding her own twist. The most obvious difference between Gerwig's adaptation and previous ones is the use of flashbacks. 
Gerwig chooses not to tell the story in chronological order and instead weaves together stories from the March sisters' youth with that of their adulthood, linking scenes with common themes and messages. 
By juxtaposing scenes of their adulthood with their childhood, Gerwig illustrates the growth of the characters and emphasizes the changes they go through in their lives. 
If I had to pick three reasons why this adaptation of "Little Women" is the most successful, they would be Greta Gerwig, casting and timing. Gerwig said in an interview with Ellen DeGeneres that there was a script for "Little Women" long before there was one for "Lady Bird" and this film is probably her most personal film. This personal touch is noticeable throughout the film and is one of its defining features. Each scene is crisp and intimate, treated with the utmost care and attention.
As the writer, Gerwig also brings something special to the screenplay: a female perspective. "Little Women" is a story about women and this adaptation builds on that by being written by a woman, directed by a woman and starring some of the most iconic women in the industry today. Additionally, the dialogue in this film is nothing short of a masterpiece. Unlike many films in the past, the women in this film are not only depicted as strong, but their dialogue is reflective of their strength. The women speak with power, their words are impactful, and their presence is dominant, which is also due to the cast themselves. 
One of the most powerful scenes in the film is when Jo talks to Marmie (Laura Dern) about rejecting Laurie's (Chalamet) proposal. In a tearfilled scene in the dim lit attic of her home, Jo says, "Women they have minds and they have souls, as well as just hearts. And they've got ambition and they've got talent as well as just beauty. And I'm so sick of people saying that love is all a woman is fit for. I'm so sick of it, but I'm so lonely." This quote not only shows Jo's longing for a life of her own, not attached to a man, while also showing her human desire for love. 
Gerwig, Ronan and Chalamet previously worked together on "Lady Bird," in which, similar to this film, Chalamet and Ronan were love interests. The pair bring the same chemistry they had in "Lady Bird" to "Little Women" and create one of the most beautiful relationships I've seen on screen. 
In the scenes when they are young, Ronan and Chalamet perfectly embody the carefree, rambunctious attitude of a teenager, and in the scenes when they are older, their attitudes change and they evolve into driven, confident adults. Together, the pair are incredible, however, they are equally talented in their own ways. 
Much of the movie is focused on Ronan's character, Jo, and Ronan delivers such an emotional and powerful performance. Jo faces many hardships and obstacles in her life; however, for every low point in her life, she has a high point. Ronan's versatility as an actress and her ability to act in both the emotional scenes and the comedic scenes with the same energy and talent is what makes her performance outstanding. For her performance in "Little Women," Ronan has earned both Golden Globe and Oscar nominations. 
However, it is not just Ronan's performance that stands out, but every March sister. Pugh impeccably captures the complexity of Amy's character and the internal struggle she feels always coming in second to her sister. Amy, in previous adaptations, has been a character many audiences dislike; however, with this adaptation, Pugh and Gerwig fully develop her character and successfully capture the hearts of audiences everywhere. Watson on the other hand illustrates the constant battle between what she wants and what those around her want and creates a character that beautifully blends traditional gender roles and femimist ideals. Finally, Beth symbolizes childish innocence and brings light to the story. 
In one of my favorite scenes, Beth is sitting playing the piano in a large, elegant room in Laurie's house while Laurie's grandfather, Mr. Laurence (Chris Cooper), sits on the stairwell outside listening, remembering his own daughter who passed away. This scene beautifully shows Beth's carefree spirit and desire to please others and make the world, or at least her town in Massachusetts, a better place.
Alongside the star-studded cast and the genius choices Gerwig made to make this story new and her own, much of the film's success is due to timing. We are currently living in a time when women are the faces of stories and their voices are finally being heard. "Little Women" is a culmination of all of those ideas.
 Although some may think that because this is a female driven film, it is for women only but that is simply false. 
"Little Women" is a universal film and for many, may open their eyes and help them understand what it means to be a woman, as the film showcases many issues that are still relevant today. For example, throughout the film, Jo struggles as a writer, mostly due to the fact that she is a woman. There is also the issue of Jo's stories featuring strong, unmarried women, which was not seen as appropriate at the time. Today, sexism is still an issue in the entertainment industry, whether it be literature, film, or music, and "Little Women" puts those issues in the spotlight. 
Despite Gerwig being snubbed for Best Director at the Oscars, her adaptation remains one of the best films of the year. From the nominated screenplay to the unforgettable acting ensemble, "Little Women" will undoubtedly be remembered as the best adaptation of the classic tale and one that people of all ages and genders will enjoy for years to come.
About the Writer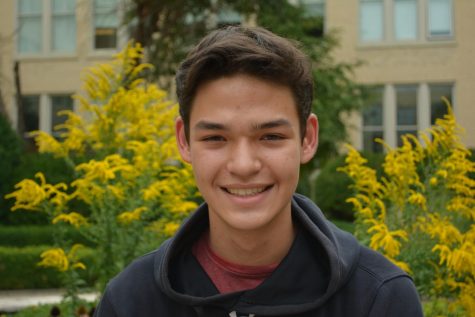 Ryan Fairfield, Editor-in-Chief
Ryan Fairfield is a Lane Tech senior in his third year of journalism. At Lane, Ryan has been a part of the Omega program since his freshman year and a...