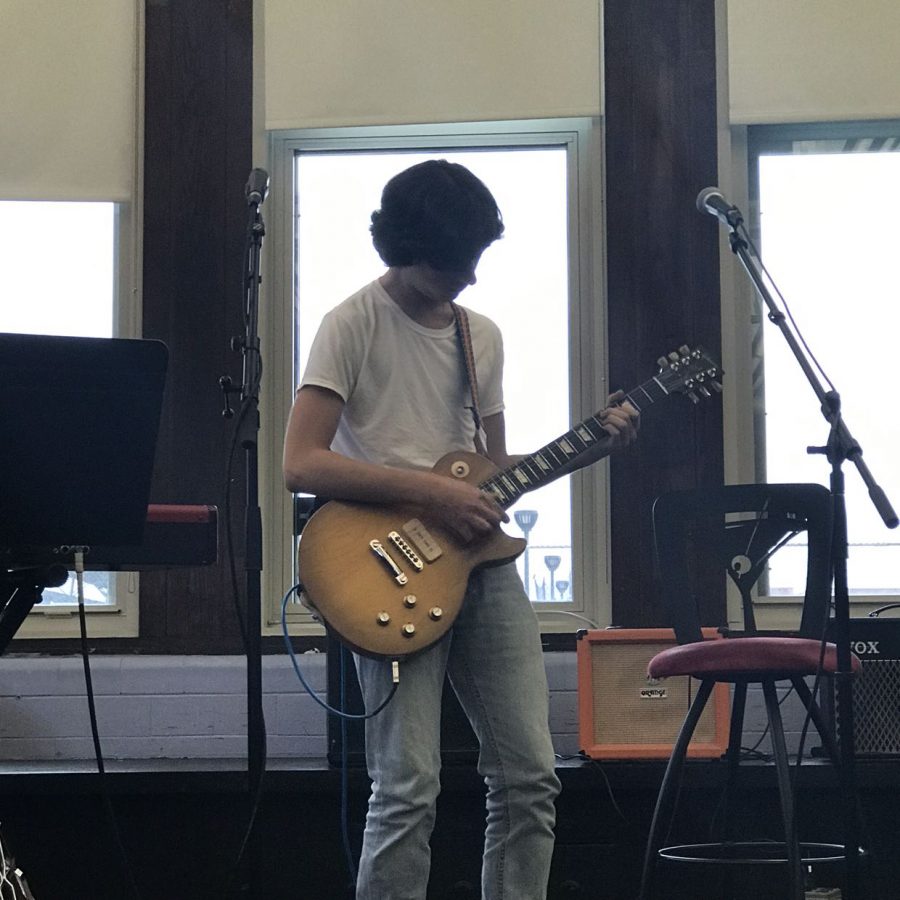 Stephanie Mosqueda
Henry Chmielewski walked confidently up the ladder's rungs and onto the open-mic stage. He plugged his guitar into the amp, took a breath and began shredding away at his guitar, performing an elaborate solo cover of "Jeff's Boogie" by The Yardbirds. 
Chmielewski, Div. 165, was one of several performers at the inaugural Open Mic event for the school year, a tradition that has occurred every month in the guitar room for two school years.  
The monthly events are organized by senior members of The Beat, a music-oriented after-school club run by music teacher Mr. Comiskey. Open Mic events are entirely student-performed as well. 
Ashlyn Rivera, Div. 181, first came to the performances as a way to cheer on her best friend's band. Since then, Rivera has become a frequent audience member at Open Mic, never missing an opportunity to support her classmates' talents.
"I think that it is a great way to meet new people, see all these different talents and show up with the talent that you have," Rivera said.
The event showcased a wide variety of art and expression, from a bass solo by Leonardo Gutierrez, Div. 157, to a personal spoken word poem by Steeve Nsangou, Div. 167.
The relatively small stage and enthusiastic audience helped create a supportive, intimate space for performers. 
"It's really a good environment to play music in," Chmielewski said. "People aren't going to talk badly about you. It's a really supportive community." 
Gutierrez said that because of Open Mic's setting, which is a big contrast to other concerts at Lane, he was able to gain confidence and motivation to perform.
"Unlike Unplugged, Open Mic is really small," Gutierrez said. "So if you are afraid of doing something really big, you can just go to an Open Mic and get yourself comfortable with performing in front of other people."
Mr. Comiskey commended the Open-Mic events as a way in which the performers can grow as independent musicians. 
"Doing stuff like Open Mics was a really big part of my own development as a musician," Comiskey said. "It's a very tough and vulnerable thing to get in front of a group of people and share your own song, but to give people a chance to grow themselves and to see themselves as a songwriter and to have other people appreciate the stuff that they're writing is a really beautiful thing." 
In addition to showcasing the immense talent of Lane's diverse student body, the Open Mic events have also paved the way for the future musical endeavors of students, according to Comiskey. 
"Folks that are seeing each other at Open Mics are getting together and putting together their own bands or are just connecting as musicians and seeing Lane as a community of musicians," Comiskey said.
According to Gutierrez, there are no restrictions or pressure for an act to be perfect while performing. If an act accidentally messes up or something suddenly goes wrong, the audience is always there to cheer and support.
While the positive environment is a contributing factor in the participation of students like Chmielewski, many, such as him, are motivated to perform by a love of music. 
"Music is really important to me," Chmielewski said. "That's what keeps me performing at these events."
The next Open Mic is on Nov. 21, and they will be continually held every month for the rest of the school year.